Here at JustCollecting News we love a weird piece of history, and some of the auction stories we've covered this year have been truly bizarre!
From naked presidents and haunted antiques, to macabre murders and fake fairy photographs – here are 10 of the weirdest auction lots sold in 2018.
A Soviet Cold War missile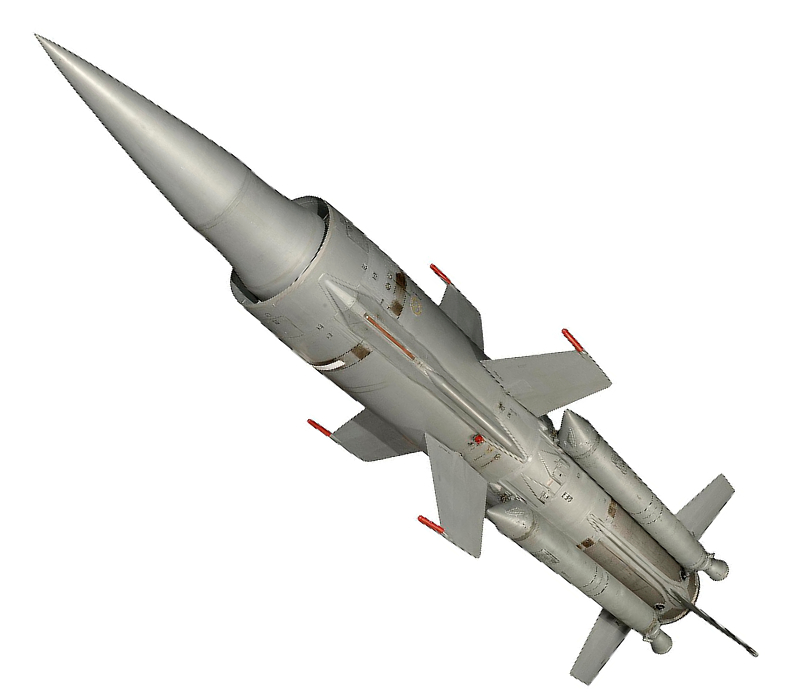 What do you get for the wealthy collector who had everything?
If you answered "a Russian SA-4 'Ganef' surface-to-air missile", then you'd be right!
The Ganef missile was originally developed in the 1950s, and was used during the Soviet invasion of Afghanistan in the late 1970s.
In March this deactivated Cold War-era missile hit the auction block in the U.K, where it sold for $17,000 – although what the new owner proposes to do with it is anyone's guess.
The auction house described it as a piece of "industrial art", but at nine metres long and three metres wide we prefer to think of it as the world's most threatening garden ornament.
TV set shot by Elvis Presley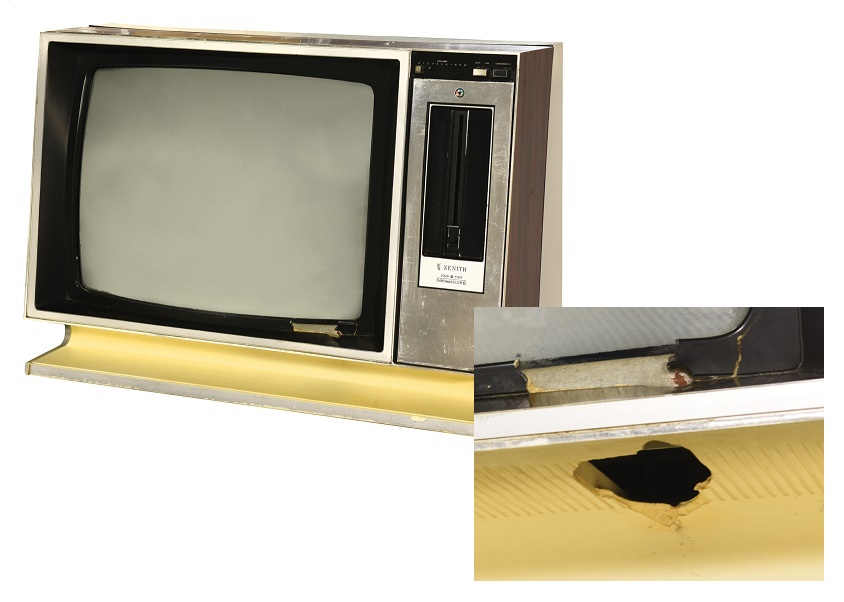 Two of Elvis Presley's favourite hobbies were watching TV and firing guns from his extensive collection. And occasionally he'd combine them to explosive effect.
Whereas most viewers reach for the remote, the King of Rock and Roll had his own way of dealing with shows he didn't like, and the result was a graveyard of bullet-riddled TV sets behind his Graceland mansion.
This particular set had originally sat in his daughter Lisa Marie's bedroom, until one night when Elvis was struggling to get a signal.
Instead of getting it fixed, he shot a hole in it with a nearby handgun, and gave it to his nurse Letetia Henley to toss on the pile.
However, she decided to test it first and found it had incredibly survived Elvis' wrath, so she gave it to her daughter instead.
And more than 40 years later in August 2018, the set was offered for auction at Graceland – still in working order, and complete with the original bullet hole – where it sold for $4,000.
Tom and Lavinia Thumb's travelling case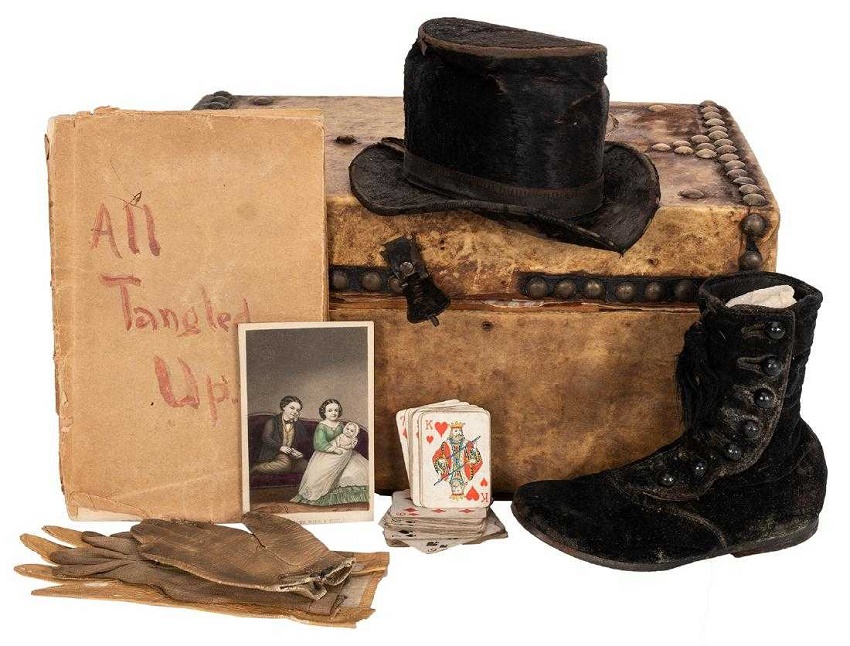 This battered travelling case once belonged to two of the most famous – and smallest – performers of the 19th century, Tom and Lavinia Thumb.
The couple met whilst working for circus sideshow impresario P.T Barnum, and toured America and Europe, performing for royalty and heads of state.
When they married in 1863 it was the biggest New York society event of the year, with an estimated 10,000 guests invited to the Metropolitan Hotel, and President Lincoln held a reception for them at the White House.
This overnight travelling trunk contained two of Lavinia's tiny unmatched gloves, a silk stocking worn during her wedding, Tom Thumb's single leather glove and a beaver fur top hat, a miniature set of four dice, a partial deck of miniature playing cards, Lavinia's copy of the script for the play All Tangled Up and a hand-colored CDV of Tom and Lavinia Thumb.
It also contained an invitation and admission ticket to the wedding of Lavinia and her second husband, Count Primo Magri, from whose collection the trunk originated.
The trunk was later exhibited at the Freakatorium sideshow museum in New York, and sold in November for $15,000.
Antique electric chair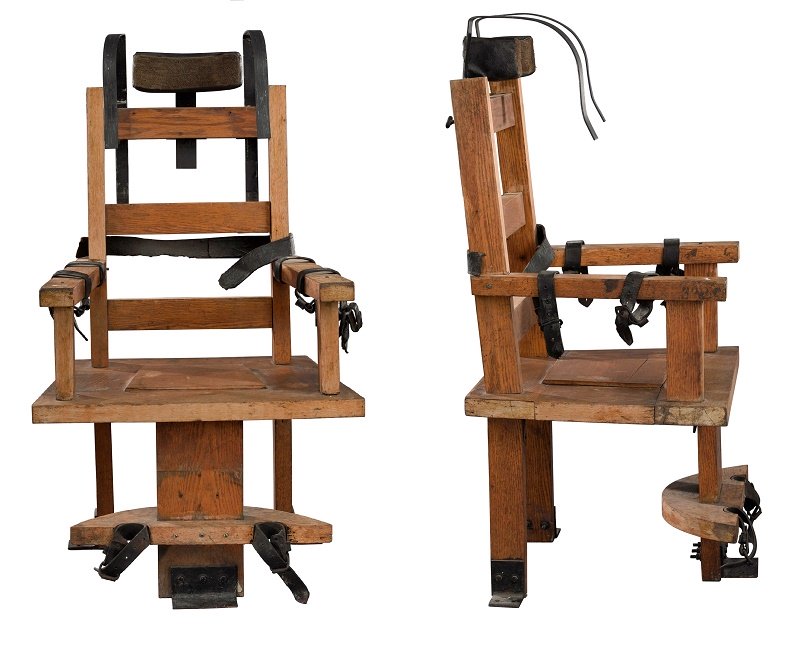 You've heard of furniture in the 'Mid-Century Modern' style – but here's a piece that's more 'Mid-Century Macabre'.
In August Heritage Auctions offered what it purported to be a genuine prison electric chair, with a literally shocking history.
According to the auction house, the chair had originally belonged to a retired Pennsylvania prison guard, who picked it up in the 1940s when it was replaced with a new chair.
It's unknown whether he ever used it to relax in at home, but decades later the sinister seat turned up at a local estate auction, and it eventually made its way to the block in Dallas.
Heritage stated it had offered similar examples in the past, but they had all been recreations made as props for movies or haunted houses.
However, they claimed this one seemed to be the real deal as it featured a patina that suggested repeated use (!), along with grisly details that most fake chairs wouldn't include – such as removable seat panel for when electrocuted prisoners would evacuate their bowels.
Nazi Donald Duck display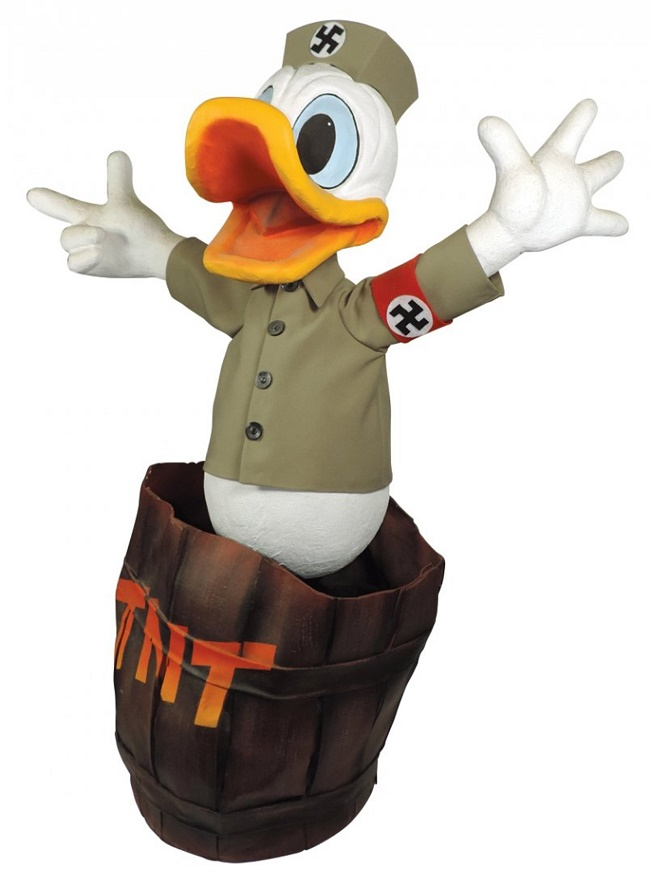 In January 1943, at the height of US involvement in WWII, Walt Disney studios released an anti-Nazi propaganda cartoon entitled 'Der Fuehrer's Face'.
The animated short starred Donald Duck as a beleaguered worker in Nazi Germany, forced to work in a munitions factory until he goes insane.
The film, which won the Academy Award for Best Animated Short Film, ended with Donald waking up from his nightmare beneath the comforting shadow of the Statue of Liberty.
However, the sight of everyone's favourite duck in a Nazi uniform was too much to take for Uncle Walt, and he quickly pulled the film from circulation until it was finally released on DVD in 2004.
This bizarre Donald Duck automaton was made as a theatre display piece for the cartoon's premiere in January 1943.
Just like the film itself, the figure was rediscovered decades later, by which time the Nazi uniform had been replaced by a moth-eaten Santa Claus outfit.
Having been restored by experts to its original appearance, the truly unique piece of Disney history sold in April 2018 for $2,500.
Jack the Ripper postcard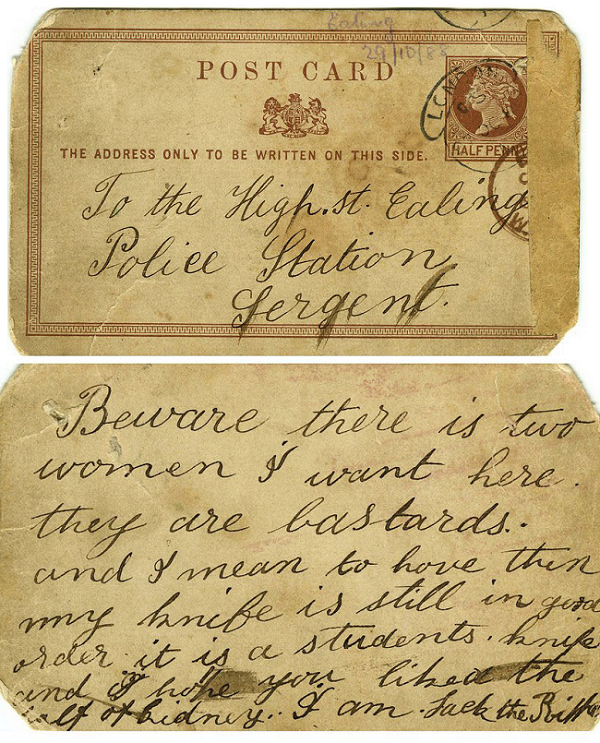 This 19th century postcard made headlines back in April 2018, when it sold for an astounding $30,000 at auction in the U.K.
The reason? It was signed with perhaps the most chilling name in British criminal history: Jack the Ripper.
The postcard was handed in to Ealing Police Station in London in 1888, at the height of a killing spree which saw five women gruesomely murdered and dismembered on the streets of Victorian London.
It read: "Beware there is two women I want here they are bastards, and I mean to have them my knife is still in good order it is a students knife and I hope you liked the half of kidney. I am Jack the Ripper."
The police received dozens if not hundreds of similar notes claiming to be from the Ripper, whose identity was never discovered, and many were kept in the investigation's evidence archive.
However most, and perhaps all of them, were likely written by hoaxers or even journalists seeking to create a more sensational story for the newspapers. And 130 years later, none have ever been proven to be genuine.
This postcard was given as a retirement gift to Metropolitan Police Officer John Hall in 1966, and was the first piece of official evidence from the Jack the Ripper police file ever offered at auction.
Original 1950s roadside diner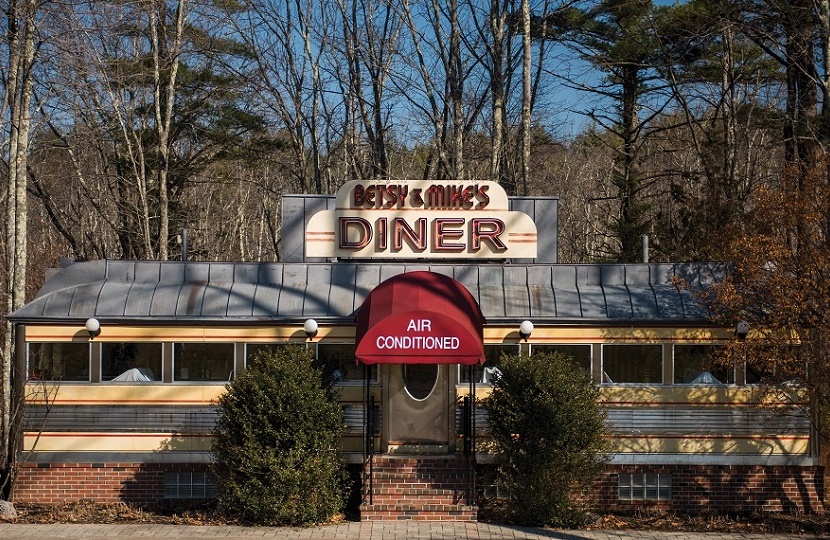 Back in June, one lucky bidder acquired the ultimate piece of vintage Americana for their collection – an original, fully operational 1950s roadside diner.
The Silk City Diner was originally located along Route 40 in New Jersey, and was operated for decades by owner 'Smoky' Wentzell and his trusty short order cook Sparky.
Known by its regulars as the Pole Tavern Diner, the joint became famous for its pies (made to Sparky's secret recipe, which utilized a pound of lard!), until it finally closed down in 1989.
It then sat rotting away in the yard of an eccentric collector, until it was rescued by vintage diner expert Steve Harwin, who restored it to its former glory complete with a working kitchen and a fully-loaded jukebox.
In June the diner was sold for $336,000, from the renowned collection of former Ford executive Michael Dingman and his wife Betsy.
Cottingley Fairy photographs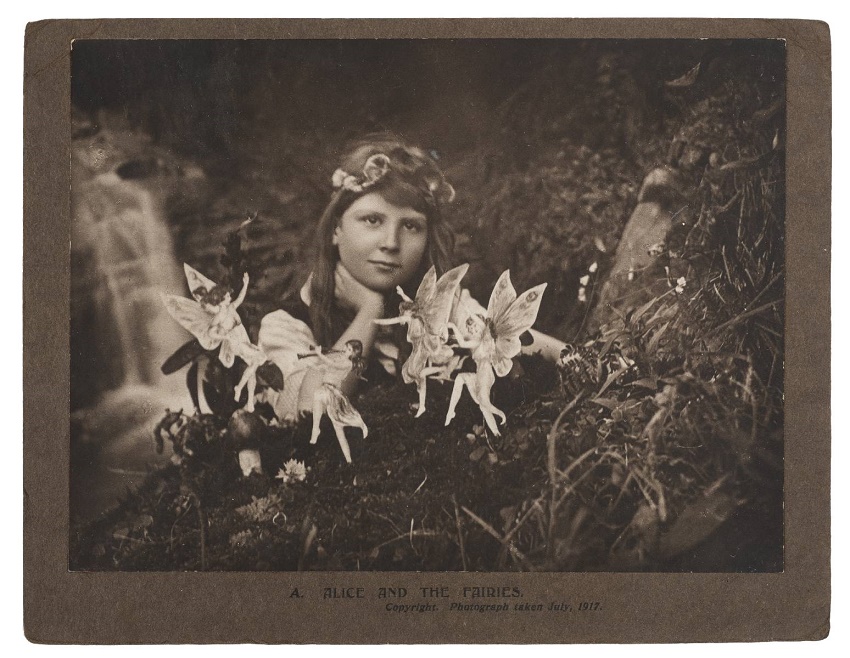 In 1917 two English schoolgirls pulled off one of the most famous hoaxes of the 20th century, armed with nothing more than a camera, some art supplies and a sheet of cardboard.
16-year-old Elsie Wright and her nine-year-old cousin Frances Griffiths claimed that fairies were living at the bottom of their garden, and they had the photos to prove it.
What started as a simple prank became national news, when experts including renowned author Sir Arthur Conan Doyle claimed the photos were genuine.
The argument over whether fairies were real captured the public imagination, and it wasn't until 1983 that the now grown-up pair admitted they had simply made the fairies themselves out of cardboard.
In October, two original copies of their famous fairy photographs came up for sale in the U.K, where they were snapped up for a magical $25,000 – more than 10 times their initial estimate.
A historic haunted mirror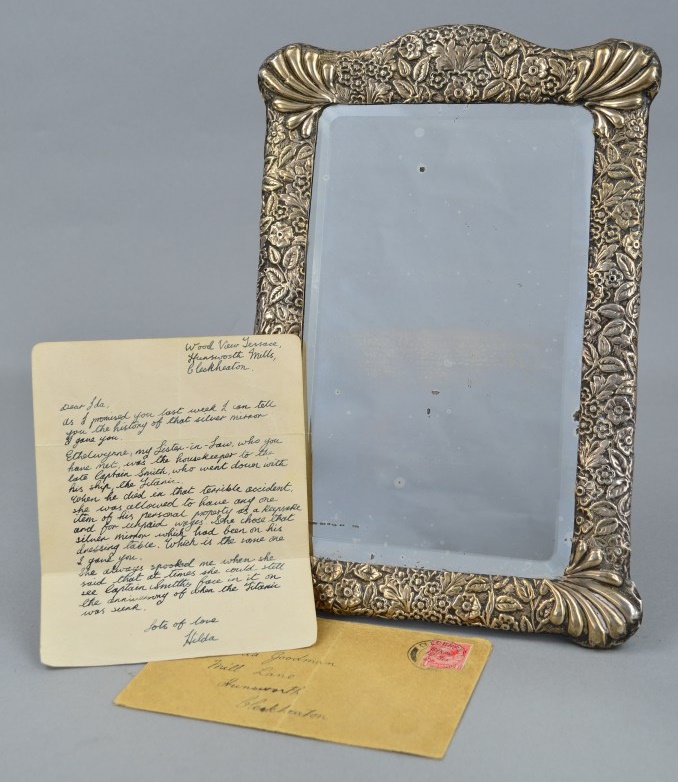 This silver mirror may look simple a harmless antique – but according to legend it hides a tragic and spooky secret.
The mirror once belonged to Captain Edward John Smith, better known as the Captain of the Titanic, who went down with his ship in April 1912 during the disaster which claimed around 1,500 lives.
After his death, his housekeeper Ethelwynne was given the mirror as a memento of her former employer – but one night whilst peering into it, she received the fright of her life.
In letters to her sister-in-law, she claimed that the apparition of Captain Smith would appear in the mirror on the anniversary of his death, staring back at her from beyond his watery grave.
The 'haunted' mirror passed down through her family before ending up at auction in December 2018, where it sold for $4,500.
Hopefully the new owner will be brave enough to peer into it on April 15, to see if the chilling tale is true.
Naked Donald Trump statue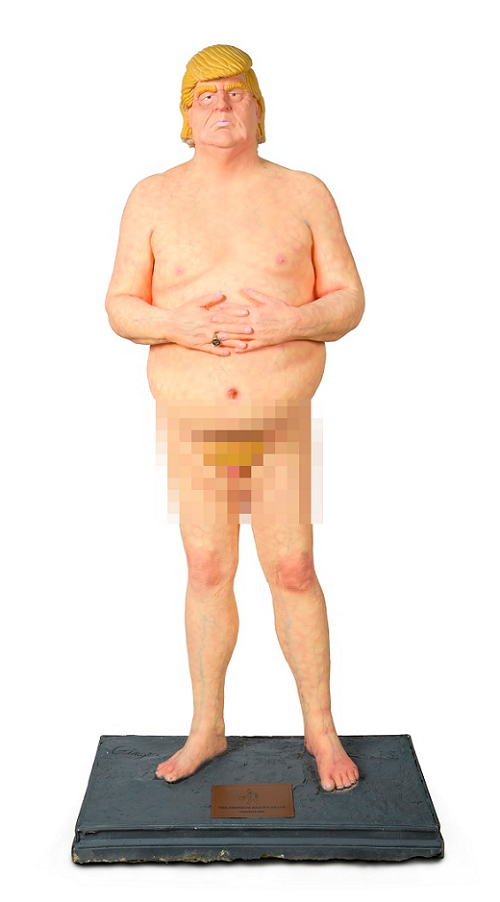 Presidential portraits have long been sought-after by collectors, although few have been as revealing and downright disturbing as this one.
Back in May a life-sized statue of a naked Donald Trump hit the auction block at Julien's on Los Angeles, where it sold for $28,000.
The less-than-flattering sculpture was entitled 'The Emperor has no Balls', and was created in 2016 by Joshua 'Ginger' Monroe, an artist who usually makes statues for haunted house attractions.
It was one of five statues placed in public locations across the U.S by the anarchist art collective INDECLINE in August 2016.
Most were removed or vandalized, but this example from Cleveland survived intact, and was snapped up by Ghost Adventures TV host and paranormal investigator Zak Bagans as the newest exhibit for his museum of haunted objects in Las Vegas.