How's this for a piece of classic Americana? An entire vintage roadside diner is about to cross the auction block at RM Sotheby's this month.
The 1940s diner has been fully restored to its original condition, and is expected to fetch $300,000 – $400,000 when it goes up for sale in New Hampshire on June 22.
The diner is part of the esteemed collection of Michael Dingman, a longtime Ford Motor Company director whose lifetime assemblage of classic cars have previously sold through RM Sotheby's in 2006 and 2012.
This final sale of the collection will include a treasure trove of classic American cars, hundreds of rare original neon signs, vintage automobilia and Americana, and the diner – named 'Betsy and Mike's' in honour of Dingman and his wife.
The vintage roadside diner looks exactly how it would have done for patrons back in the 1950s, from the booths and the fully-loaded jukebox to the kitchen fixtures and fittings.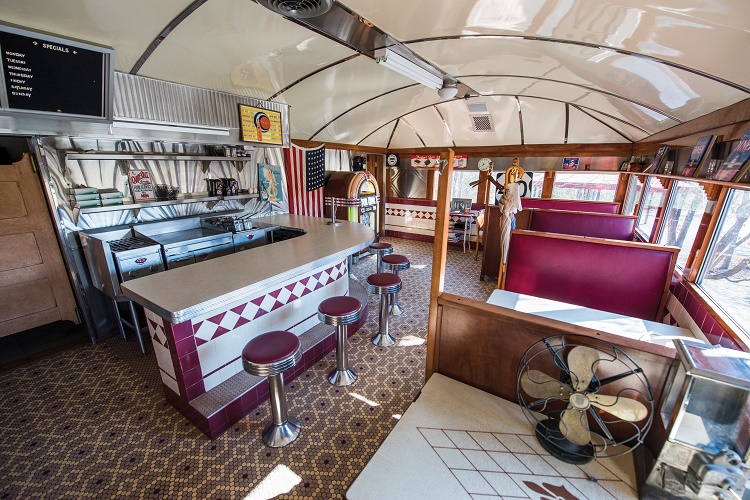 It was one of about 1,500 examples built by the Silk City Diners division of the Paterson Vehicle Company of Paterson, New Jersey from 1926 until 1966.
Originally situated somewhere in Delaware in the late 1940s, the diner was soon traded in by its first owner to Mountain View Diners, who then reconditioned and sold it to New Jersey entrepreneur 'Smoky' Wentzell.
Wentzell installed it at a prime location on Route 40 opposite the busy Pittsgrove Circle interchange, and named it The Pittsgrove Circle Diner, but regulars always knew it as The Pole Tavern Diner.
As the auction house describes it, "Hollywood could not have created a better scene: Smoky himself, cigarette between his lips and apron around his waist, holding court at the counter, while a cook named Sparky worked the flattop.
"The Pole Tavern Diner was most famous for its pies, and small wonder – Smoky's recipe for pie crust, which has been preserved for posterity, begins with a pound of lard."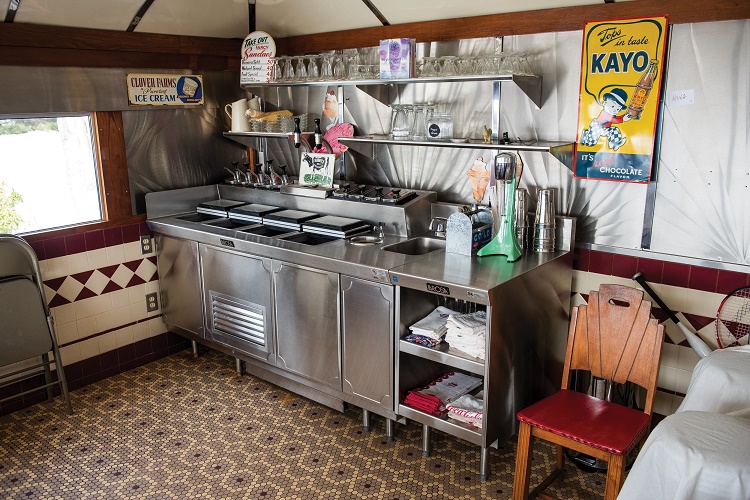 In the face of growing competition, Wentzell decided to ditch the restaurant business and sold the diner on in 1959 to businessman Harry G. Smith – but he could never quite escape its charms.
Over the next decade Smith defaulted on his payments twice, and each time Wentzell stepped back behind the counter to keep it running.
It wasn't until 1989 that he eventually sold the diner for good, to an eccentric local collector who parked it at the back of his property and sold all the original fixtures and fitting.
That could have spelled the end for the diner, left to slowly deteriorate like so many others as a relic of a bygone age, had it not been for vintage diner expert Steve Harwin.
Harwin bought the rotting diner and carefully shipped it back to his workshop in Cleveland, Ohio, where he began the painstaking process of a complete frame-off restoration.
Having rescued the diner and returned it to its former glory, Harwin then sold the diner to the Dingmans, who installed it on their property and enjoyed it with their family for years.
Betsy & Mike's diner is now ready for a new owner to strap on an apron and step behind the counter – and wherever it ends up, you'd like to think 'Smoky' Wentzell will be there in spirit, barking out orders to Sparky in the back.