Baseball legend Babe Ruth's personal memorabilia collection is set to be sold during a landmark auction at Yankee Stadium in June 2019.
Hunt Auctions will host the sale, which features hundreds of previously unseen items consigned by Ruth's surviving relatives.
Having remained in the family's closely-guarded collection for seventy years, the memorabilia from Babe Ruth's remarkable life and career is now expected to set a slew of new auction records.
"The legacy and significance of Babe Ruth to the game of baseball and American popular culture is unmatched by any other figure in the history of this country," said David Hunt, President of Hunt Auctions.
"We are completely humbled for this opportunity afforded to our company by the Ruth family to present this previously unknown archive of materials to Babe's adoring fans. The importance of this offering cannot be overstated to which we fully expect record pricing levels in numerous categories."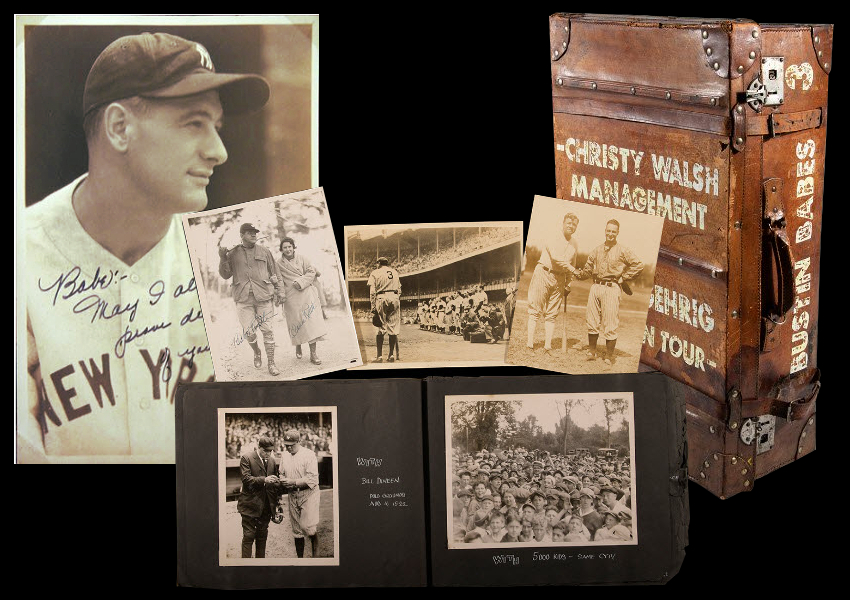 Babe Ruth passed away in 1948, having transformed the sport of baseball through his prodigious talent with a bat and his enormous personality.
Today his bats, jerseys and personal memorabilia remain the most sought-after by collectors, and historic items regularly fetch seven-figure sums at auction.
None of the items from the Ruth family collection have ever been offered for sale before, and their existence was unknown to most industry experts until now.
Highlights will include the babe's professional model game-used cleats, his New York Yankees signed contract from the 1930-31 season, an inscribed photograph from his friend and team-mate Lou Gehrig, and his 1934 Tour of Japan Champion Batsman presentational trophy.
"My grandfather remains a guiding force in my life today," said Ruth's granddaughter Linda Ruth Tosetti. "The way he lived his life and its effect on others continues to amaze me every day. For many years, we have cherished the items within his personal collection and have been blessed to represent his legacy through our many family endeavors.
"The decision to share items from his personal collection was made with careful consideration and the intent to further his legacy within a new generation of baseball fans."
The auction will also include a number of carefully-selected items from other consignors, such as a travelling trunk from the 'Bustin' Babes' barnstorming tour of 1920s, his 1923 New York Yankees World Championship presentational Spalding trophy, and a game-used bat complete with home run notches, circa 1926-29.
The original Yankee Stadium in New York was nicknamed 'The House that Ruth Built', so it seems fitting that the new stadium will play host to the historic Hunt Auctions sale on June 15.
"The Babe lived a life that was meaningful to millions of fans for many diverse reasons," said Ruth's grandson Tom Stevens.
"Perhaps one of the most important was that he offered hope and inspiration during the depths of the depression, because despite his humble beginnings, Babe Ruth grew up to become the very embodiment of the American Dream.  And make no mistake, he is still as relevant today as ever."