An incredible collection of curiosities, oddities and circus sideshow memorabilia is heading for auction at Potter & Potter next month.
'Freakatorium: The Collection of Johnny Fox' will offer more than 600 items once owned by the renowned magician and sword swallower, who sadly passed away in 2017.
The auction is a treasure trove of the strange and unusual, from shrunken heads and sideshow banners to tribal artifacts, magic memorabilia, vintage posters and taxidermy.
If you've ever wanted to own a unicorn skull, a Tibetan lama bone Necromancer hat, or a painting of a roustabout fighting a circus clown, then this is the sale for you.
Throughout his life Fox assembled this remarkable collection which he exhibited at The Freakatorium (or 'El Museo Loco'), a museum situated on the lower east side of Manhattan.
From 1999 until 2005 the museum attracted a small but dedicated group of fans, and Fox could often be found performing incredible feats on the sidewalk outside.
Now the entire contents of the museum will be offered to a new generation of collectors, when the collection hits the block in Chicago on November 10.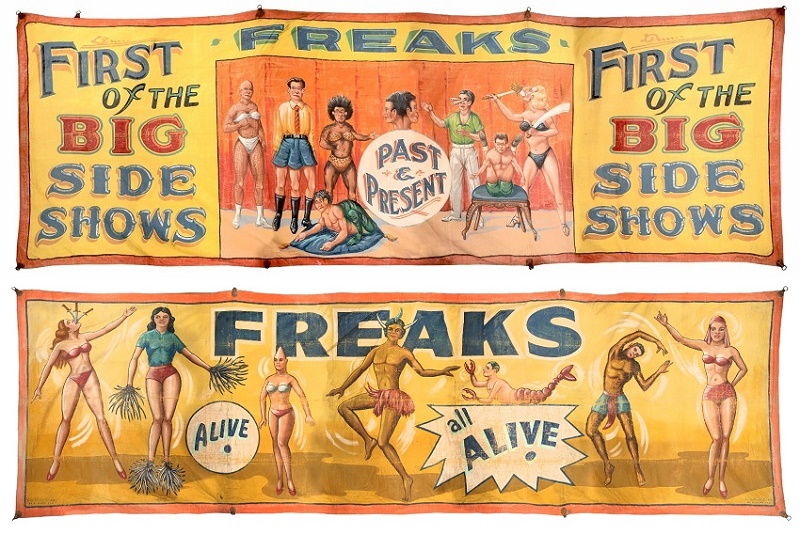 Amongst the highlights of the sale are original hand-painted banners by artists such as Snap Wyatt and Fred Johnson, which adorned the sides of sideshow tents in the mid-20th century.
These colourful banners were designed to tempt curious customers inside, and feature a bizarre cast of characters such as the Lobster Boy, the Man with Two Faces, the Human Volcano, the Headless Girl and the Armless-Legless Wonder.
Personal artifacts owned by famous sideshow and circus performers also feature heavily in the collection.
Amongst the most notable lots are a trophy belt and gold cup presented to Josephine Blatt, otherwise known as Minerva the Champion Strong Woman, who once reportedly lifted a platform carrying 18 men and earned herself a place in the Guinness Book of World Records.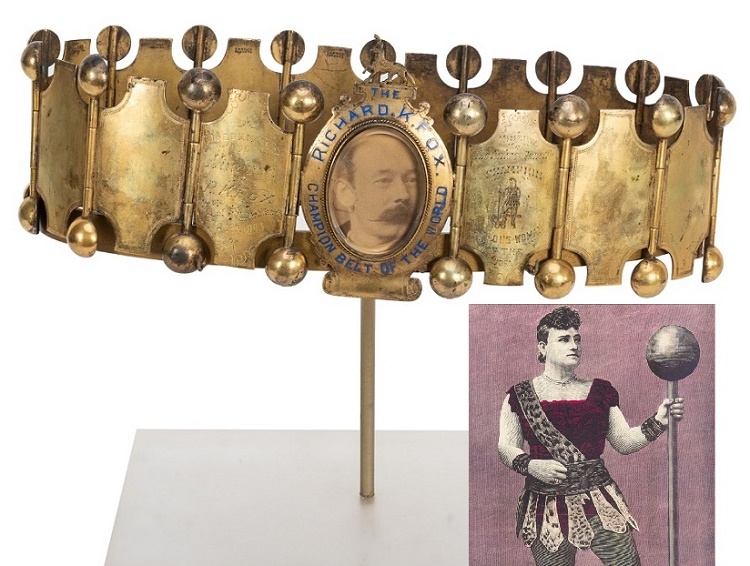 Further historic pieces include intricate wooden carvings made by Charles Tripp the 'Armless Wonder' who, despite being born with no arms, became a highly skilled carpenter and calligrapher using only his feet; and a selection of clothes and personal effects owned by General Tom Thumb, the 3ft 2″ performer who found fame and fortune in the 19th century under the management of P.T. Barnum.
Johnny Fox's life-long passion for unique and unusual objects means that the sale features something for everyone (apart from those of a slightly nervous disposition).
Few other auctions can boast amongst the catalogue a decorated Tibetan sacred human skull; a pair of Houdini's handcuffs; vintage Barnum and Bailey circus posters; original blueprints for Coney Island rollercoasters; professional magic tricks; and even a genuine Fiji Mermaid.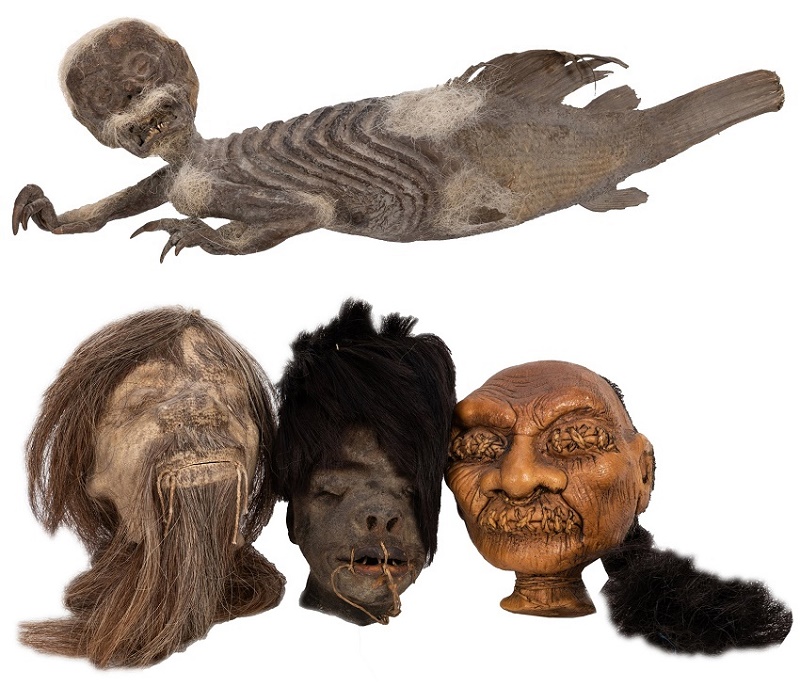 We had a quick chat to Potter & Potter co-founder Gabe Fajuri about the upcoming sale.
What do you think attracts collectors to the strange world of sideshow memorabilia?
"There are a host of reasons to love these oddities, one of which, I'm sure, is that these items are truly uncommon. While books, manuscripts, glass, furniture, and toys come up for auction every day, this sort of material does not.
"Also, in the Internet age, these things are distinctly (and sometimes literally) eye-popping. They still command attention and excite the imagination in an era where the constant buzz of a cellphone does the same thing on an ongoing basis."
Are there many other collections like Fox's out there?
"Just a handful, but I see this as a growing market – there are new, young collectors in this field, unlike many others."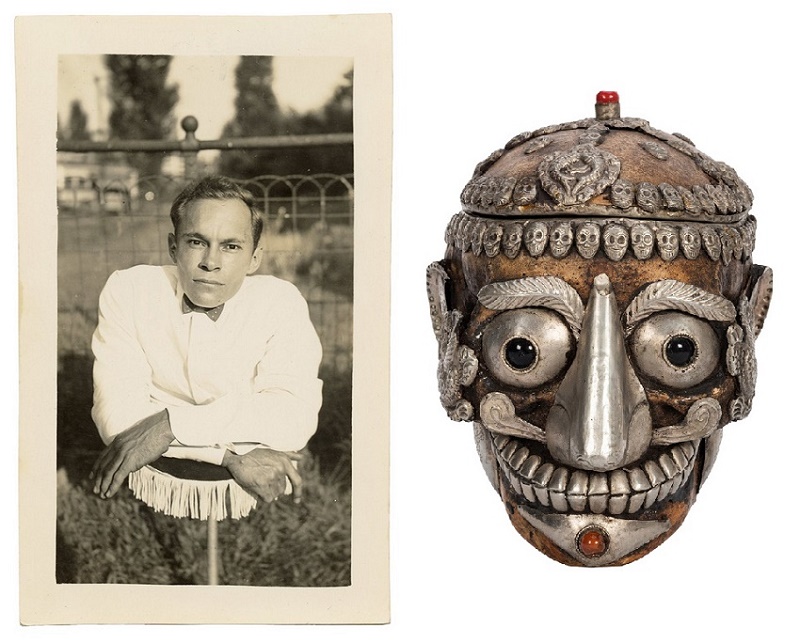 The collection includes some truly remarkable – and highly collectible – sideshow banners. Have you noticed any recent trends in the market?
"I believe the market price for banners is down a bit, as two of the biggest collectors in the hobby are no longer living. It might be a good time for young collectors to get interested.
"I'd suggest going with what you like – by way of subject matter – and looking for the work of well-known banner painters like Fred Johnson and Snap Wyatt."
And finally, what are your own personal favourite pieces from the collection?
"My favorites include Fred Johnson's banners for the Human Volcano and Freaks Past and Present; the archive of photographs and letters from Johnny Eck [the sideshow performer and star of Todd Browning's classic movie Freaks]; Diane Arbus' photographs of the sword swallower Lady Sandra Reed; the carvings of Charles Tripp 'The Armless Wonder'…and so many more!"