Our featured sale this week is GWS Auctions' Artifacts of Hollywood & Music sale, which takes place at the Hard Rock Cafe in Hollywood, California on August 31.
From Elvis Presley to Kurt Cobain, James Dean to Will Ferrell, the auction is packed with rare artifacts from music and movie history – and here are 10 lots we'd love to own…
John Lennon & Yoko Ono Copy Marriage Certificate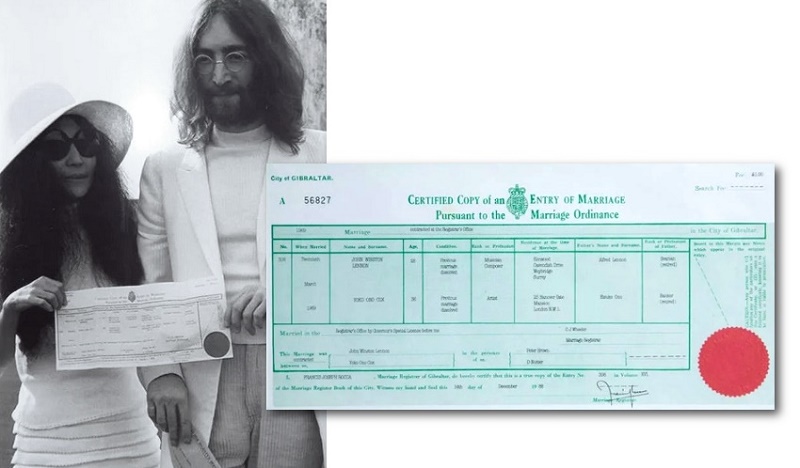 Estimate: $1,000 – $2,000
A certified copy of John Lennon and Yoko Ono's marriage certificate, issued following their wedding at the British consulate in Gibraltar on March 20, 1969.
The official certificate has been red stamped, embossed and signed by the Registrar of Gibraltar, and is similar to a copy currently on display at the Beatles museum in Liverpool.
Jerry Lee Lewis Dagger & Ankle Strap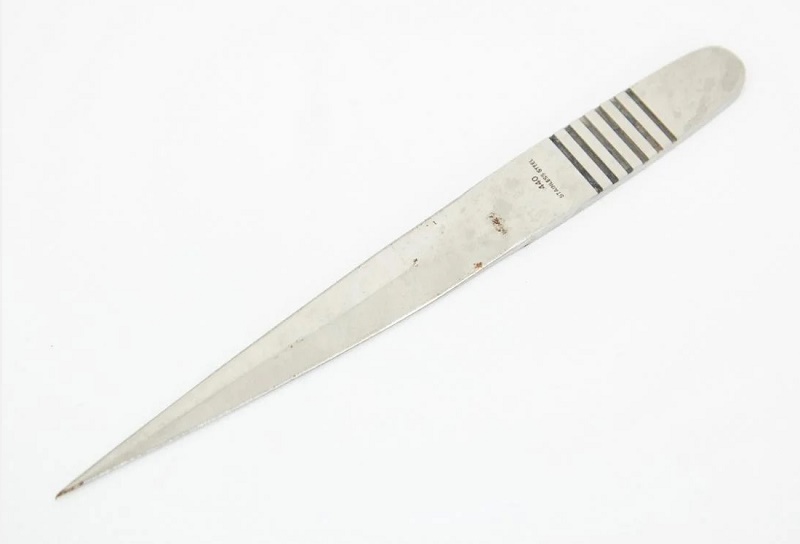 Estimate $2,000 – $3,000
This stainless steel dagger was personally owned by rock and roll legend Jerry Lee Lewis, known to his fans as 'killer' due to his wild playing style and stage antics.
The dagger comes complete with its original ankle strap, which Lewis used to wear the dagger underneath his pant leg.
Elvis Presley 1956 Press Release for Debut Album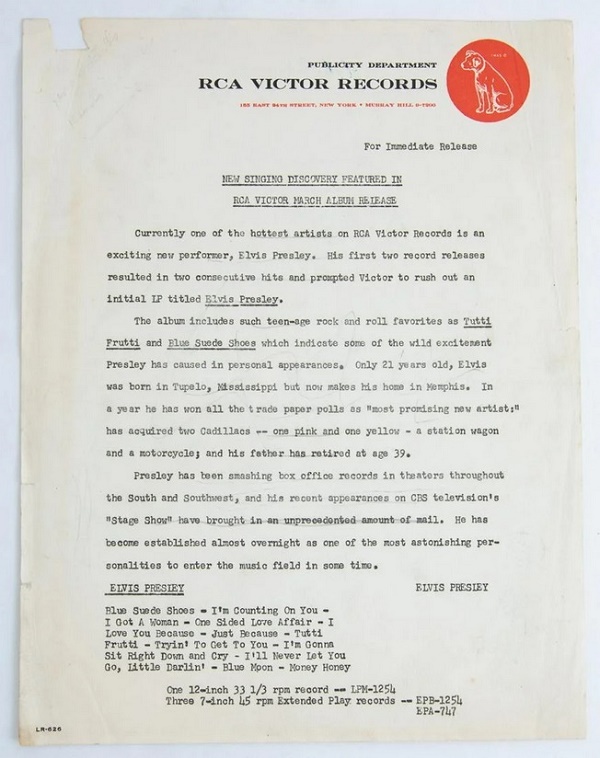 Estimate: $8,000 – $10,000
A rare original 1956 RCA Victor Records press release announcing the release of Elvis Presley's eponymous debut album.
The typed press release describes Elvis as "one of the most astonishing personalities to enter the music field in some time", and includes the tracklisting for the album.
Kurt Cobain's Money Bag & Personal Items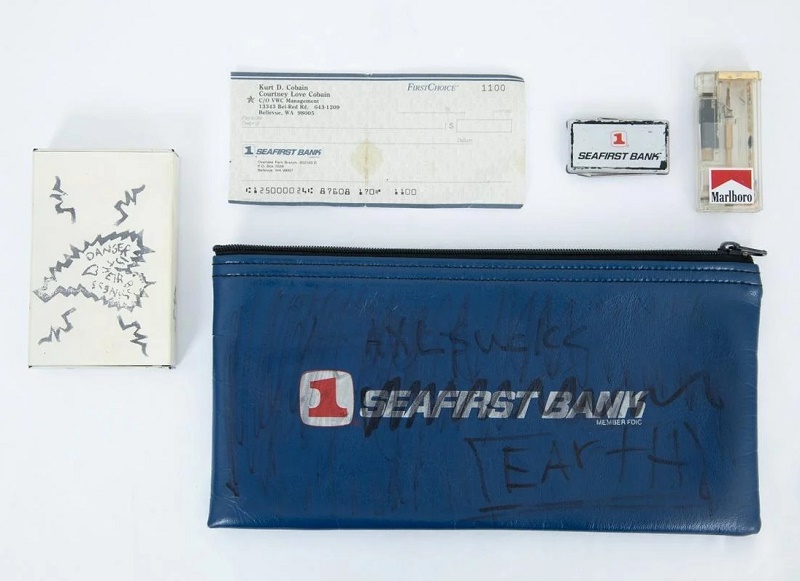 Estimate: $10,000 – $15,000
This collection of personal items belonged to the legendary Nirvana frontman and music icon Kurt Cobain.
The collection includes Cobain's personal money bag from Seafirst Bank, which was reportedly found by a fan in a Dallas parking lot after a concert. Inside was a Seafirst Bank money clip, a check from Kurt Cobain and Courtney Love Cobain's joint bank account, a Marlboro lighter and a cassette tape marked "Danger is Their Business".
Cobain has written "Axl Sucks" on the bag, presumably in reference to the lead singer of Guns 'n Roses with whom Cobain had a feud in the early 1990s.
James Dean, Elizabeth Taylor, & Others Signed Book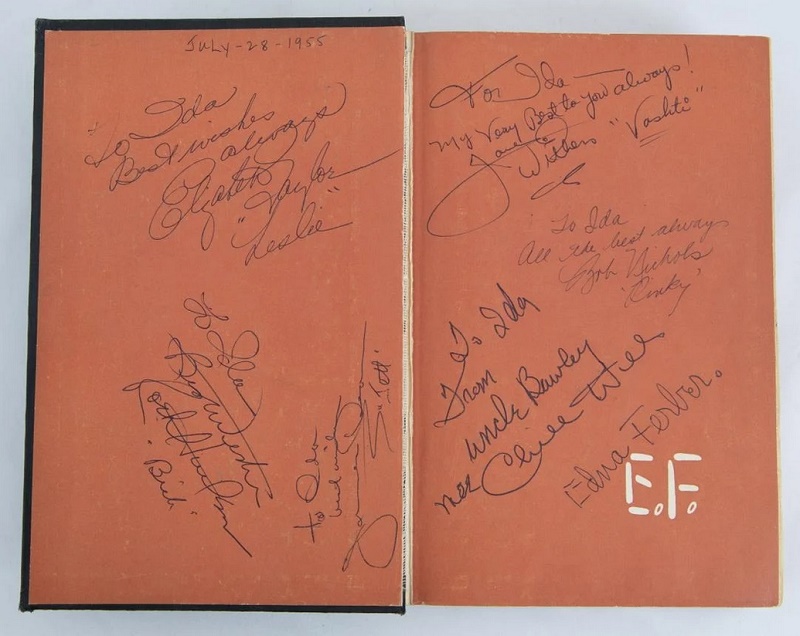 Estimate: $30,000 – $35,000
This first edition copy of Edna Ferber's novel 'Giant' is signed by both the author herself and the cast and crew of the 1956 film adaptation.
The signatures include those of James Dean, who was tragically killed soon after filming was complete, Elizabeth Taylor, Rock Hudson, Carroll Baker, Dennis Hopper, Rod Taylor and Sal Mineo.
The book features the handwritten date of July 28, 1955 – possibly the date on which the signatures were acquired – and reportedly belonged to the assistant director who worked on the film.
Talladega Nights Will Ferrell's Wonder Bread Suit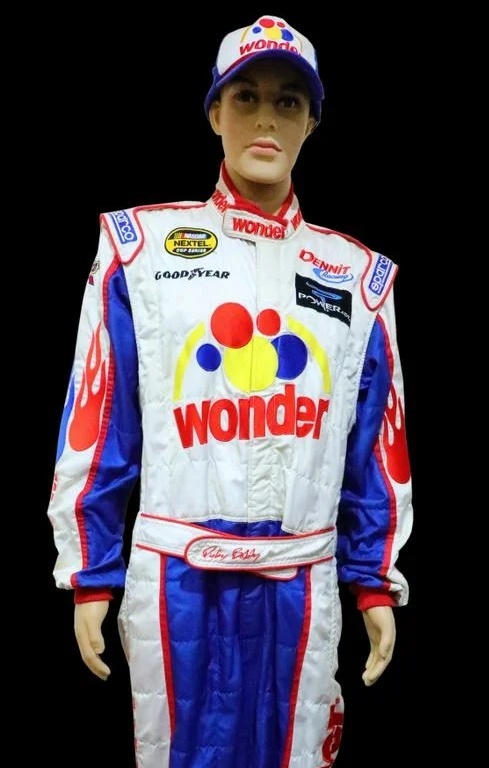 Estimate: $35,000 – $45,000
This racing suit was worn onscreen by Will Ferrell in the 2006 hit racing comedy 'Talladega Nights: The Ballad of Ricky Bobby'.
The suit features the character's main sponsor Wonder Bread, and comes complete with a matching racing cap and Puma motorsport sneakers.
Death Proof Screen Used 1973 Ford Mustang Grande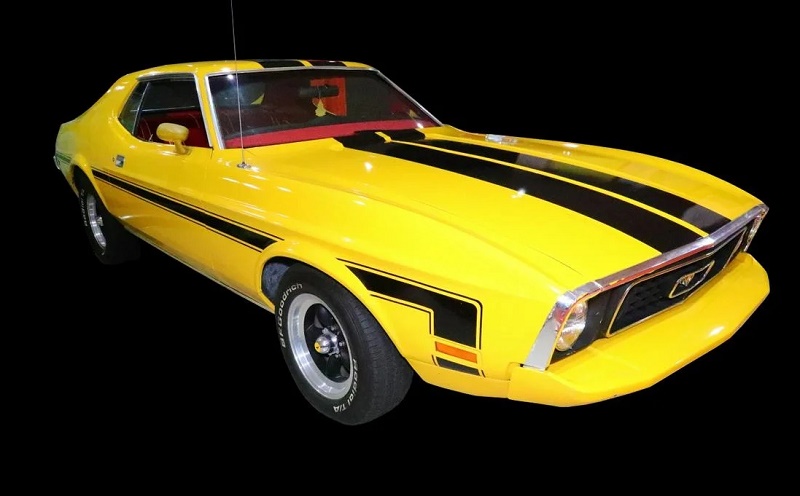 Estimate: $40,000 – $50,000
This 1973 Ford Mustang Grande was originally used onscreen in the 2007 Quentin Tarantino film Death Proof.
The car was one of two examples featured in the film, and was used for the interior driving scenes as Kurt Russell's psychotic 'Stuntman Mike' enters a deadly game of cat and mouse with a gang of kick-ass women on the highways of Tennessee.
In a nod to previous Tarantino films, the car's paintwork is reminiscent of both the outfit and motorcycle of Uma Thurman in Kill Bill, and has a 'Brand X' rear license plate in reference to Brand X Action Specialists who coordinated the amazing stunts.
Steve McQueen Le Mans Gulf Racing Rain Jacket
Estimate: $200,000 – $225,000
This dark blue Gulf Racing rain jacket was worn by Steve McQueen as Michael Delaney in the classic 1971 film Le Mans, recognized as one of the most authentic racing films of all time.
The jacket, which features Team Gulf patches on the chest and sleeve, was reportedly worn both onscreen and during production, and comes with a letter of authenticity from the film's costume supervisor.
Titanic Kate Winslet Screen Worn Sinking Coat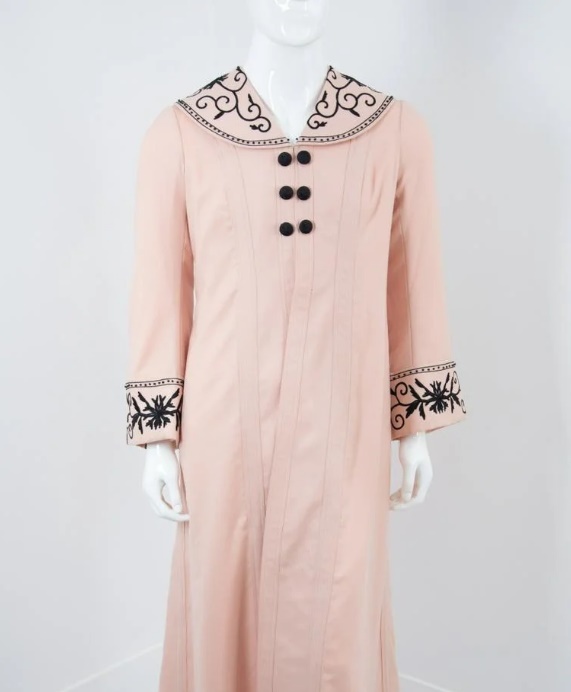 Estimate: $500,000 – $800,000
This pink wool coat was worn onscreen by Kate Winslet as Rose in the blockbuster 1997 historical epic Titanic.
Winslet wore the jacket in the film's famous sinking scene, and it has been described as "truly the 'holy grail' for collectors of Titanic memorabilia".
The iconic coat was exhibited by Disney at their 'AFI's 100 Years, 100 Movies' exhibit, and comes complete with certificates of authenticity from 20th Century Fox and Disney.
Elvis Presley Harley Davidson FLH 1200 Electra Glide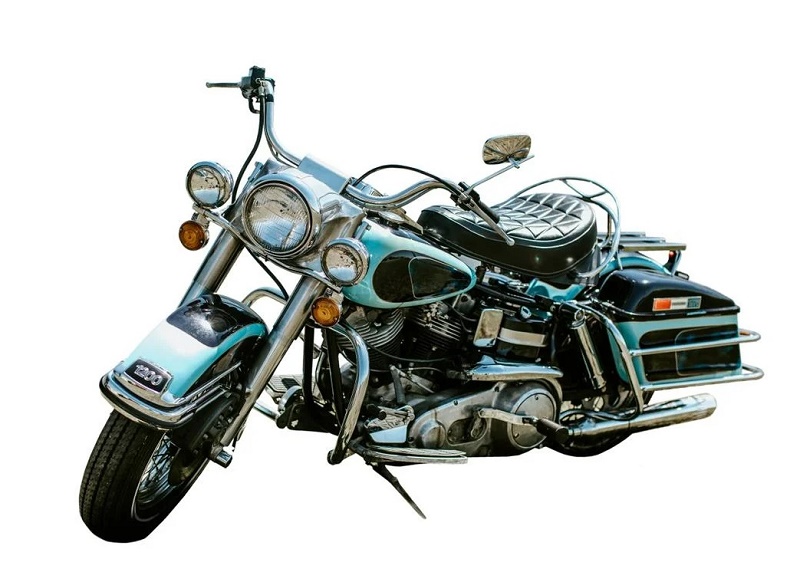 Estimate: $1,750,000 – $2,000,000
This 1976 Harley Davidson FLH 1200 Electra Glide motorcycle was the last motorcycle Elvis Presley ever bought.
He had the motorcycle delivered to Graceland in August 1976, and according to records later sold it to a local Harley Davidson dealership in Memphis just three months before his death in August 1977.
The motorcycle remains titled and registered in Elvis's name, and has been a star exhibit at the Pioneer Auto Museum in Murdo, South Dakota for more than 30 years.