From legendary guitars to teenage pop stars, New Jersey poetry and bizarre gardening accidents – here are ten of the most rock and roll music memorabilia sales that took place in 2018.
David Bowie's first demo tape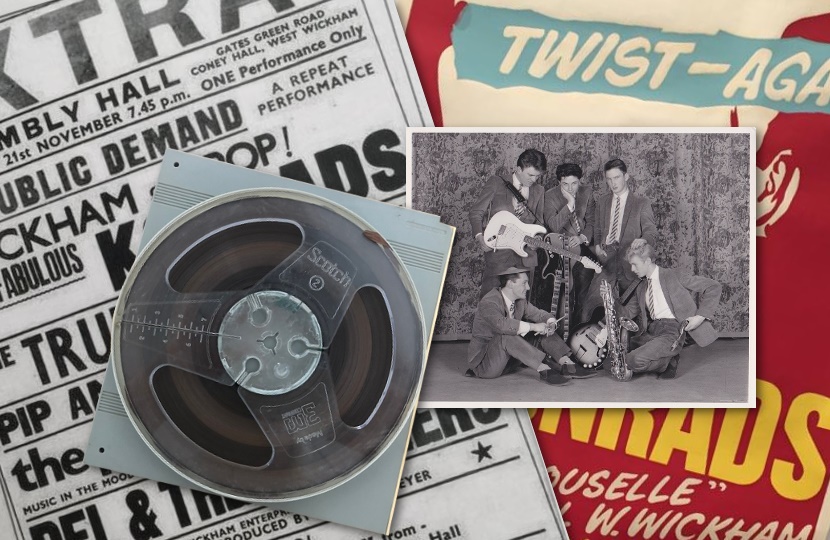 Back in 1963 David Bowie was still Davie Jones, a 15-year-old musician dreaming of stardom.
He joined local South London band The Konrads as a saxophone player after replying to a newspaper advert, but his charisma soon saw him become the group's front man.
And when the band came to record their first studio demo, Bowie was chosen to sing lead vocals on the original song 'I Never Dreamed'.
It was the first time Bowie had ever entered a recording studio, and the tape marked the birth of one the most important and influential performers in pop music history.
It didn't, however, impress Decca Records, who swiftly rejected it. Bowie left The Konrads soon afterwards to start his own band, and the tape was forgotten about for more than 50 years.
Everyone assumed it was lost forever until 2018, when The Konrads' former guitarist David Hadfield discovered it in his attic, hidden inside an old bread basket.
When Hadfield placed the historic tape up for auction in September 2018 it sparked a bidding war between collectors, and soared to a final price of $51,275.
Stevie Ray Vaughan's first guitar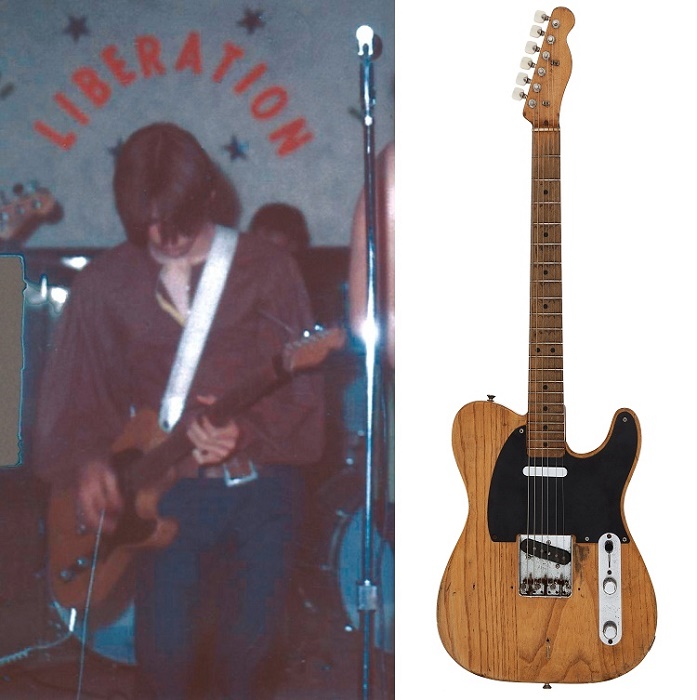 This 1951 Fender No-caster electric guitar was the first instrument ever owned by blues legend Stevie Ray Vaughan.
Vaughan began his career as a young teenager, stealing his older brother Jimmie's guitar and sneaking off in the middle of the night to play in juke joints across Texas.
Eventually Jimmie got sick of Stevie borrowing his equipment, and gave him the guitar (which he had previously carved his name 'Jimbo' into on the reverse).
The Fender became Vaughan's weapon of choice, playing it extensively on-stage and in the studio as he made his name as the finest blues guitarist of his generation.
But in the 1970s he traded the guitar for a red Epiphone, and regretted the decision for years. "I ended up letting someone talk me into selling and I'm still kicking myself! Still looking for it…" he said in 1989.
However, less than a year later – having transformed the Blues landscape for a new audience – Vaughan was tragically killed in a helicopter accident.
He left behind a musical legacy that has influenced countless musicians, and in April 2018 his beloved 'Jimbo' guitar sold at Heritage Auctions for $250,000.
Original doors from the Chelsea Hotel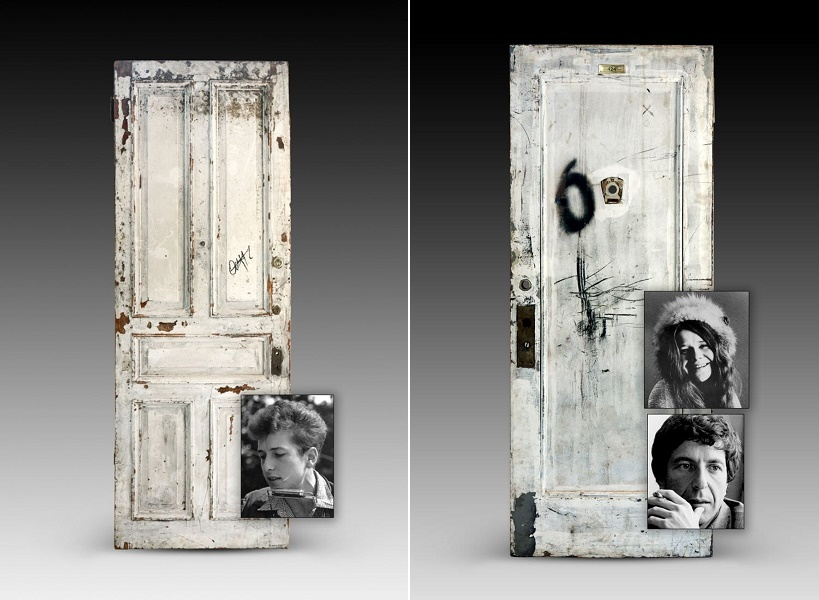 There can be few more famous – or notorious – hotels in rock and roll history than the Chelsea Hotel in New York.
Stars like Bob Dylan, Madonna, Janis Joplin, Bob Marley and Jim Morrison all lived there at one time or another, along with artists and writers such as Andy Warhol and Jack Kerouac.
In April a collection of original doors from the hotel hit the auction block at Guernsey's, where together they sold for more than $400,000.
The doors had been thrown out by construction workers during renovation work in 2011 – but they were rescued by homeless man Jim Georgiou, who discovered them in an alleyway ready for the scrap heap.
Georgiou was a former resident of the hotel and he understood their cultural significance. He spent the next few years researching the history of the doors and the famous names that had once lived behind them, before consigning them for auction.
The top-selling lot was the door to room #225, where Georgiou himself had lived for 10 years. But he discovered that back in 1968 it had also been home to Bob Dylan, who wrote several classic songs during his stay, and its musical provenance saw it fetch $125,000.
Led Zeppelin's Stairway to Heaven studio desk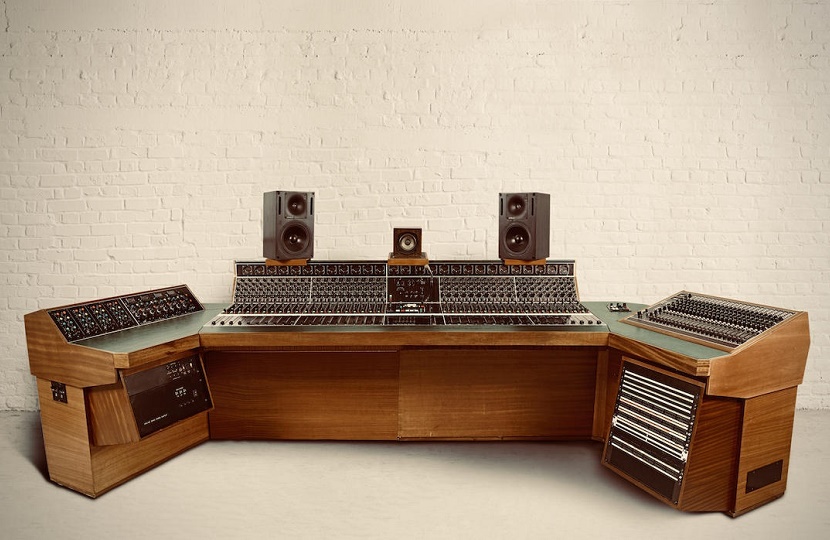 For many classic rock fans, one song stands head, shoulders and Robert Plant's golden mane above the rest: Stairway to Heaven.
And in December 2018, the same mixing desk on which Led Zeppelin recorded their seminal anthem came up for auction at Bonhams.
The Helios console was originally installed in Island Records' London studio, where it was used by artists such as Bob Marley and The Wailers, Jimi Hendrix, Cat Stevens, Eric Clapton, Sly Stone, Jeff Beck, David Bowie, Free and The Rolling Stones.
But its most famous contribution to rock came in December 1970, as Led Zeppelin began recording their album 'Led Zeppelin IV'.
The band famously wrote and recorded most of the album whilst holed up at the Headley Grange country estate, using The Rolling Stones' mobile studio.
But the first sessions took place at the Island Records studio, where the band laid down the tracks for what would become the most requested FM radio song of the 1970s.
Decades later, the Helios recording console was combined with another desk to create an even bigger beast, which was then used by Elvis Costello and Chris Difford of Squeeze in their HeliosCentric recording studio.
Having played an important part in rock history for generations of artists, the desk finally found a new home when it was snapped up at Bonhams for $142,665.
Bruce Springsteen's handwritten Born to Run lyrics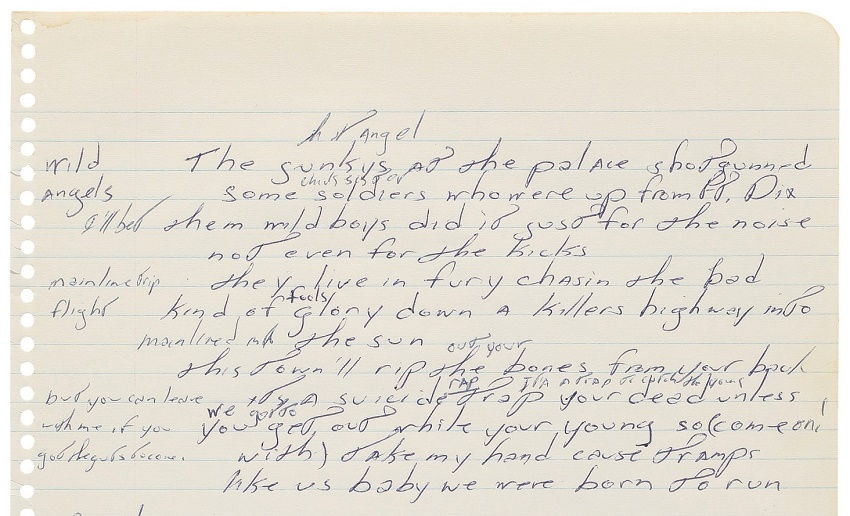 Back in June, an original set of handwritten lyrics to Bruce Springsteen's timeless anthem 'Born to Run' hit the auction block at Sotheby's.
The manuscript was an early draft of the classic song, including many lines that never made it into the final version – but it did feature an almost perfected version of the song's soaring chorus.
Springsteen spent six months obsessively working on the track which eventually propelled him to international stardom, far beyond the streets of New Jersey where he first made his name.
Since its release in 1975, Springsteen has performed the song at almost every live show of his career, and it is listed as one of The Rock and Roll Hall of Fame's '500 Songs that Shaped Rock and Roll'.
Offering an insight into the creative process of one of America's most important musical voices, the handwritten lyrics sold for a staggering $250,000.
Elvis Presley's Omega watch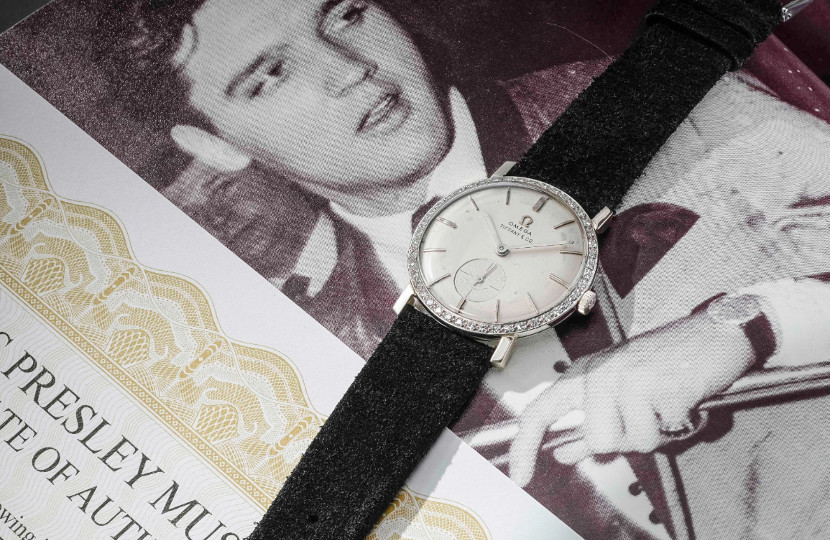 This Omega wristwatch smashed the auction record for a piece of Elvis memorabilia back in May, when it sold at Phillips in Geneva for $1.8 million.
The price stunned auctioneers, as it had originally been valued at around $100,000, and it trebled the previous record of $600,000 set by the King's golden Graceland piano.
Elvis was originally given the watch by his record company RCA in 1960, to celebrate the sale of a remarkable 75 million records worldwide.
But despite the personal significance, Elvis wasn't sentimental about the watch, and ended up giving it to a fan he met in a restaurant!
The gentleman in question casually mentioned to Elvis that he liked his watch, and Elvis offered to swap it for the diamond-studded Hamilton he was wearing.
The gentleman later passed the watch down to his nephew, who consigned it to auction – and Presley's legendary generosity ended up changing the life of one of his fans, more than 40 years after his death.
Prince's last stage-played guitar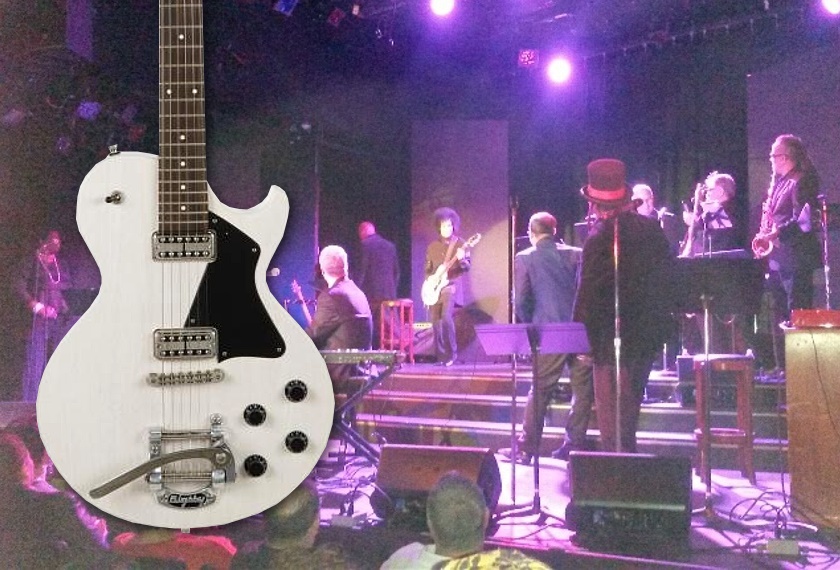 In March 2016 Prince attended a tribute concert to Ray Charles in his home town of Minneapolis – and enjoyed the set so much he decided to join in.
He wandered down from his private booth to the side of the stage, and quickly borrowed this white Collings 290 electric guitar from local musician Stephen Morgan.
Then without warning, Prince casually walked onto the stage during the classic Chicago blues number 'Let The Good Times Roll', and played a blistering guitar solo.
Nobody in the room, including the musicians, could believe what they were seeing.
"God, when he showed up it was such a surprise," said keyboard player Scottie Miler. "And the crowd is gasping for air… after I noticed it was him, I turned back to the audience and mouthed, 'What the f***?!'"
But as quickly as he appeared, he was gone. Prince swiftly returned to his seat, watched the rest of the show, and left quietly through the back exit.
His entire performance lasted less than two minutes, but nobody knew it would be his final gig, and less than six weeks later he was tragically found dead in his Minneapolis home.
In September 2018 that same guitar – the last Prince ever played live – sold at Julien's in Los Angeles for $156,250.
George Harrison's first electric guitar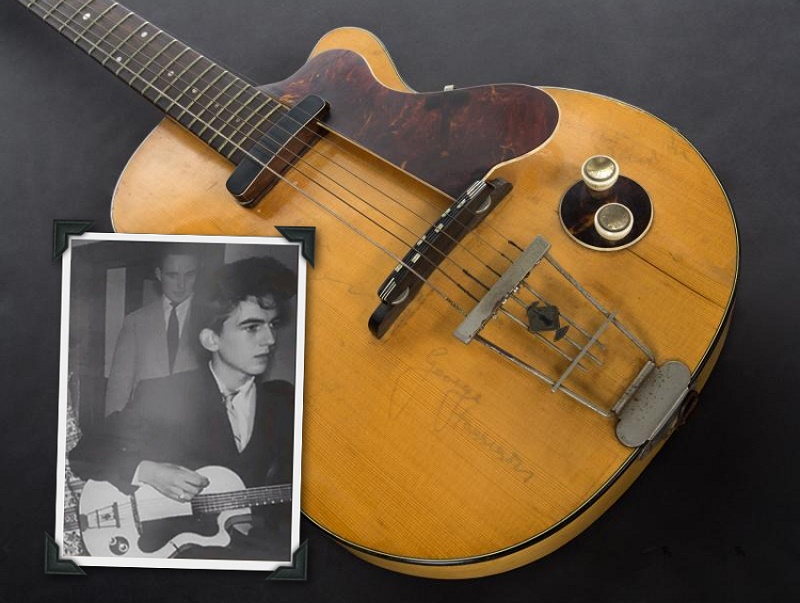 Back in May 2018 Julien's Auctions sold a seminal piece of music history which helped change rock and roll forever: George Harrison's first electric guitar.
When Harrison first joined the band in 1958 at the age of 15, The Quarrymen (as they were then known) were a skiffle group playing in coffee houses across Liverpool.
However, when Lennon and Harrison both acquired electric guitars they developed into a louder, more raucous rock and roll band, and the addition of drummer Pete Best gave them a thumping back beat.
Harrison obtained the guitar in the summer of 1959, when he traded his acoustic Hofner for an electric Hofner Club 40 from Ray Ennis, member of the Liverpool band The Swinging Blue Jeans.
He used it extensively during their earliest shows, and kept it as they honed their skills on stage in the rough-and-ready nightclubs of Hamburg.
By 1966 The Beatles were the biggest band in the world, but they still remembered their roots. And when the Star Club in Hamburg asked the group for a signed guitar, to be given away as a competition prize, Harrison donated his historic Hofner Club 40.
The winner was Frank Dostal, whose band Faces were crowned Germany's Best Beat Band of 1966, and the guitar remained in his collection for more than 50 years.
Closer inspection by experts revealed the signatures had actually been signed by The Beatles' road manager, Neil Aspinall, but the guitar was the real deal: one of the most significant instruments in the history of the world's most famous band.
And when it hit the auction block at the Hard Rock Cafe in New York, it sold for an impressive $430,000.
Robbie Robertson & Bob Dylan's guitar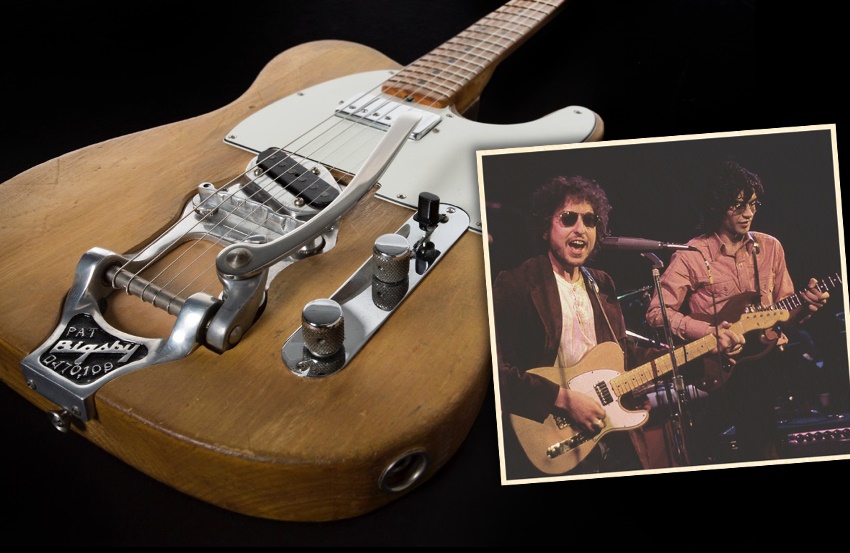 This 1965 Fender Telecaster guitar was wielded on stage by not one, but two rock legends: Bob Dylan and Robbie Robertson.
It originally belonged to Robertson, who played it with his band The Hawks before they joined forces with Bob Dylan in 1965 on his first 'electric' tour.
Dylan was in the process of transforming himself from a folk troubadour to a fully-fledged rock star, and split his sets into two halves. The idea was: come for the acoustic protest songs, stay for the blistering rock and roll band.
Dylan played Robertson's Telecaster extensively throughout the landmark tour, and later used it in the studio whilst recording his classic album Blonde on Blonde.
Then when Robertson finally got it back, he played it during the recording of The Basement Tapes, the Band's debut album Music From Big Pink and their eponymous follow-up album.
And if that wasn't enough music history to cram into a single instrument, he also played it on-stage at Woodstock.
"This guitar has been on the front lines of so many phenomenal events, I gaze at it with amazement," says Robertson. "When I think about all the creativity this guitar has been a part of, I'm still blown away."
Collectors were similarly awed, and when the guitar when up for sale at Julien's Auctions in May 2018 it sold for a stunning $490,000.
Ronnie James Dio's garden gnome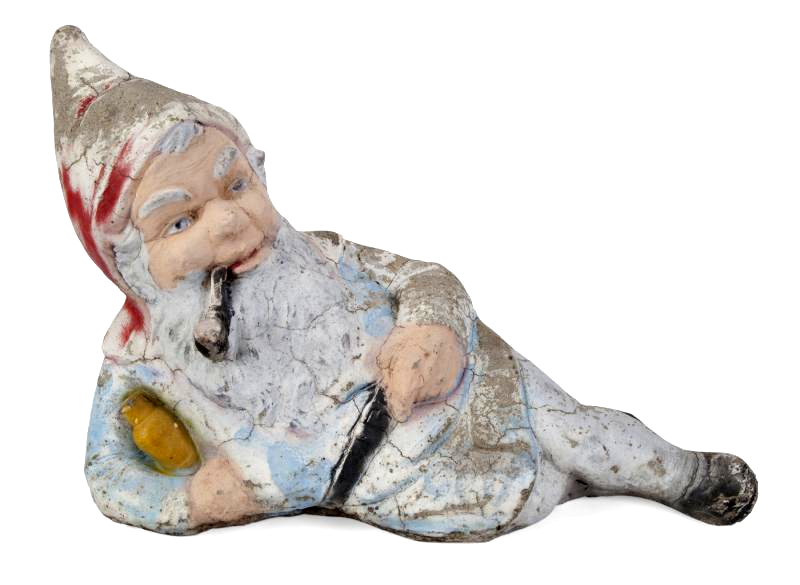 As any Spinal Tap fan will tell you, there's no more 'rock and roll' way to injure yourself than in a bizarre gardening accident.
And that's exactly what happened to heavy metal legend Ronnie James Dio in 2003, when he accidentally severed part of his thumb, all thanks to a garden gnome.
Dio – the inventor of the iconic 'Devil's Horn' hand symbol – fell into a shrubbery whilst trying to place the gnome in his garden, and crushed his thumb to a pulp between a rock and the sinister lawn ornament.
Describing the incident, he later told Rockdetector.com:
"It was a killer garden gnome. I'm not joking, although I certainly wish I was…I just looked at my hand and the first thought that flashed into my mind was, 'How on earth am I going to make my devil horn sign now? That's my trademark!'"
Thankfully surgeons were able to reattach his thumb tip, and Dio continued to rock out with audiences around the world until his death in 2010.
And when his personal collection of memorabilia came up for sale at Julien's in September 2018, one determined fan paid $2,400 to own the most dangerous garden ornament in rock and roll history.