An allegedly 'haunted' mirror once owned by the Captain of the Titanic will be offered for auction in the U.K next month.
The antique silver-framed mirror originally belonged to Captain Edward John Smith, who captained the ocean liner on its ill-fated maiden voyage.
It will now be offered as one of the star lots in Richard Winterton Auctioneers' Fine & Decorative Arts Sale at The Lichfield Auction Centre on December 12.
The Titanic struck an iceberg on its way to New York and sank on the evening of April 15, 1912, causing the tragic deaths of more than 1,500 passengers and crew members.
Captain Smith went down with his ship, and his body was never recovered. His heroic actions during the disaster were later praised, and today he is remembered by a statue in his home county of Stafforshire.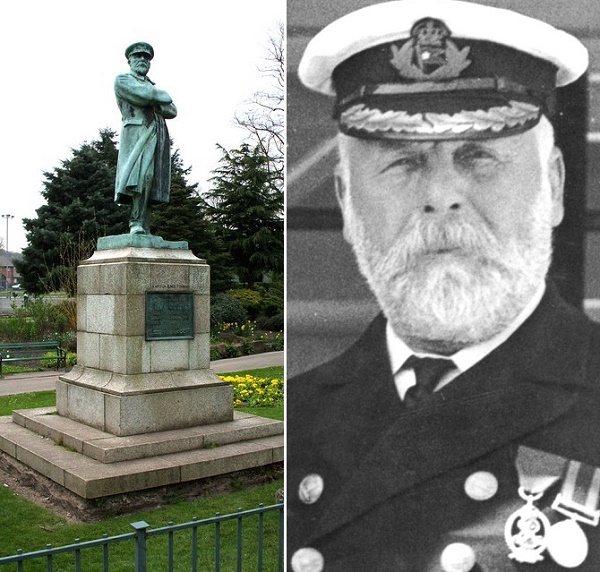 Robert Williams Daniel, a passenger who survived the disaster, later told the New York Herald:
"I saw Captain Smith on the bridge. My eyes seemingly clung to him. The deck from which I had leapt was immersed. The water had risen slowly, and was now to the floor of the bridge. Then it was to Captain Smith's waist. I saw him no more. He died a hero."
Following his death, Captain Smith's housekeeper Ethelwynne was allowed to choose an item from his belongings to remember him by, and in lieu of wages.
She chose the silver-framed easel mirror, but according to a letter written by Ethelwynne's sister-in-law Hilda, she later witnessed the ghostly face of her former employer appear in front of her.
Hilda wrote: "She [Ethelwynne] always spooked me when she said that at times she could still see Captain Smith's face in it on the anniversary of when the Titanic was sunk."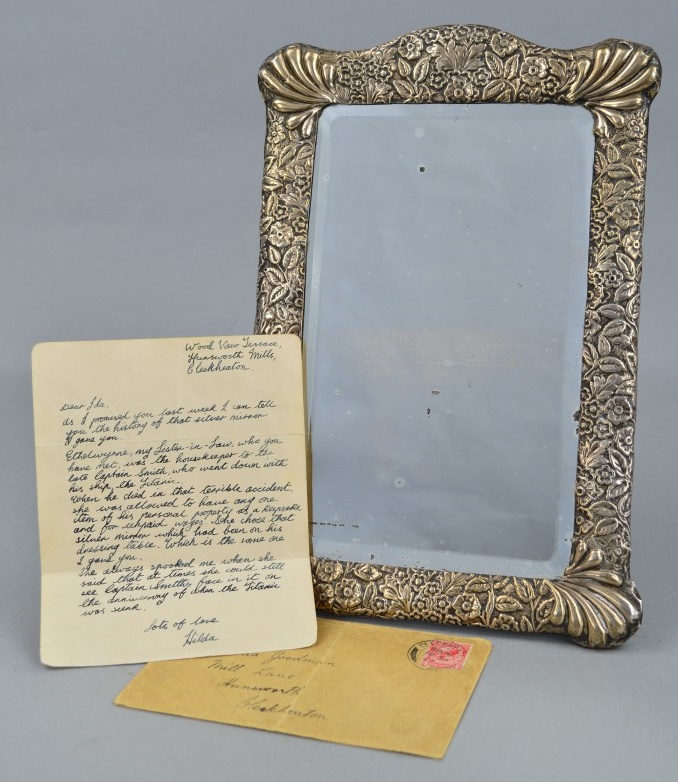 Ethelwynne isn't the only person who reports to have seen the Captain's ghost.
Just last month a couple claimed to have been 'photobombed' by an apparition resembling Smith in a Belfast pub with close connections to the Titanic.
"Interest in the Titanic is as strong as ever," said auctioneer Richard Winterton. "This mirror could fetch well in excess of £10,000 at auction."
"The last time Captain Edward John Smith saw his own noble, bearded visage before leaving home to take the helm of the Titanic was possibly in this very mirror.
"Captain Smith must have surveyed his own image in this mirror countless times and the legend that his face can still be seen in it on each anniversary of the Titanic's sinking is as compelling as it is chilling!
"Even with one's feet firmly on land and in the sunshine of a clear afternoon, there is something otherworldly about seeing your own reflection in such an object.
"Whoever buys this in December will have it in good time to test that legend for themselves on the 107th anniversary next April."