A factory-sealed copy of the ultra-rare Nintendo video game Stadium Events is heading for sale at Heritage Auctions in March.
Stadium Events is regarded as the rarest US licensed NES game ever sold in stores, and today around 200 copies believed to exist in any condition.
The copy offered at Heritage Auctions is WATA-graded 9.2 A+, and comes complete with its original price sticker from the now-defunct department store chain Richman Gordman.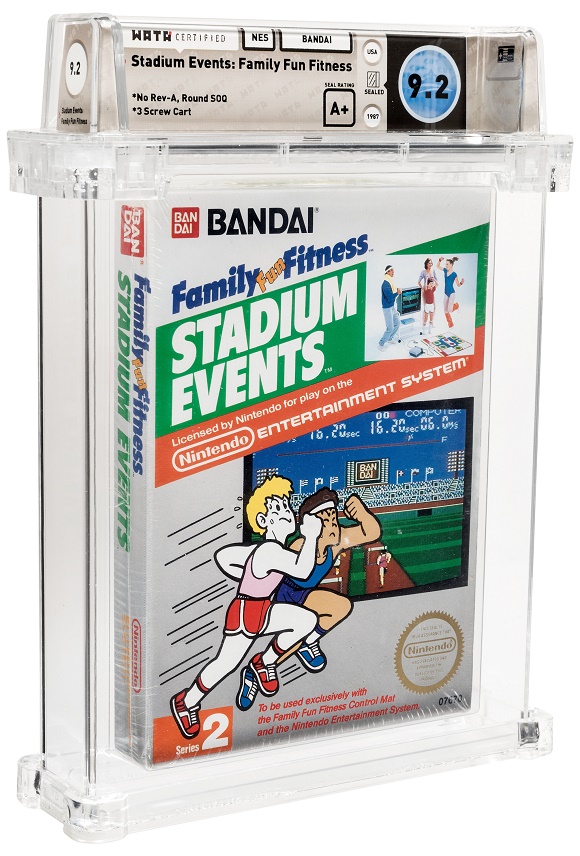 Due to its rarity, Stadium Events has achieved an almost mythical aura amongst video game collectors.
For years stories have circulated about copies found in thrift stores, entire cases of the game discovered in an abandoned warehouse, and private deals featuring secretive non-disclosure agreements.
In 2016 the game made headlines around the world when a sealed copy sold on eBay for a then-record $35,000, and in 2017 another fetched $41,977. Today even loose copies have been known to fetch five-figure sums.
For collectors seeking to own every licensed game ever released for the NES it is usually the last title on the list, the final part of a 717-piece puzzle that can't be found.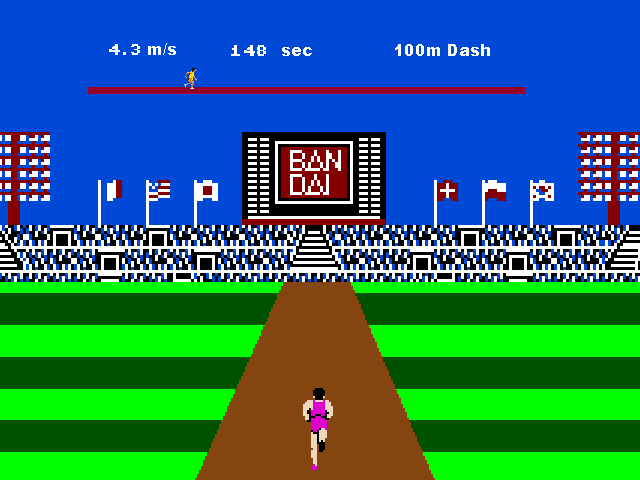 It's estimated that 10,000 copies were initially produced by Bandai in 1987, to be used with their innovative 'Family Fun Fitness' pad controller.
Nintendo realized the controller would be perfect to package with the NES console and snapped up the rights from Bandai, rebranding it as the 'Power Pad'.
They also bought the rights to Stadium Events, swiftly withdrew all the existing copies from US stores, and rereleased it 'World Class Track Meet'.
To this day nobody knows what happened to the original copies. Even former Nintendo employees are vague about where they ended up, and in 2016 renowned games tester Howard Phillips told ESPN:
"If there were 10,000, I don't know where they ended up. I don't have recollection of us burying them in a landfill. Destroying them or reworking them would've been a laborious task. Getting the label off would've been overly laborious on a per-unit basis. So … the rarity is a mystery, isn't it?"
That mystery only adds to the legend, which has seen Stadium Events described as the "Honus Wagner" of video games – in reference to the Wagner T206 card, the world's most valuable baseball card, of which there are less than 60 known examples.
Compared to baseball cards, vintage video game collecting is still very much in its infancy. But the introduction of third-party grading service Wata Games and the publicity surrounding recent sales has seen the market explode in the past 12 months.
In February 2019 a factory-sealed, near-mint condition copy of Super Mario Bros for the NES sold privately to a group of collectors for $100,150, setting a world record price for a vintage video game.
And in December 2019 a sealed copy of the 1987 NES game Mega Man sold at Heritage for $75,000, marking the highest price ever paid for a game at auction.
The auction house is yet to place an estimate on the game, which goes up for sale in Dallas on March 5-7.
But due to its legendary status in the hobby, we think there's a chance the sealed copy of Stadium Events could surpass both those prices and rewrite the record books once again.