Derek Jeter's jersey from his first-ever game for the New York Yankees is set to hit the block at Goldin Auctions next month.
The jersey has been described as "the holy grail of Derek Jeter Collectibles", and is expected to sell for more than $50,000 in an online auction that runs until February 22.
Jeter wore the photo-matched jersey on his MLB debut for the Yankees on May 29, 1995, in a road game against the Seattle Mariners.
Although he didn't manage a hit, he also wore the same jersey the following day as he achieved two hits and scored his first MLB run.
It was the start of a remarkable 20-year career, during which he won five World Series titles, five Gold Glove Awards, five Silver Slugger Awards, two Hank Aaron Awards, and a Roberto Clemente Award.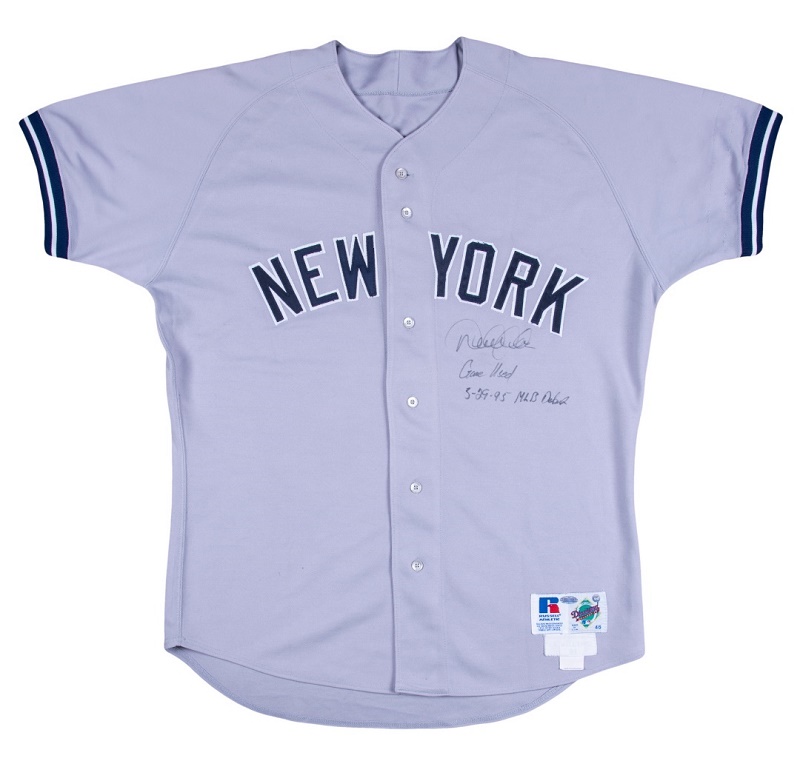 Jeter was initially drafted straight out of Kalamazoo Central High School in 1992, and spent four years being farmed out to minor league teams before being called up to the big show.
Although he only made 15 appearances in his first season, the following year he helped the Yankees to the 1996 World Series and won the ALS Rookie of the Year.
Jeter currently holds records as the Yankees' all-time leader in hits, doubles, games played, stolen bases, times on base, plate appearances and at bats.
He is regularly named as one of the greatest Yankees players of all-time along with the likes of Babe Ruth, Lou Gehrig, Joe DiMaggio and Mickey Mantle.
With their historic jerseys now regularly fetching six-figure sums at auction (and in Ruth's case, $1 million or more), it seems likely that collectors will look to snap up Jeter's debut jersey as an investment for the future.
The jersey comes directly from the New York Yankees themselves, and is also signed by Jeter, who has inscribed it "Game Used 5-29-95 MLB Debut".
In addition to the jersey, the auction also includes a wealth of memorabilia tagged 'The Derek Jeter Hall of Fame Induction Collection', in anticipation of his induction to Cooperstown in 2020.
Another notable lot is Jeter's 1992 high school scouting report by Yankees scout Dick Groch, who famously told his employers "the only place Derek Jeter's going is to Cooperstown".
Groch's report describes Jeter as "A Yankee! A five tool player will be a ML Star! +5!!" and he convinced bosses to select him as the sixth pick in the 1992 MLB Draft.
Further highlights include several game-used bats, game-worn jerseys, caps and gloves from throughout his 20-year career, along with numerous autographed baseballs and rare rookie cards.