An incredibly rare signed Beatles record once owned by George Harrison's sister could sell for more than $100,000 at auction in Boston next week.
The copy of the band's 1964 album 'Meet the Beatles' was signed in February 1964, as they travelled to their first-ever U.S concert in Washington D.C.
It will now cross the block on October 7 at RR Auction, and has been described as the "holy grail" for collectors.
Beatles albums signed to their family members are described by the auction house as "virtually non-existent", and the record comes with superb provenance.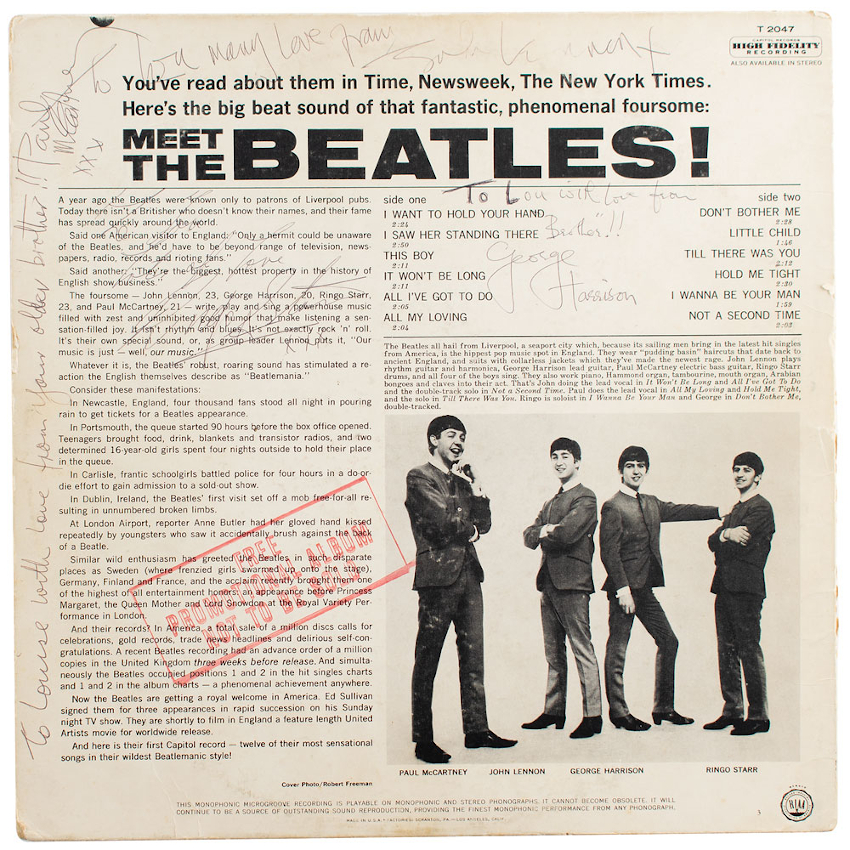 On February 11, 1964 – just two days after their landmark debut appearance on The Ed Sullivan Show – the Beatles made their way to Washington D.C, for the first show of their U.S tour.
As a snowstorm engulfed the East Coast all flights were cancelled, and the band were forced to travel by train in a special sleeper carriage.
Amongst those making the journey was George Harrison's older sister Louise, who already lived in the U.S having emigrated with her family back in 1963.
Louise was a staunch supporter of her brother's band, and worked tirelessly to get their records played on U.S radio prior to their arrival in February 1964.
She accompanied them on their historic first U.S tour, and later gave countless interviews throughout her life due to her personal Beatles connection.
The Beatles signed the album sleeve for Louise, each including a personal inscription.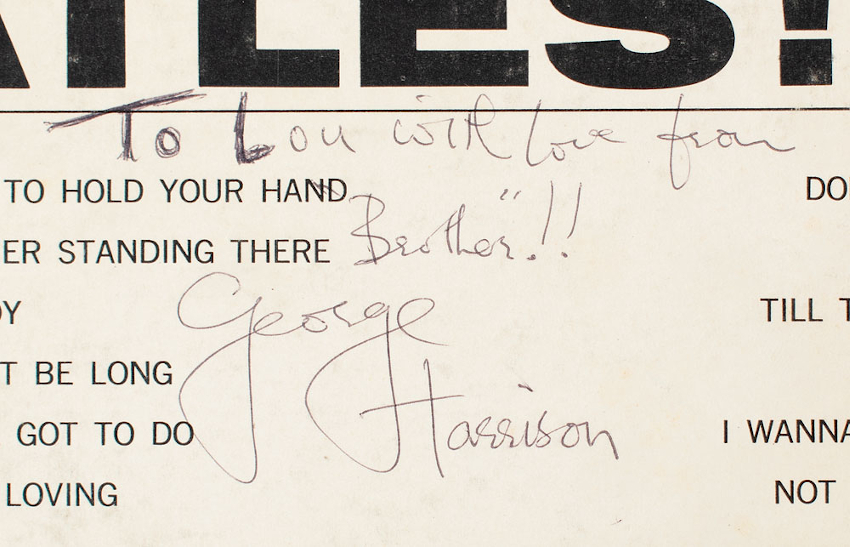 Harrison's own reads "To Lou with love from Brother!! George Harrison", and Paul McCartney's reads "To Louise with love from your older brother!! Paul McCartney, xxx," – in reference to a joke between the pair as to who was the eldest.
The album in question is a promotional copy of the band's U.S debut 'Meet the Beatles', regarded as one of the rarest of all Beatles albums to find signed.
"The Beatles were inaccessible," said auctioneer Bobby Livingston. "By the time they got to the United States, U.S. albums were different from the Parlophone versions in the U.K. So, you couldn't really get to the Beatles and have them sign a promo album of "Meet the Beatles."
It's this combination of extreme rarity and the unique family connection which gives the album a pre-sale estimate of more than $100,000.
"What we have is probably the most significant Beatles record that exists," said Livingstone. "We think it's the holy grail."