The handwritten lyrics to the classic Beatles song While My Guitar Gently Weeps have gone up for sale in the U.S with a price tag of $195,000 (£150,000).
The lyric sheet was used during the recording of the song at Abbey Road Studios, and includes the handwriting of both George Harrison and Ringo Starr.
"This lyric sheet represents a working draft used during the recording of the song 'While My Guitar Gently Weeps'," said Frank Caizzo, the world's leading authority on Beatles autographs and handwritten manuscripts.
"Beatle song lyrics, such as these, are rarely ever found in private collections."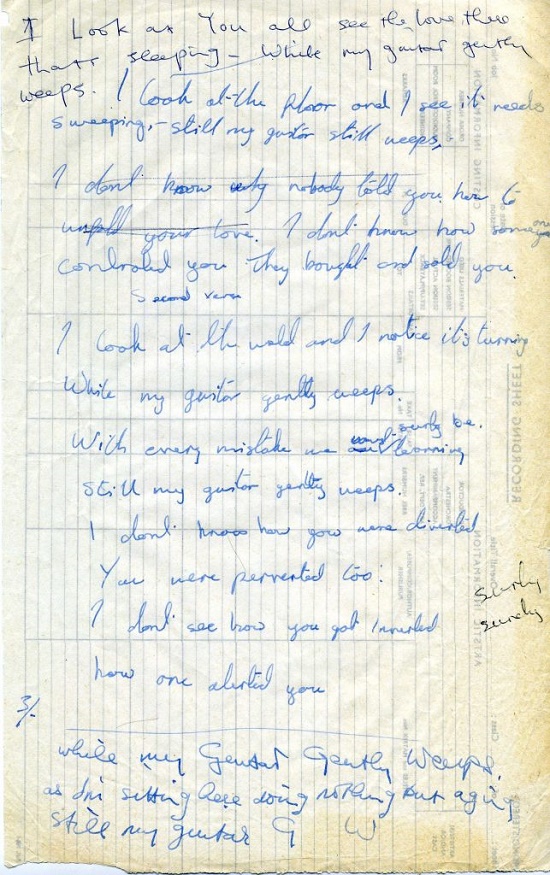 Back in 2007, another set of Harrison's handwritten lyrics for the song sold during a Barrett Jackson auction in Arizona for $300,000.
Those working lyrics were closely aligned with Harrison's original acoustic demo, and represented the earliest-known version of the song.
Harrison wrote While My Guitar Gently Weeps in 1968, after the Beatles returned from an Indian Transcendental Meditation retreat run by Maharishi Mahesh Yogi.
The fallout from the trip led to strained relationships within the band, as Harrison's dedication to exploring Eastern philosophies began to isolate him further.
It was during this period that Harrison began to truly find his voice as a songwriter, but struggled to be heard behind the dominant duo of Lennon and McCartney.
When the band came to record While My Guitar Gently Weeps, it started out as a simple acoustic song performed by a solo Harrison.
But during its evolution into a heavier rock song featuring the full band, Harrison became frustrated as he felt they weren't giving it their full attention. In the Beatles Anthology book, he recalled:
"Paul and John were so used to just cranking out their own tunes that it was very difficult at times to get serious and record one of mine. It wasn't happening … so I went home that night thinking 'Well, that's a shame', because I knew the song was pretty good."
He later called in his close friend Eric Clapton to overdub the song's famous guitar solo, making him the only guitarist from outside the band to appear on any Beatles record.
While My Guitar Gently Weeps later became a staple of US rock radio, and today is regularly ranked by critics as one of the greatest Beatles songs ever recorded.
Ringo Star later described it as "[one of the] finest love songs ever written", stating it was "on a par with what John and Paul or anyone else of that time wrote."