Our featured auction this week is the One Of A Kind Collectibles Rare Autographs, Sports, Books and Photography sale, which runs online until January 23.
The sale is packed with historic signed items from U.S Presidents, Hollywood icons, sporting legends and giants from the worlds of literature, music and politics..
Here are 10 of our favourite standout lots from the auction:
Jackie Robinson signed book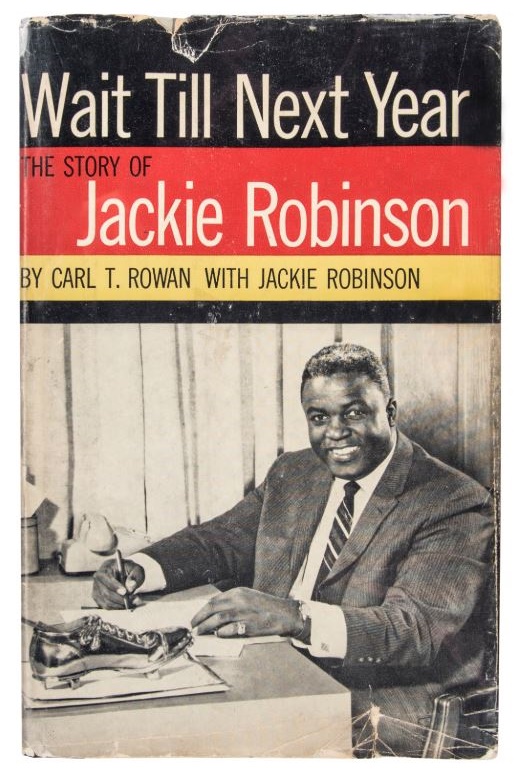 Estimate: $1,500 – $2,000
A signed copy of the Jackie Robinson biography 'Wait Till Next Year: The Story of Jackie Robinson' co-written with Carl T. Rowan and published in 1960.
Robinson was one of the most significant American sporting and cultural figures of the 20th century.
In 1947 he became the first black player in baseball history to break the color line when he stepped onto the field for his debut with the Brooklyn Dodgers.
The six-time All-Star later served as the first African-American vice president of a major American corporation, and was a key member of the Civil Rights movement throughout the 1960s.
William McKinley oversize signed photograph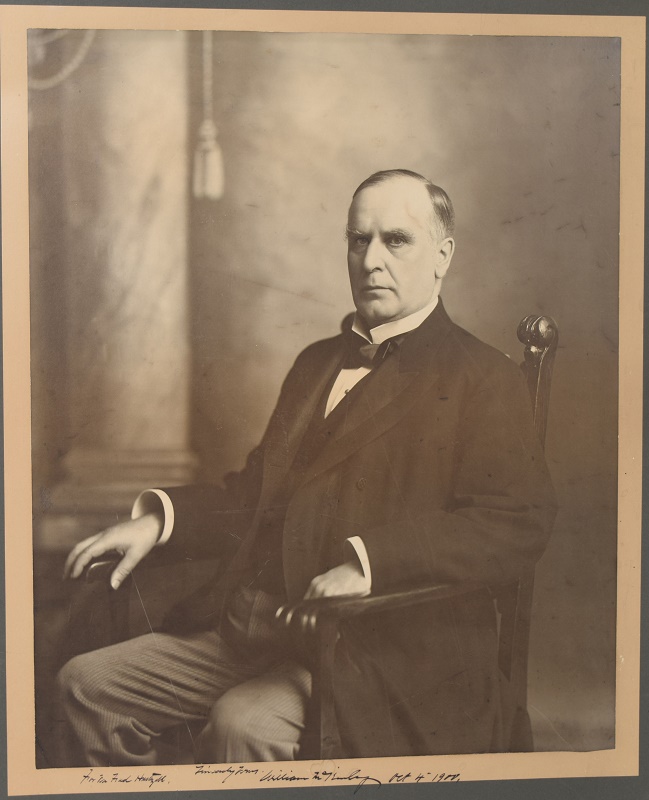 Estimate: $1,500 – $2,000
A stunning, oversize photograph of President William McKinley measuring 20 x 24″, signed "Sincerely from William McKinley" whilst he was in office, circa 1897 – 1901.
Margaret Mitchell signed copy of Gone With The Wind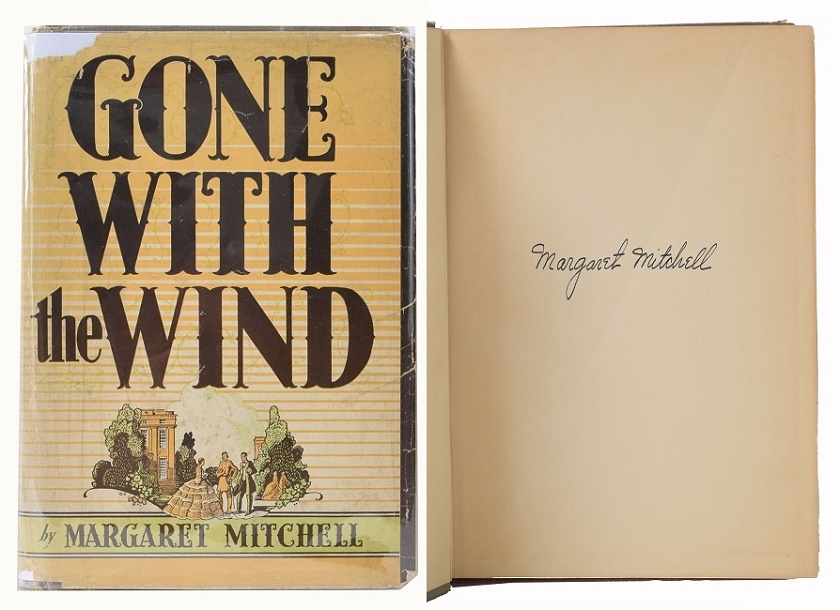 Estimate: $2,500 – $3,500
A rare signed but uninscribed first edition copy of Margaret Mitchell's classic novel Gone With the Wind.
Published in 1936, the book became an instant bestseller with sales of more than 1 million copies within the first six months. Mitchell became so overwhelmed for autograph requests during this period that less than a year after its publication, she vowed never to sign another copy – even for close friends or relatives.
The book went on to become one of the best-selling books of all time, and was later adapted into the timeless Hollywood movie starring Clarke Gable and Vivienne Leigh.
Thomas Edison signed photograph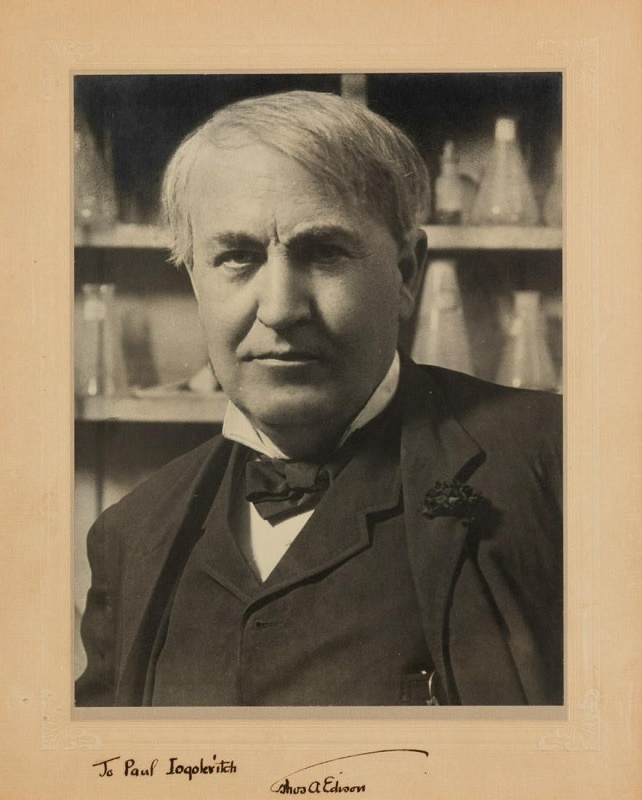 Estimate: $2,000 – $2,500
A fine signed photograph of America's greatest inventor Thomas Edison, who helped change the world in the fields of electric power generation, mass communication, sound recording and motion pictures.
The sepia photograph is signed and inscribed "To Paul Iogolevitch Thomas A Edison", and pictured Edison against the fitting backdrop of a scientific laboratory.
Salvador Dali signed book with original illustration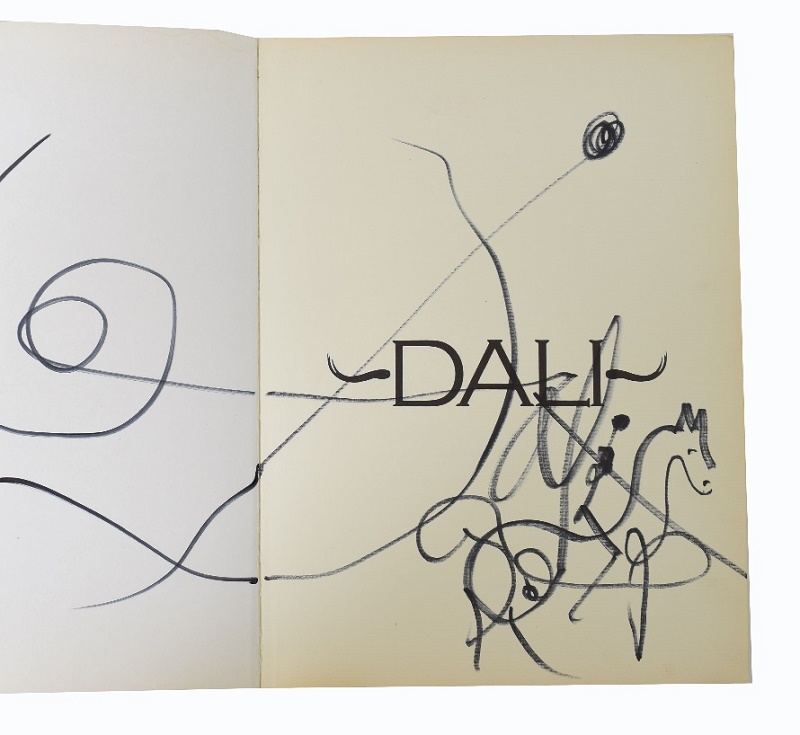 Estimate: $1,500 – $2,500
A copy of the 1974 biography of Salvador Dali by David Larkin, signed by the artist himself who has also included a two-page original sketch of a horse inside the cover.
New York Yankees team signed baseball c.1937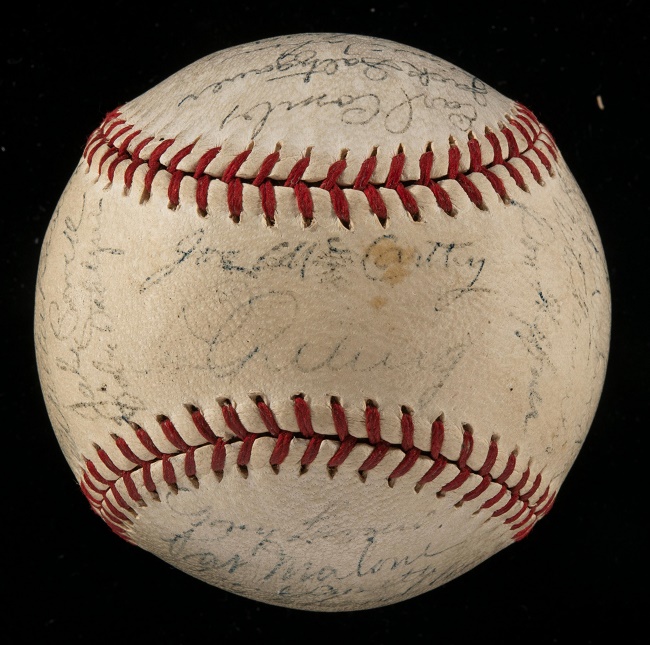 Estimate: $2,000 – $3,000
A New York Yankees signed baseball bearing the autographs of over 30 members of the 1937 World Series Championship team, including Hall of Famers Lou Gehrig, Joe DiMaggio, Bill Dickey, Lefty Gomez and Tony Lazzeri.
Franz Liszt signed photograph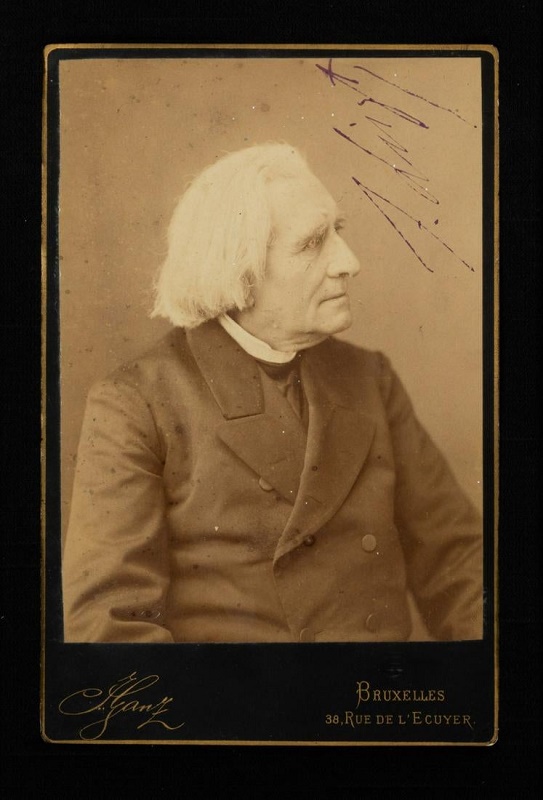 Estimate: $2,000 – $3,000
A rare original 19th century cabinet card of Franz Liszt, produced by J. Ganz of Brussels and signed by the celebrated Hungarian composer on the top right of the image.
Marilyn Monroe & Joe DiMaggio collection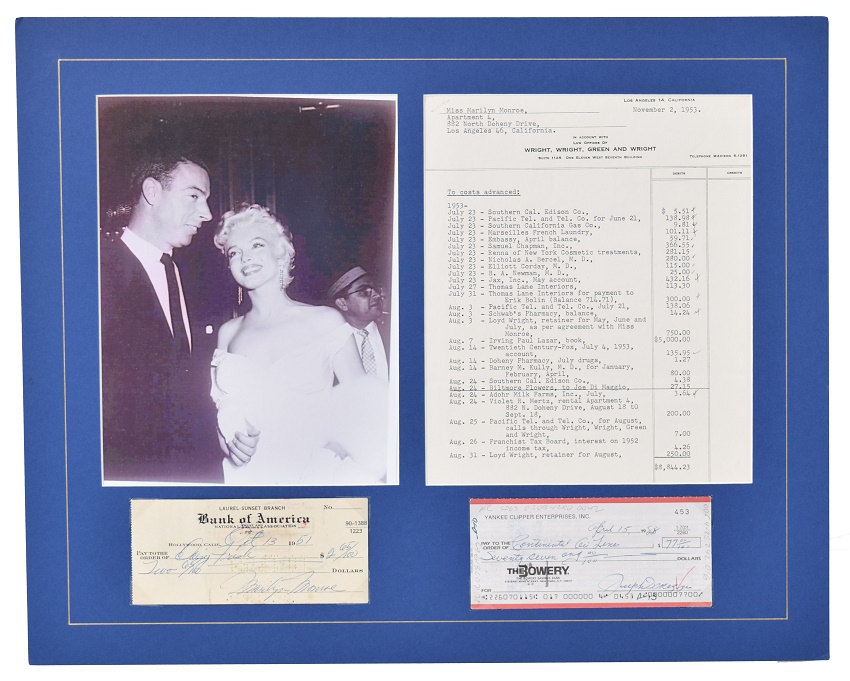 Estimate: $3,000 – $4,000
A collection of three items from one of the 20th century's most iconic romances.
The first two items are personal cheques, one signed by Monroe and the other by DiMaggio, each bearing clean crisp examples of their signatures.
The third item is an account sheet from Monroe's personal lawyers relating to expenses for the year 1953, during the couple's highly publicized courtship, which includes a large charge for flowers sent from Marilyn to her future husband.
Sigmund Freud handwritten signed letter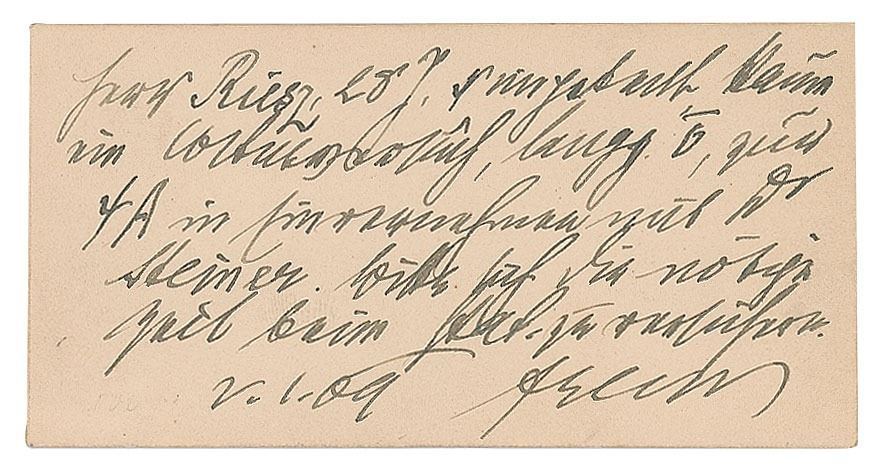 Estimate: $3,000 – $4,000
A handwritten, signed note by the pioneering psychoanalyst Sigmund Freud, relating to the case of a patient suffering from psychosexual issues.
"Mr. Riesz, aged 28, psychically and sexually impotent. Had with great difficulty an experience of coitus and agreed for a psychoanalysis with Dr. Steiner. Thank you for the time given to the patient."
The note is written in German to Freud's assistant Dr. Paul Federn, who was an early convert to Freud's theories on dreams and sexual issues and later served as Freud's surrogate at conferences.
Abraham Lincoln signed endorsement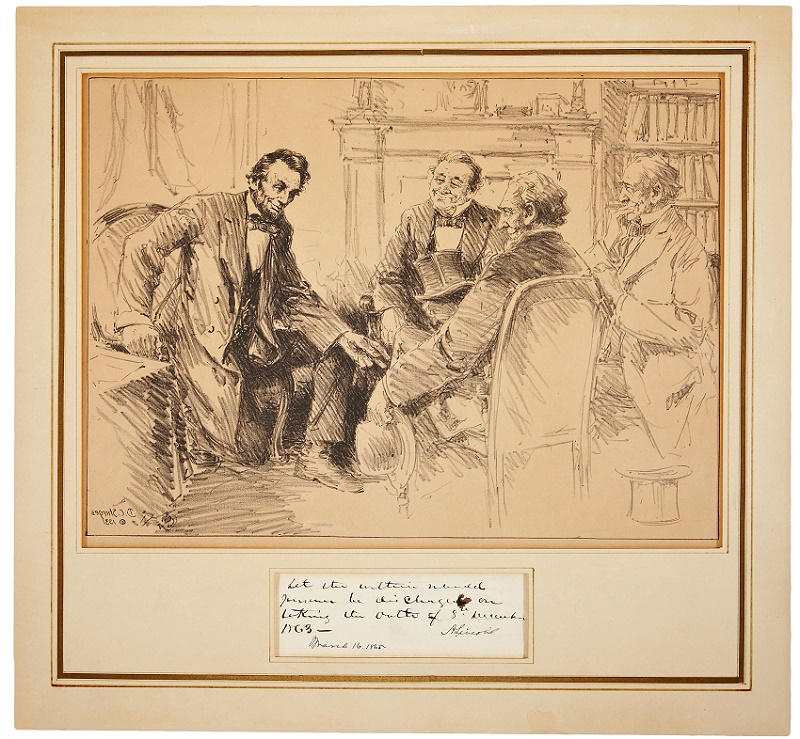 Estimate: $3,000 – $5,000
A signed endorsement by President Abraham Lincoln, dated March 16, 1865 – just 30 days before his death.
On December 8, 1863, Lincoln issued the Proclamation of Amnesty and Reconstruction which guaranteed that rebels who took an oath to support the U.S. Constitution would be pardoned.
This endorsement reads: "Let the within named prisoners be discharged on taking the oath of 8th December 1863."