David Hockney's iconic Pop Art masterpiece 'The Splash' is set to auction at Sotheby's next month, during the Contemporary Art Evening Auction in London.
The painting is perhaps Hockney's best-known work, and is expected to sell for £20-£30 million ($26 – $39 million) when it goes under the hammer on February 11.
"Not only is this a landmark work within David Hockney's oeuvre, it's an icon of Pop that defined an era and also gave a visual identity to LA," said Emma Baker, Head of Sotheby's Contemporary Art Evening Sale.
"Even looking beyond the twentieth century, few artworks have attained as mythic a status as this painting. Equally as recognisable as Munch's series of screams, Monet's water lilies or Van Gogh's flowers, Hockney's splash is ingrained within our cultural imagination."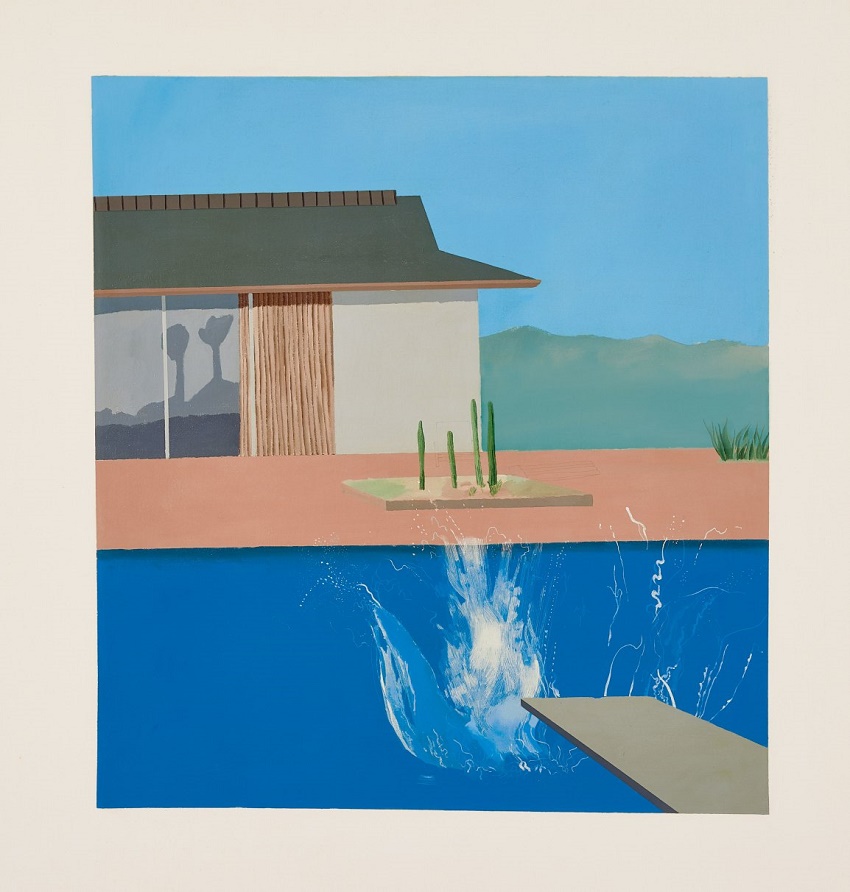 David Hockney moved Los Angeles in 1964, following his graduation from the Royal College of Art, and was immediately seduced by the L.A lifestyle, which stood in stark contrast to growing up in Post-War Britain.
"I instinctively knew I was going to like it," he recalled, "and as I flew over San Bernardino and saw the swimming pools and the houses and everything and the sun, I was more thrilled than I have ever been in arriving in any city."
Inspired by his surroundings, Hockney began a series of paintings featuring sun-kissed Californian architecture and swimming pools; a theme he would return to again and again over the next decade.
'The Splash' was one of a trio of works Hockney painted in 1966, each capturing the exact moment an unseen figure plunges into the serene waters of a swimming pool.
"I loved the idea of painting this thing that lasts for two seconds; it takes me two weeks to paint this event that lasts for two seconds," Hockney later said of the painting.
"Everyone knows a splash can't be frozen in time, so when you see it like that in a painting it's even more striking than in a photograph."
Of the three paintings, 'A Little Splash' is owned privately, and has never been offered publically for sale; and 'A Bigger Splash' is one of the most famous and popular paintings in the permanent collection of the Tate in London.
'The Splash' last appeared at auction in 2006, when it sold at Sotheby's for £2.9 million ($5.4 million), setting a new record price for the artist.
However, the market for Hockney's work has increased significantly in recent years, and in 2018 his 1972 painting 'Portrait of an Artist (Pool with Two Figures)' sold at Christie's for $90.3 million, setting a world record price for any living artist.