A 1300-year-old Islamic coin has set a world record price at auction, after it sold for more than $4 million at auction in London.
The incredibly rare Umayyad gold dinar dates from the year 723 AD, and is one of around just a dozen known to exist.
It crossed the auction block at Morton & Eden on October 25 with a pre-sale estimate of £1.4 – £1.6 million, but sold to an anonymous bidder for a final sum of £3.72 million ($4.78 million).
That result equalled the record for an Islamic coin at auction, and placed it amongst the world's most valuable coins ever sold.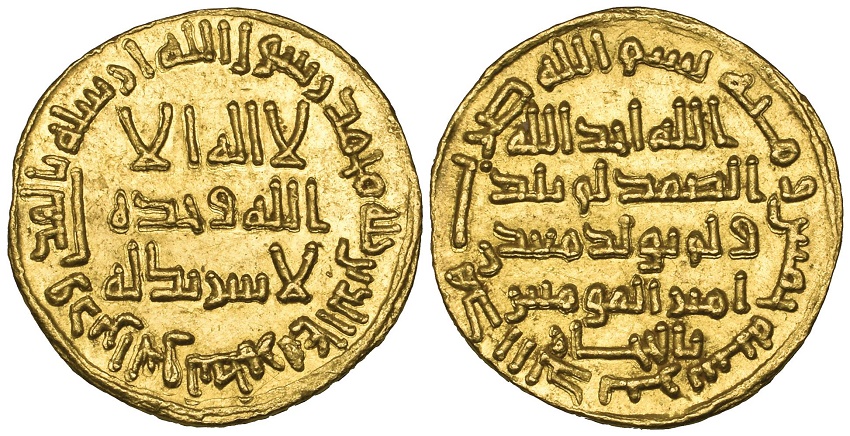 "Dinars such as this are among the most sought-after of all early Islamic coins and represent the ultimate to which any collector of early Islamic coins can aspire."
The coin is of particular importance as it is the earliest Islamic gold coin to name a specific location in the Kingdom of Saudi Arabia.
It bears the inscription "Ma'din Amir al-Mu'minin bi'l-Hijaz", which translates as "Mine of the Commander of the Faithful in the Hijaz".
According to many scholars, the inscription means the coin was made from gold taken directly from a mine owned by the Caliph himself, located northwest of the Holy City of Mecca.
All other medieval Islamic gold coins bear either religious inscriptions taken from the Qur'an, or information about where the coin itself was minted.
None are known to describe where the gold itself originated from, making the Umayyad dinar highly rare piece of numismatic history.
The gold mine in question had originally been bestowed upon a previous owner by the Prophet Muhammad himself, lending it even further significance.
Just one previous example of the coin had ever appeared at auction before, back in 2011, when it sold at the same auction house in London for £3.1 million.