An ultra-rare U.S $5 coin minted during the California Gold Rush is set to sell for millions when it goes up for auction in Baltimore next month.
The legendary 1854-S Liberty Head 'Half Eagle' is one of only three examples known to exist, and has been described as "one of the most famous rarities in the world of American coins".
The coin will be offered as part of the D. Brent Pogue Collection, which goes up for auction at Stack's Bowers Galleries on March 20.
Previous sales of the Pogue Collection between 2015 and 2017 have already raised more than $100 million, making it the most valuable rare coin collection ever assembled.
"The 1854 San Francisco half eagle commands respect that surpasses other giants of numismatics," said the auction house.
"Never promoted or ballyhooed, never placed at the center of a dramatic narrative that reeked of showmanship or marketing, the 1854-S half eagle brings its own resume to the pantheon of the greatest rarities of American numismatics: ultimate rarity, decades between offerings, and conspicuous gaps in the greatest cabinets ever formed where this issue ought to be found."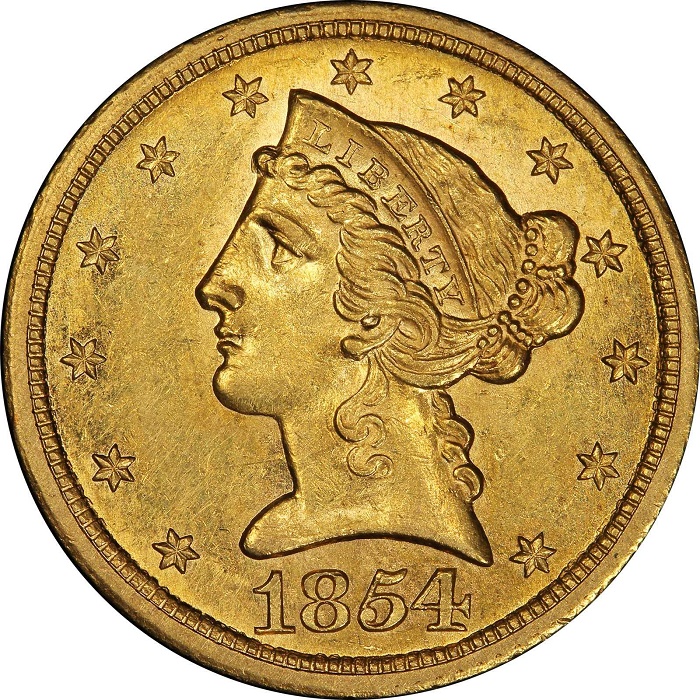 The California Gold Rush began in 1848, when James W. Marshall discovered gold at Sutter's Mill in Coloma, sparking a surge of more than 300,000 people into the region all looking to strike it rich.
The U.S Government authorized the foundation of the San Francisco Mint in 1854 to meet the demands of local gold miners, as transporting large quantities of gold to the mints in Philadelphia and New Orleans was both time-consuming and dangerous.
Much of the gold was converted into bullion bars to be deposited in banks back east, but official gold coins were also minted for use in the local California economy.
Records show that on May 19, 1854, the second day of coin production, 268 $5 1854-S Liberty Head Half Eagle coins were minted – an unusually small number for an official US gold coin.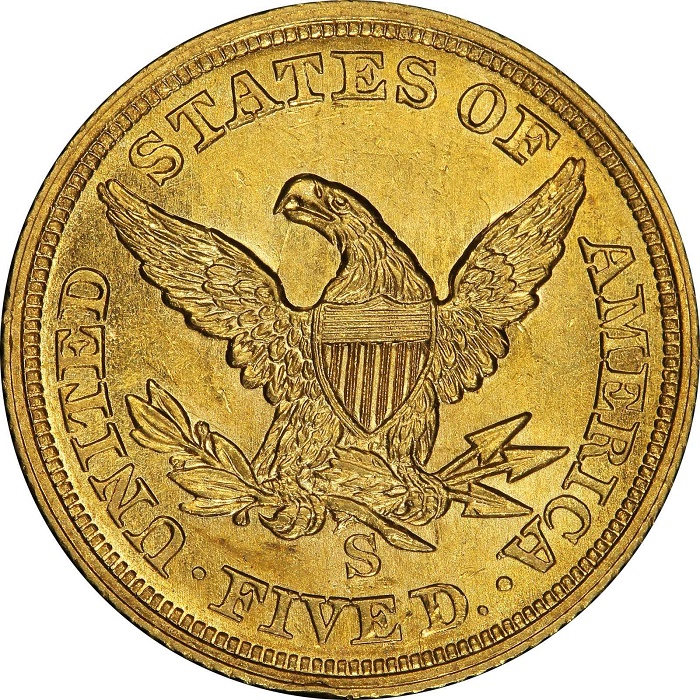 Today just three of those coins survive, and the example offered at Stack's Bowers Galleries is by far the finest, graded AU-58+ (PCGS). It also comes with remarkable provenance, having passed through the collections of celebrated numismatists F.C.C. Boyd and Louis Eliasberg.
The second known 1854-S Liberty Head Half Eagle is housed in the National Numismatic Collection at the Smithsonian Institution, and a third, newly-discovered example sold at Heritage Auctions in 2018 for $2.16 million.
A fourth recorded example was stolen from the wealthy DuPont family during a violent robbery in 1967, and has never been recovered.
The present 'F.C.C. Boyd Specimen' was last sold from the Eliasberg Collection back in 1982, and has remained tucked away in the D. Brent Pogue Collection for almost 40 years.
Its re-emergence on the open market is set to cause a stir amongst the world's leading collectors, as it represents a once-in-a-lifetime opportunity to acquire one of America's most legendary coins.
As such, experts anticipate a bidding war and a strong seven-figure result when the coin goes under the hammer in Baltimore on March 20.