Our featured sale this week is Potter & Potter's Circus, Sideshow & Oddities sale which takes place on November 16.
Here are 10 of our favourite posters, programs, banners and broadsides from the sale, advertising some of the most remarkable performers of their day. Alive!
Fiji Mermaid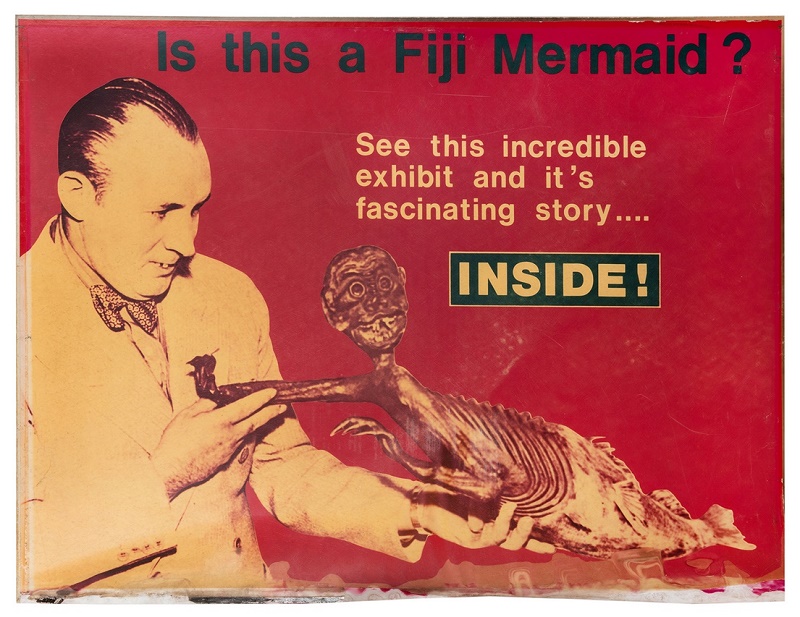 Estimate: $400 – $600
A large vintage advertising panel from the Ripley's "Believe It or Not" Museum in Ocean City, Maryland, circa 1978-84, depicting the 'Fiji Mermaid' – a famous sideshow gaff first made famous by P.T. Barnum in the 19th century.
Living Wonders! Unprecedented Novelties!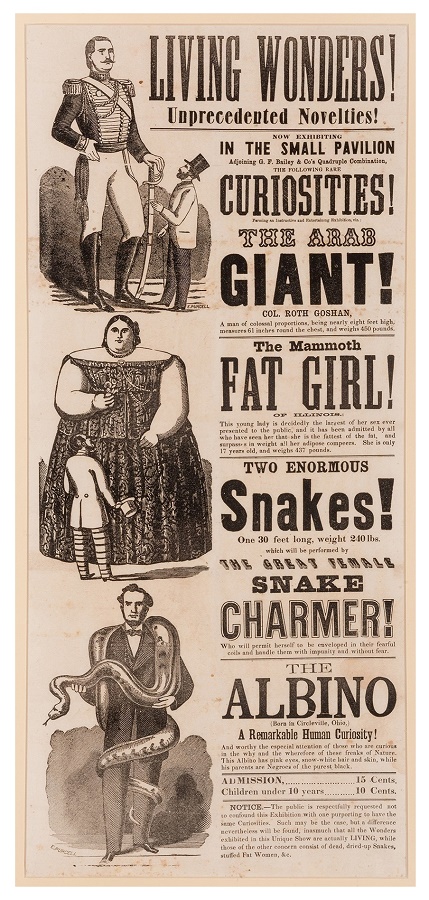 Estimate: $400 – $600
A Circus sideshow broadside, printed circa 1870, featuring woodcut illustrations of a snake charmer, 'The Mammoth Fat Girl' of Illinois, 'The Arab Giant' Col. Routh Goshen, 'The Albino' and 'Two Enormous Snakes', amongst other remarkable living attractions.
Hell's Half Acre Spook Show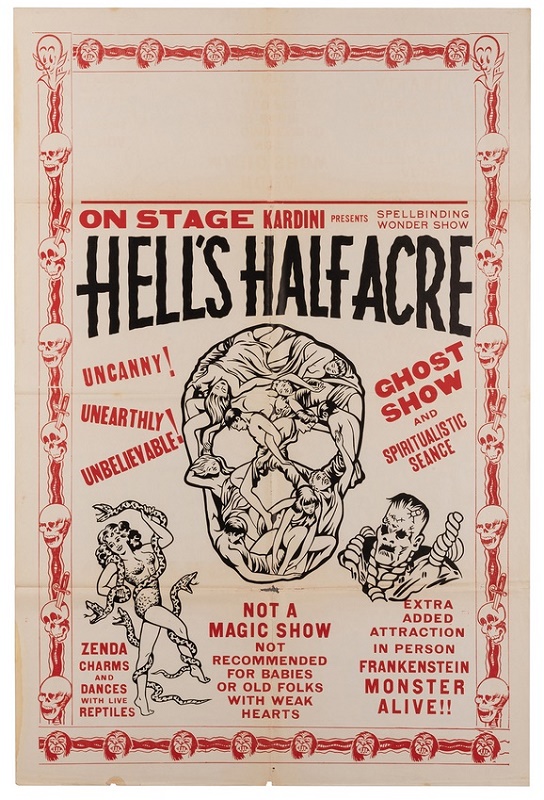 Estimate: $200 – $300
A vintage 1950s poster advertising the Hell's Half Acre Spook Show/Horror Show, with acts including Frankenstein's Monster (Alive!), Zenda who dances with live reptiles, and a ghost show and spiritualistic seance.
According to the poster, Hell's Half Acre is "not a magic show", and was "not recommended for babies or old folks with weak hearts".
Goliath the Sea Elephant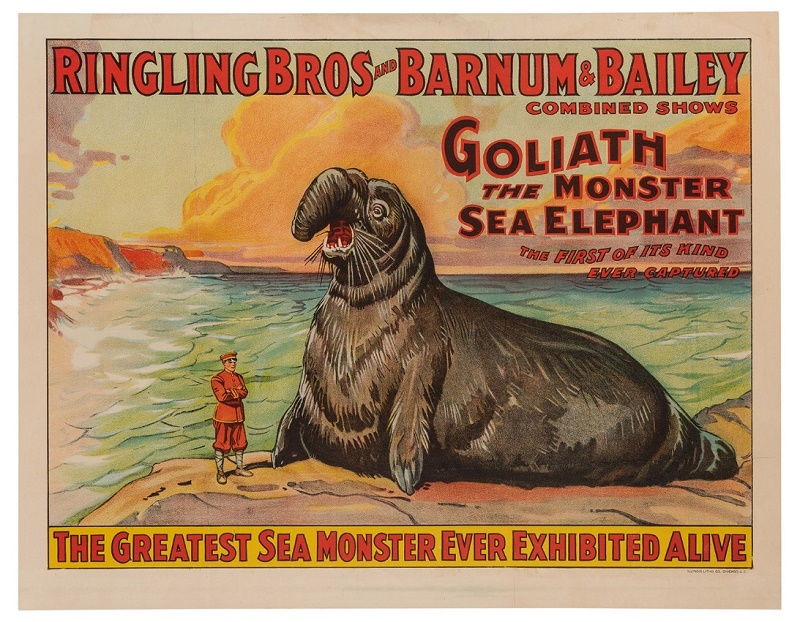 Estimate: $700 – $900
An early 1930s Ringling Bros. and Barnum & Bailey Circus poster advertising Goliath the Monster Sea Elephant.
According to reports at the time, Goliath was one of two large sea elephants (elephant seals) acquired by the Ringling brothers Circus in Hamburg in the late 1920s.
Goliath I apparently died in 1928 when a shark got into his enclosure and bit a chunk from his neck; and Goliath II passed away in 1932.
The Blessings

Estimate: $1,000 – $1,500
A vintage circus poster, circa 1900-1910, advertising a husband and wife strongwoman act known as 'The Blessings'.
The Wolf Man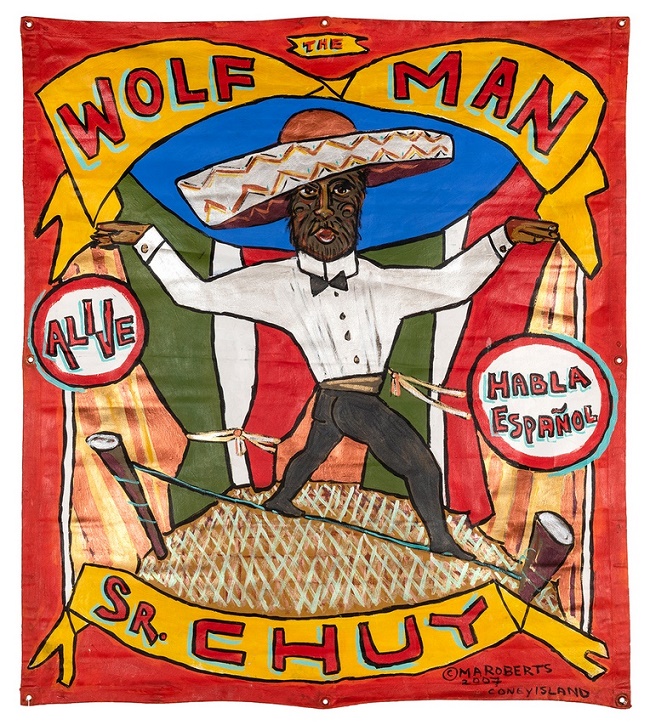 Estimate: $500 – $1,000
A contemporary hand-painted Coney Island banner by sideshow artist Marie Roberts, dated 2007, advertising Mexican performer Sr. Chuy the Wolf Man.
Jesús 'Chuy' Aceves (1968-) was born with hypertrichosis, and as a child toured Mexico with his brothers as part of a travelling circus. He later became a high wire walker at Coney Island, and then spent years performing in the U.K with the Circus of Horrors.
'Chuy, The Wolf Man', a documentary on his family and their history of hypertrichosis, was released in 2015.
How the Stars Bring Success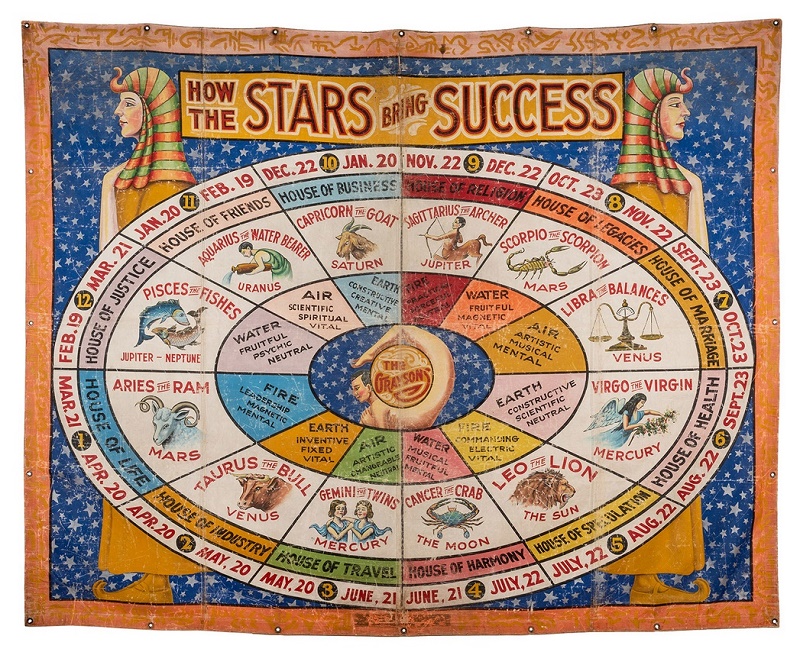 Estimate: $2,000 – $3,000
An original 1930s hand-painted banner advertising astrological readings, depicting each sign of the zodiac and their corresponding characteristics.
The banner remains well-preserved, suggesting it was originally hung inside a circus tent, protected from the elements.
Blacaman the Hindu Animal Hypnotist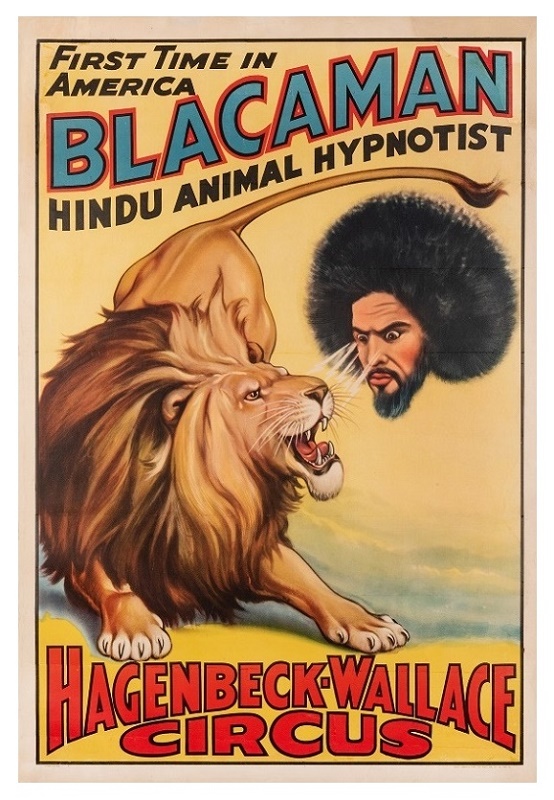 Estimate: $500 – $700
A 1930s Hagenbeck-Wallace Circus poster for Blacaman the Hindu Animal Hypnotist.
The Italian performer was also known as 'Blackamon the Living Corpse', and regularly thrilled audiences at the Buenos Ares circus by sticking pins in his cheeks and being buried alive in a glass coffin.
Mystery Girl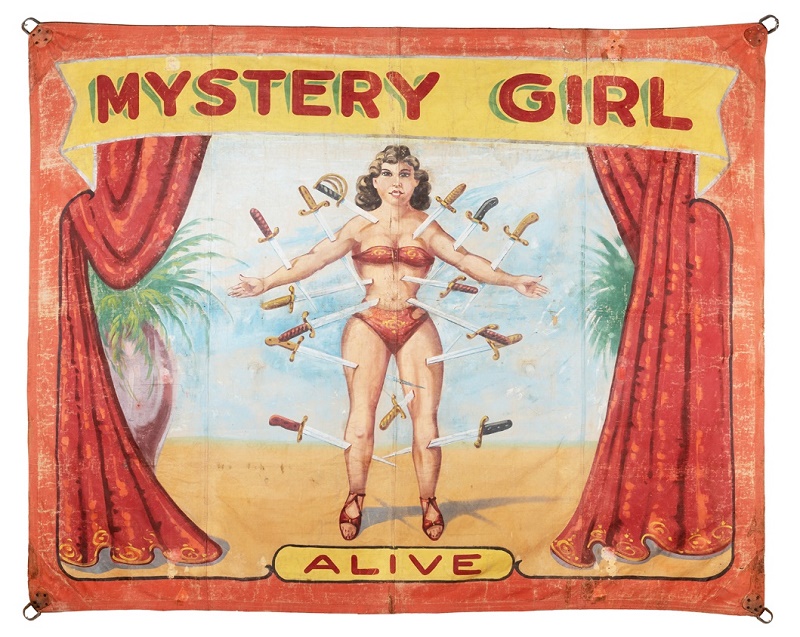 Estimate: $1,500 – $2,500
An original U.S mid-century sideshow banner advertising 'Mystery Girl', depicting a woman with numerous swords and daggers piercing her body and limbs.
Buffalo Bill's First Wild West Performance Program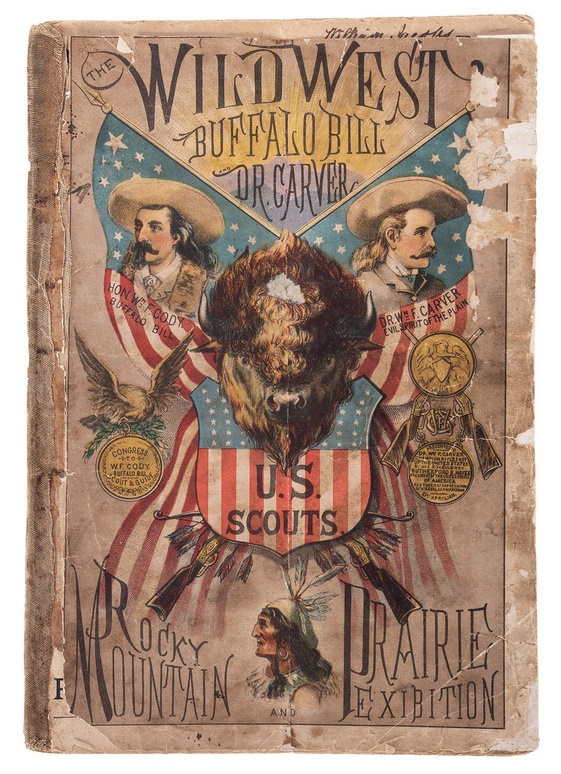 Estimate: $5,000 – $7,000
A highly rare original program for the first-ever performance of Buffalo Bill's Wild West show, which took place in Omaha, Nebraska in 1883.
The show, which was subtitled Rocky Mountain & Prairie Exhibition, first took place on May 19 1883, and also included the feats of renowned sharpshooter Dr. W.F. Carver.
Although William Cody had already starred in several shows, this was the first to bear his name and marked the birth of the circus attraction which toured the globe and made him one of the world's most famous men in the late 19th century.