A rare Tom Brady rookie card has sold for a record-breaking $400,100 on eBay, making it the world's most valuable modern-day sports card in existence.
The card in question was a Playoff Contenders 2000 Championship Rookie Ticket Autograph card, one of just 100 examples produced bearing Brady's signature.
Of those 100 cards, only seven had been graded BGS 9 Mint with none higher, and in the past 12 months private sales at that grade had reached around $250,000.
"This auction featured the finest football card we've brokered in our 20-year history and achieved the highest-ever hammer price for a football card," said PWCC Marketplace CEO Brett Huigens in a statement.
"We were honored to present this asset to the public and are delighted for the new owner."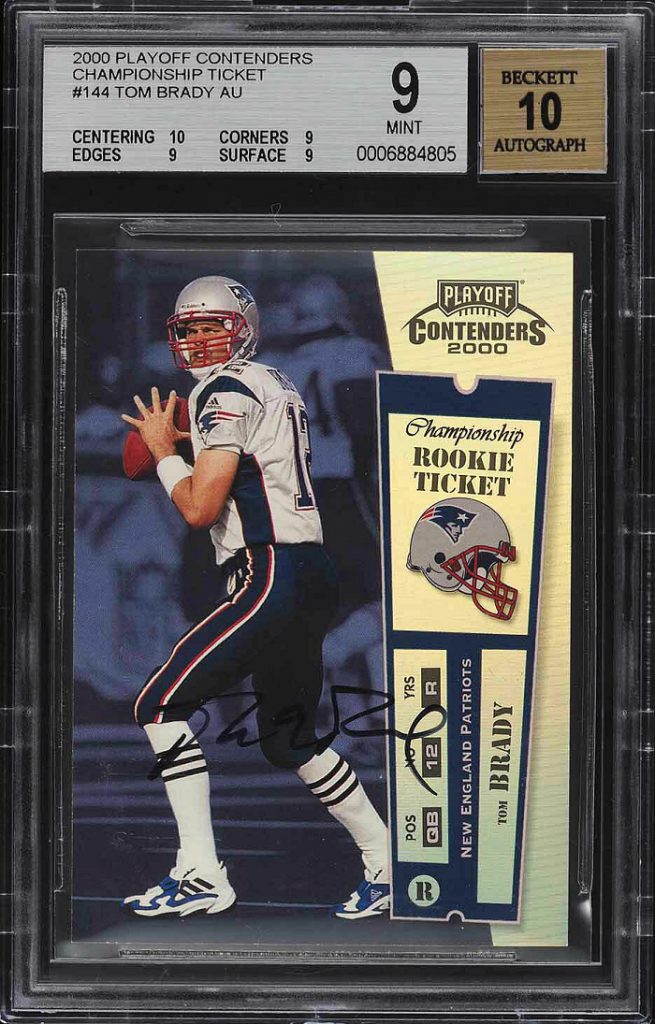 Just last week the same company sold a rare Michael Jordan basketball card on eBay for $350,000, setting a new record for any modern (post 1980) sports card.
But in today's swiftly moving market, that record lasted less than seven days – a clear sign that investors are taking the trading card business seriously.
"This sale was record-setting but also largely predicted," said Huigens. "The trading card market is rapidly maturing among tangible asset investors and record prices are becoming increasingly frequent, especially among the market's most desired issues."
Tom Brady is regarded as the greatest quarterback in football history, having won six Super Bowls, three NFL MVP awards, four Super Bowl MVP awards, and set numerous NFL records.
Despite his subsequent achievements, Brady made a relatively inauspicious start to his professional football career in 2000.
He was selected by the New England Patriots with the 199th overall pick in the sixth round of the NFL Draft, and made just one appearance as fourth choice quarterback.
Back then, few could have predicted that Brady would go on to make history – or that his rookie card would one day become the world's most valuable football card
But in 2001, an injury to the Patriots' starting quarterback Drew Bledsoe gave Brady his chance. He went on to lead the team to victory in Super Bowl XXXVI, becoming the youngest quarterback in history to win the championship, and never looked back.
Eighteen seasons later Brady led the Patriots to victory over the Los Angeles Rams in Super Bowl LIII, making him the first player in NFL history to win six Super Bowls.
The victory also made Brady the oldest winning quarterback in Super Bowl history – and with no immediate plans to retire, you wouldn't bet against him perhaps adding another ring to his collection.