A hospital gown worn on-stage by Kurt Cobain during one of Nirvana's most famous live shows could fetch more than $50,000 when it goes up for auction next month.
Cobain wore the gown during Nirvana's headline performance at the 1992 Reading Festival, which is widely considered one of the band's greatest gigs.
Having remained in a private collection for the past 25 years, the stage-worn gown will now cross the block at RR Auction in Boston on March 14.
"This iconic and museum-quality piece represents the Nirvana frontman at his finest and most sardonic, jabbing pointedly at critics and detractors alike while retaining the intensely original showmanship that made him a living legend," said the auction house.
In the run up to the performance on August 30, Cobain had made headlines due to the birth of his daughter Frances Bean and his ongoing battles with drug addiction.
Nirvana had swiftly become the biggest – and most important – rock band in the world, due to the success of their seminal 1991 album Nevermind.
Their troubled frontman had struggled with this success, his level of fame and his unwanted role as the 'voice of his generation'.
Having suffered from a drug overdose, Cobain checked himself into LA's Cedars-Sinai Medical Center and spent a month battling painful withdrawl symptoms and his own personal demons.
Rumours were flying that he was too unwell to perform at the band's triumphant Reading Festival headline slot – and when he finally appeared on stage, he was pushed on in a wheelchair wearing a hospital-issue gown and a blonde wig.
He then stumbled, staggered and fell to the floor, and lay there for a few moments as confused fans wondered whether the rumours were true…before leaping up, grabbing his guitar and leading the band through a blistering 25-song set.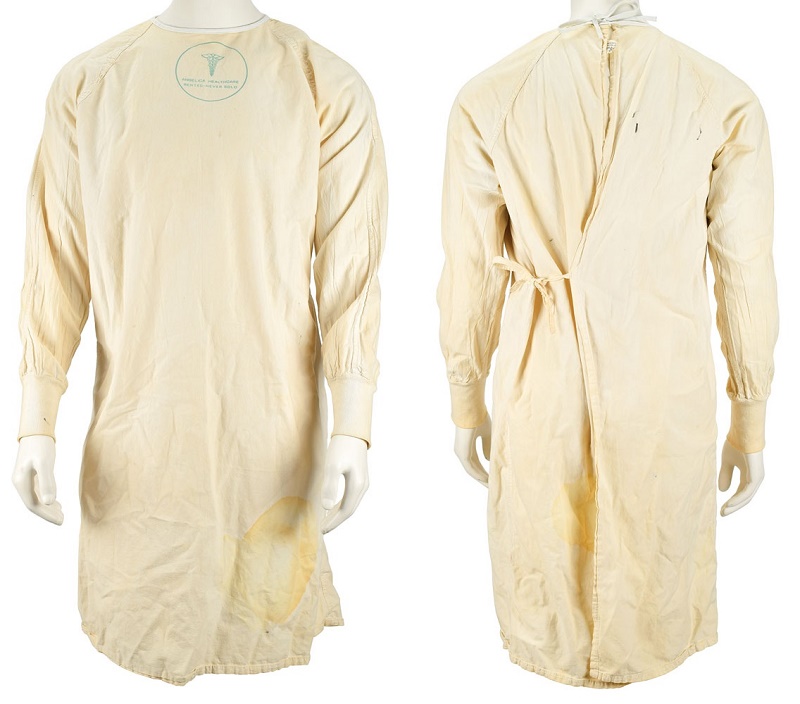 Years later, Nirvana drummer Dave Grohl recalled the show in an interview with Kerrang!:
"I remember showing up to Reading '92 and there being so many rumours that we weren't going to play, that we had cancelled. I walked backstage and some of my best friends in bands that were opening would see me and say, 'What are you doing here?' And I'd go, 'We're f*cking headlining!' And they'd be like, 'You're actually going to play?!'
"The show was a really reassuring, genuinely magical moment of everything coming together at the right time…So yeah, it went great – but it's sad that that's the last time we ever played England, because it could have been better…The memory is somewhat triumphant but melancholy, because we never came back."
It was the last time Nirvana ever performed in the U.K, and less than 18 months later Cobain tragically committed suicide at his home in Seattle.
The historic gown originates from the collection of a Nirvana fan, who acquired it directly from Cobain's widow Courtney Love just a few days after his death in April 1994.
In a remarkable letter of provenance, the consignor relates the story of that meeting:
"A few days after his death, there was a vigil for Cobain at the Seattle Center…About a dozen of us stayed long after the festivities ended. We sat in the Flag Pavilion listening to music…just hanging out among the candles and flowers fans had placed there earlier.
"Late that evening, Courtney Love showed up accompanied by Kat Bjelland of Babes in Toyland with a bag of Kurt's clothes. She was visibly grief-stricken and proceeded to pass the clothes out while asking trivia about Kurt's life…
"She handed me his hospital gown from the legendary Reading Festival performance from 1992. She then cried on my shoulder for a while. I tried to say something reassuring about his love for her and she pushed me away, insisting that he only loved Frances…
"The entire incident was sad. And weird. And it blew my teenage mind."
In recent years the market for Nirvana memorabilia, such as Cobain's stage-worn clothing and guitars, has soared in value.
Notable sales have included a velvet jacket worn by Cobain during a concert at Pier 48 in Seattle, later released in 2013 as the video album Nirvana Live and Loud, which sold for $87,000; and his rare 1960 Mosrite Gospel Mark IV guitar, which sold back in 2006 for $131,000.
The current record for a piece of Cobain's memorabilia was set in November 2015, when the green cardigan he wore during Nirvana's now-legendary MTV Unplugged performance sold at Julien's Auctions for $137,500.