A "near mythical" Michael Jordan card has sold on eBay for over $350,000, making it one of the most valuable basketball cards of all time.
The Precious Metal Gems Green (PMG) Michael Jordan card was released by Skybox in 1997-98, and is one of only 10 examples ever produced.
The card achieved a final sale price of $350,100, after a last-minute flurry of bids on February 20 increased the value by almost $150,000.
It was offered on behalf of a collector by the investment-grade trading card specialist PWCC Marketplace, which stated simply "if you're lucky you might see this card once in your life, let alone have the chance to acquire it."
The card set a new record for any modern (post-1980) basketball card, surpassing the previous record held by 2003-04 Upper Deck 1/1 LeBron James Ultimate Logos card.
That unique card, which featured James' autograph and an original NBA patch from his jersey, sold at Goldin Auctions in October 2016 for $312,000.
At the start of the 1997-98 season, Skybox produced a set of metallic foil insert 'Metal Universe' basketball cards alongside its regular base set.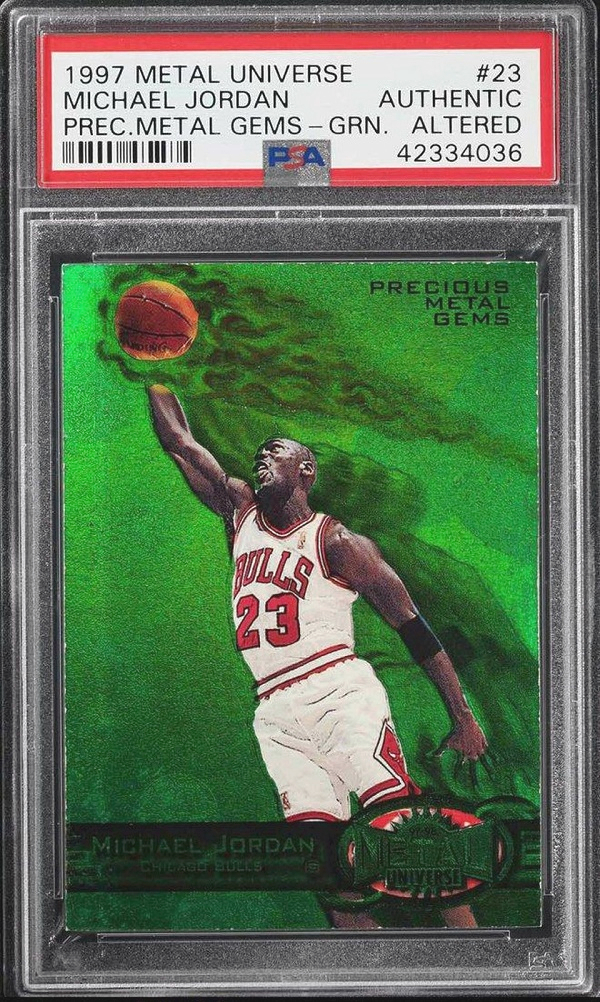 Each of the 123 cards was produced in a limited run of 100 examples, with the first 10 of each design featuring an emerald green background, and the other 90 in red.
The cards proved relatively popular, but it wasn't until around 10 years later that they developed a cult following amongst collectors and prices started to skyrocket.
As the most iconic player in basketball history, Michael Jordan's card from the series was always going to attract the most attention.
The example offered was #6 of the 10 emerald green Jordan cards produced, and had been authenticated and graded by the Professional Sports Authenticator (PSA) service.
It's believed that only three of the cards are currently in circulation, meaning the whereabouts of the other seven is either unknown or they remain locked away in long-term private collections.
"We call it a 'holy grail' because it's so scarce and so desired that you just frankly never see it," Brent Huigens, CEO of PWCC Marketplace, told the Chicago Tribune.
"This is the first one I've ever handled in my life. Most people have never even seen an image of one."
Despite the amazing price, the card still falls a fair way short of the all-time record price paid for a vintage basketball card.
That honour goes to a mint-condition 1969 Topps rookie card featuring Lew Alcindor – who later changed his name to Kareem Abdul-Jabbar – which sold at Heritage Auctions in 2016 for $501,900.