The original Heisman Trophy awarded to Tim Brown achieved a new world record price this weekend (December 9), as it sold for over $400,000 at Goldin Auctions.
The famous statue was presented to wide receiver Brown in 1987, following a record-breaking college football career at Notre Dame which saw him nicknamed 'Touchdown Timmy'.
Brown was the first wide receiver to win the iconic statue, regarded as one of the most significant awards in professional sports, since its creation in 1935.
He went on to enjoy a remarkable 16-year career with the Los Angeles / Oakland Raiders, and was inducted into the Pro Football Hall of Fame in 2015.
Bidding on Brown's Heisman Trophy statue started at $125,000, and soared to a final price of $435,762 (including buyer's premium).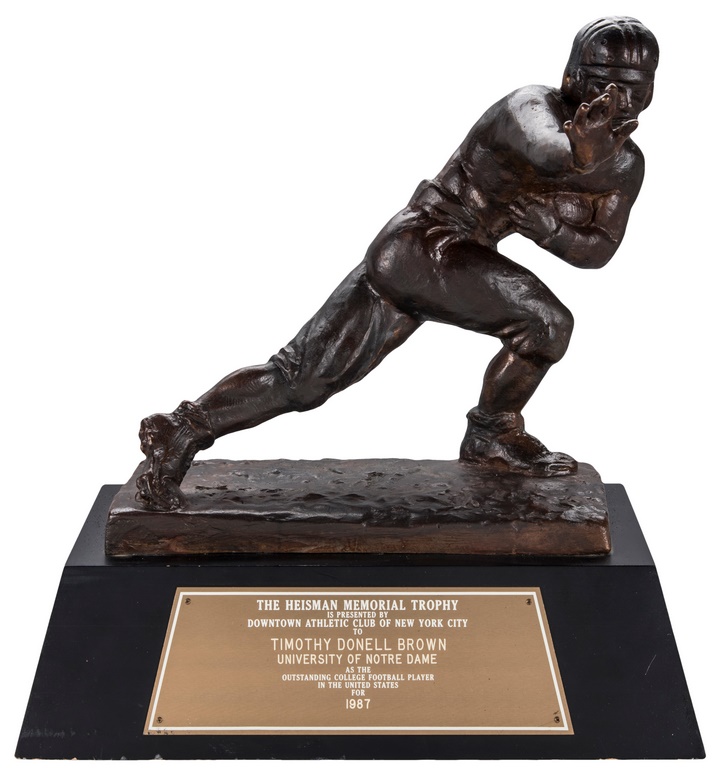 "The Heisman Memorial Trophy is truly, as billed, 'The Most Prestigious Award in College Football', and one could make a strong argument for its prestige being paramount to any single-player award in sports," said the auction house.
"For this country, it is our Thinker, our Discus Thrower, our Statue of David. It is timeless, immortal, and All-American."
Brown's award broke the Heisman Trophy auction record set in January this year, when the 1994 statue won by running back Rashaan Salaam sold at SCP Auctions for $399,608, following his death in 2016.
Further notable past sales had included the 1941 trophy of Bruce P. Smith, which sold for $395,240, and the 1968 award presented to O.J Simpson, which sold in 1999 for $255,000.
Brown's award was the top lot in a sale which included a wealth of both sports memorabilia and unusual historic items.
Further sporting highlights included an iconic 1952 Topps Mickey mantle rookie card which sold for $58,920; a unique Aston Martin Vanquish featuring the signatures of 99 members of the Basketball Hall of Fame, which sold for $74,877; and a Super Bowl XXVIII Champions Player Ring presented to Dallas Cowboys linebacker Dixon Edwards, which sold for $44,190.
For collectors seeking a macabre piece of Americana, the handcuffs used to arrest Lee Harvey Oswald following the assassination of President John F. Kennedy sold for an impressive $76,105.
And music memorabilia collectors, the auction featured two important items from the pages of hip-hop history: rapper Tupac Shakur's handwritten notebook used to create his seminal album All Eyez On Me, which sold for $36,825, and his 1995 prison ID card which fetched $11,047.