A dress bought in a UK thrift store has sold at auction for over $200,000, after it was discovered to have originally been worn by Princess Diana.
The ivory silk gown had been purchased by a store employee back in 1996, and had spent the past 24 years in a box at the bottom of a wardrobe.
It was offered for sale at vintage fashion specialist Kerry Taylor Auctions on December 10, where it sold for £161,200 ($202,130) including buyer's premium.
Princess Diana had commissioned designer Elizabeth Emmanuel to create the unique dress for a royal tour of the Gulf States in 1986.
The ivory silk moss crêpe evening gown was embroidered with crystals, sequins and glass beads by the same designers who created her famous wedding dress.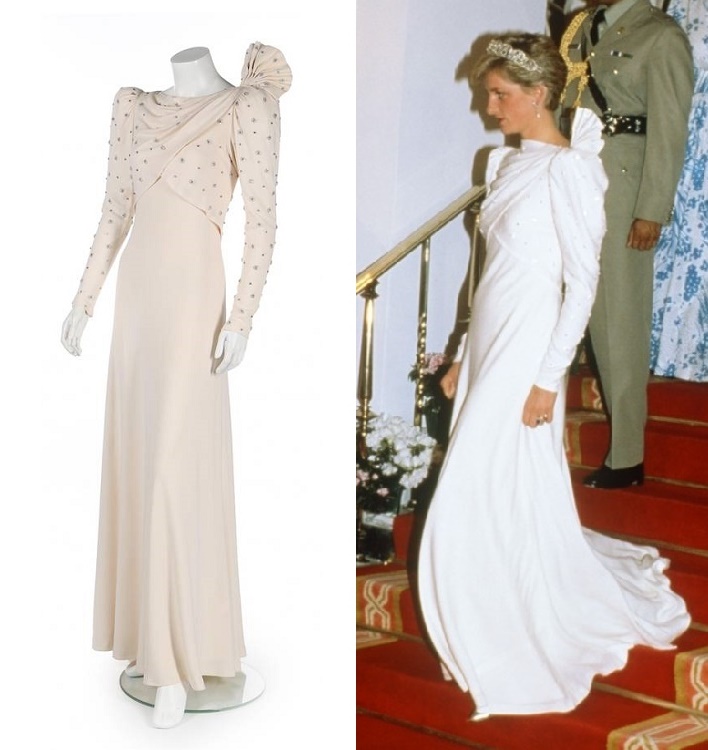 The tour saw Diana and Prince Charles visit Oman, Qatar, Bahrain and Saudi Arabia, and Diana's outfits were designed to cover as much of her body as possible in respect of their hosts' culture and customs.
Diana wore the dress on November 16, 1986, whilst attending a lavish banquet hosted by the Emir of Bahrain.
Earlier that day the Emir had personally met the royal couple from their plane, entertained them on his luxury yacht, and ensured their path to the royal palace was strewn with jasmine flowers upon their arrival.
Ten years after the famous visit, the dress was donated along with a host of other royal outfits to the Chameleon thrift store in Hereford.
It was there that a part-time store employee bought the dress for £200 ($250), with the intent of wearing to a local hunt ball.
When she was unable to attend, she stored the dress in a box at the bottom of her wardrobe, and it remained there untouched for the next 24 years.
The owner knew the dress had once belonged to Princess Diana, but she was unaware of its historic significance.
It wasn't until she saw a recent documentary featuring footage of the Gulf State tour that she realized it was Diana's famous ball gown that she had bought all those years ago.
According to auctioneer Kerry Taylor, the dress sparked a bidding war between an anonymous private collector and a British museum, before eventually being won by an overseas museum.