Tupac Shakur's prison I.D card from his infamous 1995 incarceration is currently up for grabs in an online sale at Goldin Auctions.
The iconic rapper served nine months behind bars at the Clinton Correctional Facility in upstate New York between February and October 1995, having been convicted on sexual assault charges.
The I.D card has been described as "a thrilling piece of hip-hop history", and is expected to sell for more than $10,000
Whilst in prison Shakur was required to carry the laminated card at all times, which included his vital statistics and an identification number of 95-A-1140.
Less than a month after he was incarcerated in February 1995, Shakur released his third studio album 'Me Against the World', which immediately shot to the top of the Billboard charts.
He became the first U.S recording artist to have a #1 album whilst serving time in prison, and today the multi-platinum record is regarded as one of the most influential hip-hop albums of all time.
During his sentence Shakur became fascinated in philosophy and military strategy, and studied texts such as The Prince by Italian philosopher Niccolò Machiavelli and The Art of War by Chinese military strategist Sun Tzu.
He also wrote his famous essay 'Is Thug Life Dead?', in which he spoke of his early life and career, and of the life lessons he had learned whilst in prison.
In January 2016, the handwritten four-page essay sold at Goldin Auctions for $172,000, smashing its pre-sale estimate of $50,000.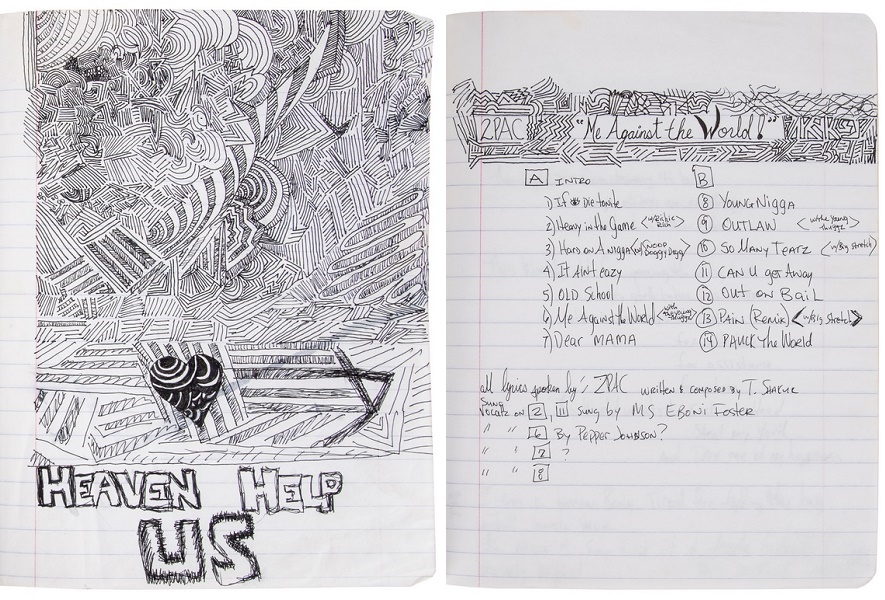 After he released from prison in October 1995, many friends observed that Shakur was a changed man. Gone was the apparent introspection and social consciousness of his previous records; his new music was a celebration of the thug lifestyle he had previously questioned whilst locked up.
Now under the wing of Death Row Records boss Suge Knight (who had paid his bail in return for a lengthy record contract), Shakur released his biggest-selling album to date, All Eyez on Me, on February 13, 1996.
Once again the record went straight to #1. But just seven months later, Shakur was shot dead in Las Vegas by an unknown assailant.
Since his death at the age of 25, Tupac Shakur has become one of the most iconic figures in hip-hop history, and for collectors his personal memorabilia comes with a hefty price tag.
The auction on December 8 will also include another highly notable item of memorabilia for his fans: a notebook of lyrics, tracklistings and notes relating to 'Me Against the World'.
The 46-page book includes working lyrics for songs such as his #1 hit 'How Do U Want It', 'Shorty Wanna Be A Thug', and 'Just Like Daddy', which was released after his death on the posthumous, platinum-selling album 'The Don Killuminati: The 7 Day Theory'.
It also features poems, track listings for an Outlawz album, and an award acceptance speech in which he thanks "B.I.G., Snoop & The Dogg Pound, Run DMC, Meth & The Wu" – a significant line which suggests he was at least considering a reconciliation with The Notorious B.I.G, before the East/West Coast gang feud tragically claimed both their lives.
The book – the only complete Tupac handwritten notebook known to exist – is estimated to sell for a minimum of $15,000.