A remarkable collection of 'Youngtimer' classic cars from the eighties, nineties and noughties is heading for auction at RM Sotheby's next year.
The private collection of more than 140 vehicles will be sold across four sales on both sides of the Atlantic, and features a roster of iconic cars from Mercedes-Benz, BMW, Rolls-Royce, Bentley, Porsche, Jaguar, Ferrari and Aston Martin.
The term 'Youngtimer' originates from German car collecting culture, and is used to describe well-kept cars between 20 and 30 years old.
The market for classic eighties and nineties cars has soared in recent years, as collectors who grew up during those decades reach middle age with nostalgia for their youth and some serious spending power.
"The private collection we've added to our 2019 calendar has nearly every car youth of the 80s and 90s dreamed of," says Gord Duff, Global Head of Auctions at RM Sotheby's.
"The 80s and 90s 'youngtimers' are back and here to stay in the world of car collecting, and we're thrilled to offer this extensive collection on behalf of its enthusiastic owner. Truly a young man's garage, the consignor is ready to distill his collection and share these exciting cars with other like-minded enthusiasts."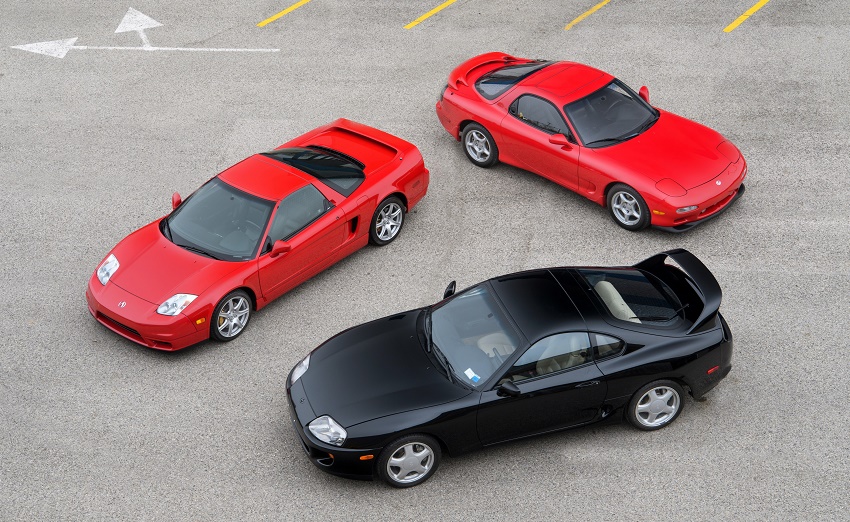 The collection will make its debut in Paris on February 6, with highlights including a rare 2006 Ferrari Superamerica with a manual transmission (€575,000 – €650,000); a 1982 BMW Alpina B7 Turbo S with just 58,000 km on the clock (€200,000 – €240,000); and a 1989 Mercedes-Benz 500 SEC AMG 6.0 Wide Body with just 28,000 km (€150,000 – €200,000).
Next up is RM Sotheby's Amelia Island sale in Florida on March 9, with an offering of low mileage Japanese performance cars including an Acura NSX (9,200 miles), Toyota Supra (11,200 miles), and Nissan 300ZX Twin Turbo (2,800 miles).
The bulk of the collection will be sold in the collector's home country of Germany, with more than 80 vehicles crossing the block in Essen on April 11.
Notable lots from this sale will include a 2011 Porsche GT3 RS with less than 9,300 km (€150,000 – €175,000); a 1994 Porsche 911 Turbo 3.6 (€150,000 – €180,000); a 1985 Renault R5 Turbo showing just 29,000 km (€80,000 – €90,000); and a rare and unusual Wiesmann GT (€170,000 – €200,000).
With the majority of cars from the 'Youngtimer' collection offered without reserve, 2019 may be the perfect year to finally grab that car the 'teenage you' always wanted to own.