A Middlesbrough football shirt from the late 19th century has sold for £20,000. Seller Graham Budd Auctions believes it may be the oldest surviving shirt from a league club.
The garment was picked up by a private collector at £19,840, just under the top estimate.
It looks a million miles away from today's shirts. No sponsor, a badged pocket and a smart row of buttons down the front. It could easily have been worn to a dinner party.
It is in white with blue trim splashed with white polka dots. It was made between 1886 and 1890 by an E Banks, a shirt maker based in the town.
Boro have played in red since 1898, adding white in 1912. Though the white and blue of this shirt have been enduring popular second-kit colours.
The badge is remarkably similar to the current one, and all Boro fans will recognise the motto, Erimus (Latin for "we shall be"), which is still used by the club.
As a collectible the shirt has obvious historical appeal.
It is extremely old.
England's National Football Museum has an 1872 national team jersey – actually made of knitted wool.
Middlesbrough were founded in 1876. The decades when this shirt was worn are foundational for the sport that became the world's game. In 1886 the International Football Association Board (they were all British Isles associations) was founded. As was the team that would become Arsenal, Dial Square FC.
In the same sale only a Bobby Charlton Manchester United shirt did better, selling for £30,000.
Other high-value shirts were linked with Argentinian legends, Maradona and Mario Kempes, and Northern Ireland's – and possibly the world's – greatest ever player, George Best.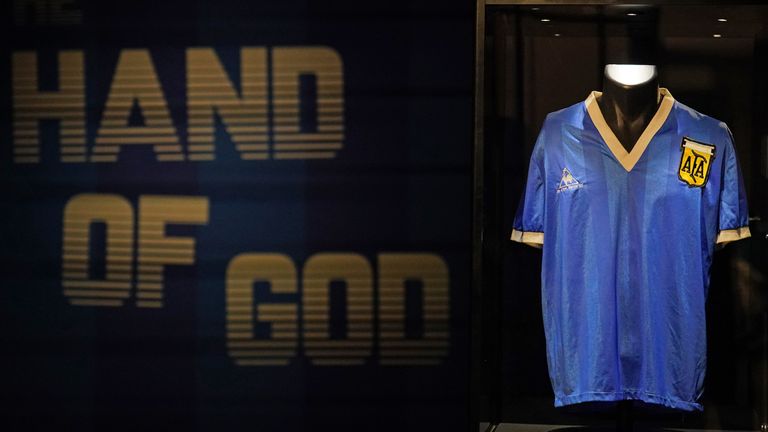 So why did a Bobby Charlton shirt, no doubt a great player, sell for £17,000 more than a George Best shirt? Best was arguably the first modern celebrity player and famous well beyond the game.
Perhaps it was the story. Charlton's shirt was worn in a 1959 game against Real Madrid, and given at the final whistle to legendary Hungary player Ferenc Puskas, whose granddaughter was selling it.
Manchester United fans will instantly notice that the shirt is dated soon after the tragic Munich Air Disaster. The games were friendlies played as part of Sir Matt Busby's rebuilding plans.
Stories always add value. A Maradona shirt in this sale sold for under £7,000.
The same player's Hand of God shirt, in which he scored not 1 but 2 iconic World Cup goals against England was worth £7 million and is the world's most valuable football shirt.
That's more than Italian club Napoli paid for the player himself when they broke the world transfer record to buy his services.
The football transfer market has exploded since then. The memorabilia market associated with the sport has also shown huge growth, if you can find the right item and the right story.