The Beatles' original 1962 contract with manager Brian Epstein will be offered for sale next month during an online auction at Sotheby's.
The contract is regarded as one of the most significant documents in popular music history, and is expected to sell for £200,000 – £300,000 ($256,460 – $384,690)
"This contract was a transformative document not only for The Beatles, but also for the 1960s and popular culture of the time," said Gabriel Heaton, Sotheby's Books and Manuscripts specialist.
"We feel extremely privileged to be offering such a significant piece of history, a document that set the band on a path that brought them a level of success and cultural influence that was surely beyond their dreams when they put pen to paper to entrust their future together to Brian Epstein on that January day in 1962."
The contract marked the beginning of the band's relationship with Epstein, who helped transform them from a talented but raw local rock and roll group into the biggest band in the world.
In 1961 Epstein was running the successful NEMS record store in Liverpool, and became curious when teenagers began asking him for 'My Bonnie', a track recorded by Tony Sheridan in hamburg using The Beatles as his backing band.
On November 9, 1961 he decided to visit the Cavern Club to see the band live for himself, and he was immediately struck by their potential.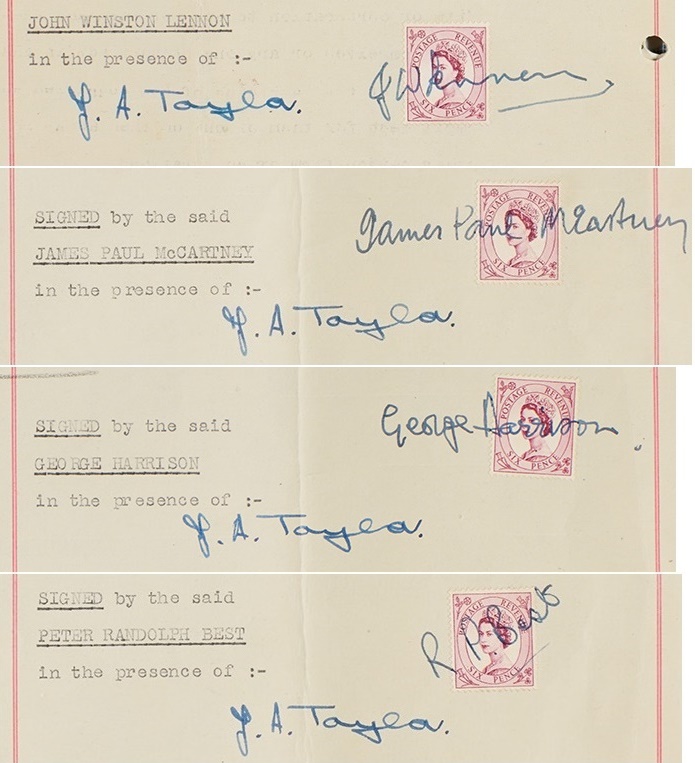 "…I never thought that they would be anything less than the greatest stars in the world – and I mean that," he later said. "I always knew that they were going to be tremendous … I sensed something big, if it could be at once harnessed and at the same time left untamed."
He watched them regularly at the club for the next three months, and following a series of meetings the band decided to take up his offer of management.
The original contract was signed on January 24, 1962, and bears the signatures of John, Paul, George and their original drummer Pete Best – but significantly doesn't include the signature of Brian Epstein himself.
To the surprise of those around him Epstein chose not to sign the document, and he later described the decision in his autobiography:
"It was because even though I knew I would keep the contract in every clause, I had not 100 per cent faith in myself to help the Beatles adequately. In other words, I wanted to free the Beatles of their obligations if I felt they would be better off."
The contract gave Epstein responsibility for finding the band gigs, managing their schedule, gaining them publicity and gaining them a record deal.
It also put Epstein in charge of "all matters concerning clothes, make-up and the presentation and construction of the Artists' acts and also on all music to be performed".
He famously helped the band become more professional by banning them smoking and eating on-stage, and by replacing their jeans and leather jackets with sharp Italian suits.
Having become their manager, Epstein then began tirelessly shopping the band round record labels in an attempt to win them a recording contract.
After being rejected by almost every label in the country, he finally secured a deal with EMI after convincing producer George Martin of their potential.
Following their first recording session at EMI's studios in June 1962, it quickly became clear that drummer Pete Best wasn't quite up to the job.
It was Epstein who gave him the bad news, and then pursued Ringo Starr (who was at that time performing with Rory Storm and the Hurricanes) to join the band as his replacement.
On October 1, 1962 Epstein signed a new contract with the band, including Starr, and made sure that Paul and George's signatures were witnessed by their parents, as they were both under 21 at the time.
This second contract, which remained in effect until Epstein's death in August 1967, sold at Sotheby's in September 2015 for £365,000 (approximately $569,000).
The Sotheby's English Literature, History, Children's Books and Illustrations Online sale runs from July 1 until July 9.