Sotheby's is hosting a special online auction of Star Wars memorabilia, to coincide with the release of Star Wars: The Rise of Skywalker later this month.
The sale runs online until December 13, and includes everything from props and production artwork to vintage toys, posters and memorabilia from the original Star Wars trilogy.
Leading the sale is a highly rare prototype Imperial Stormtrooper helmet, one of less than five created during pre-production on the film in 1976.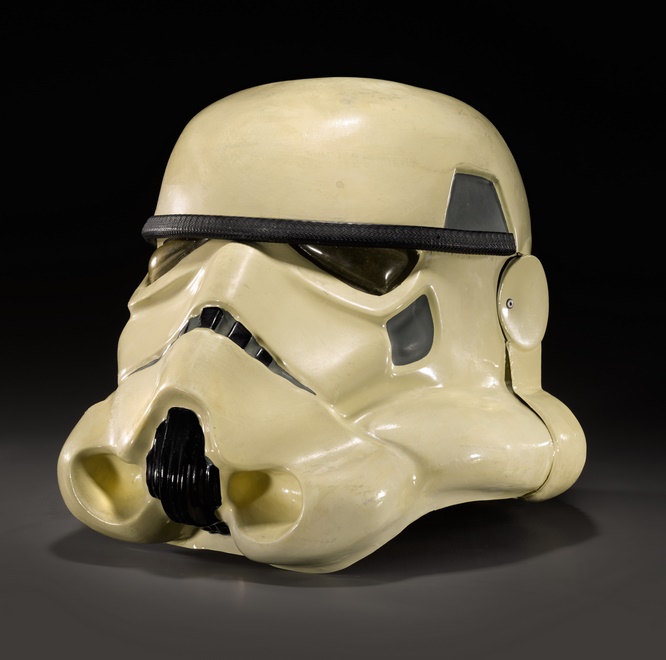 Today the Star Wars Stormtrooper helmet is regarded as more than a movie prop: it's an instantly recognisable icon of 20th century design.
The original Stormtrooper designs were based on the work of celebrated concept artist Ralph McQuarrie, who helped George Lucas visualize his Star Wars universe.
Using McQuarrie's drawings as a starting point, British sculptors Andrew Ainsworth and Nick Pemberton then produced a handful of prototypes for Lucas' approval.
Although the helmet on offer didn't appear in the films, it did play a vital role in the development of the final screen-worn versions, and is now expected to sell for £30,000 – £60,000.
One of the most significant lots is an incredibly rare character size chart, used by the special effects model making team as a reference during production on The Empire Strikes Back.
The wall chart was created by artist Ivor Beddoes, and features the film's main character in relation to each other, starting at one end with R2-D2 and ending at the other with Chewbacca.
Interestingly the chart doesn't include the smallest character in the film Yoda, a late addition to the story, which dates it to late 1978 / early 1979.
This possibly unique piece of Star Wars production history is a genuinely significant new discovery, and comes with an estimate of £10,000 – £15,000.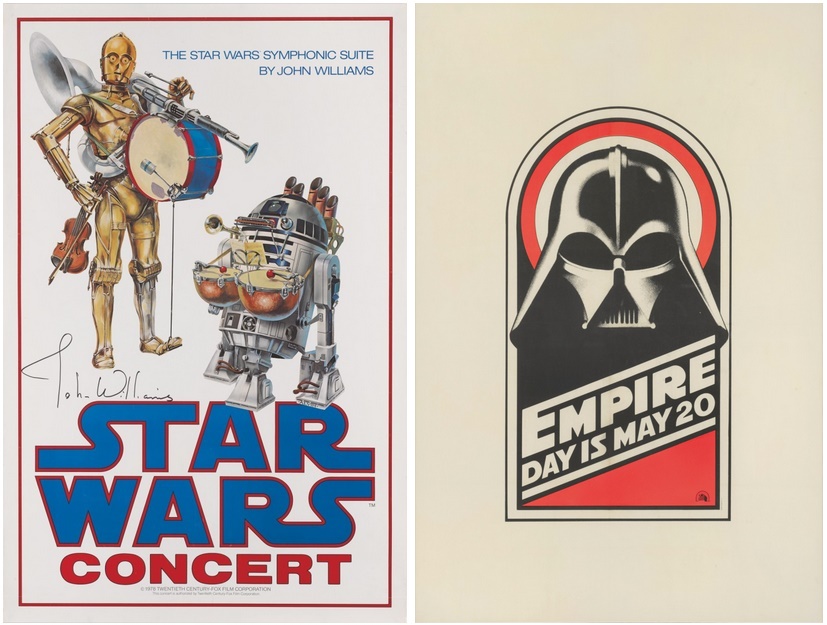 Amongst the most unusual promotional items on offer are the only-known example of a C3-PO helmet, made by the Industrial Light and Magic team for the release of Return of the Jedi, estimated at £15,000 – £25,000; and a small R2-D2-shaped AM radio, only given away to Coca Cola competition winners in Japan, estimated at £900 – £1,200.
Rare posters on offer include an original 1978 Star Wars concert poster, signed by the series' composer John Williams, estimated at £10,000 – £15,000; A Ralph McQuarrie-designed poster for the British Royal Charity World Premiere of The Empire Strikes Back in 1980, estimated at £16,000 – £24,000; and an unusual Russian poster for the original film, which wasn't released in the country until 1990, estimated at £1,200 – £1,800.
The auction also includes Tom Jung's original concept artwork for the US posters for both Star Wars (£15,000 – £20,000) and The Empire Strikes Back (£16,000 – £24,000).
Elsewhere the sale includes vintage action figures, rare lobby cards, photograph, advance posters and promotional stickers with prices ranging from £300 up to £25,000.