Our featured sale this week is Bonhams' 'Wonders of the Galaxy' sale, held in conjunction with Turner Classic Movies, which takes place in Los Angeles on May 14.
With a catalogue of incredible pieces celebrating science fiction and fantasy in film, here are 10 lots we'd love to own…
A Blade Runner crew jacket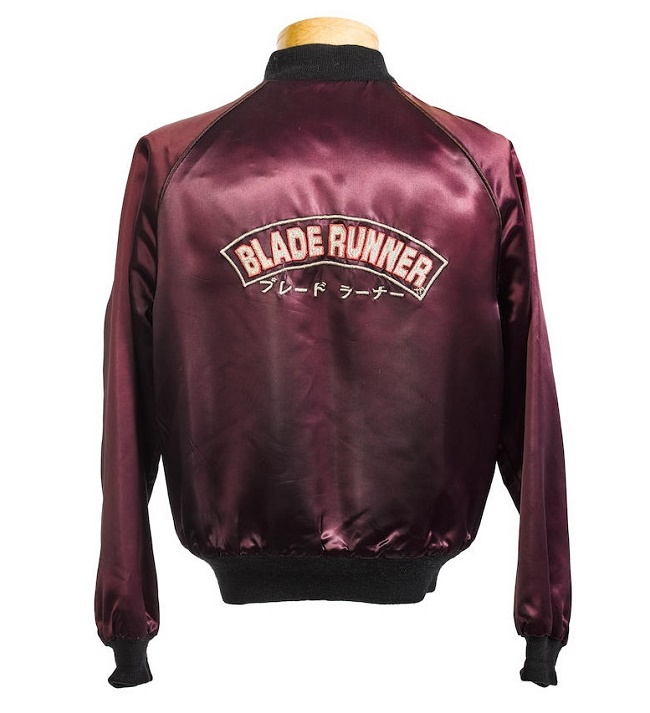 Estimate: $400 – $600

A rare original crew jacket presented to members of the production team of Ridley Scott's classic 1982 science-fiction thriller Blade Runner.
Revenge of the Jedi poster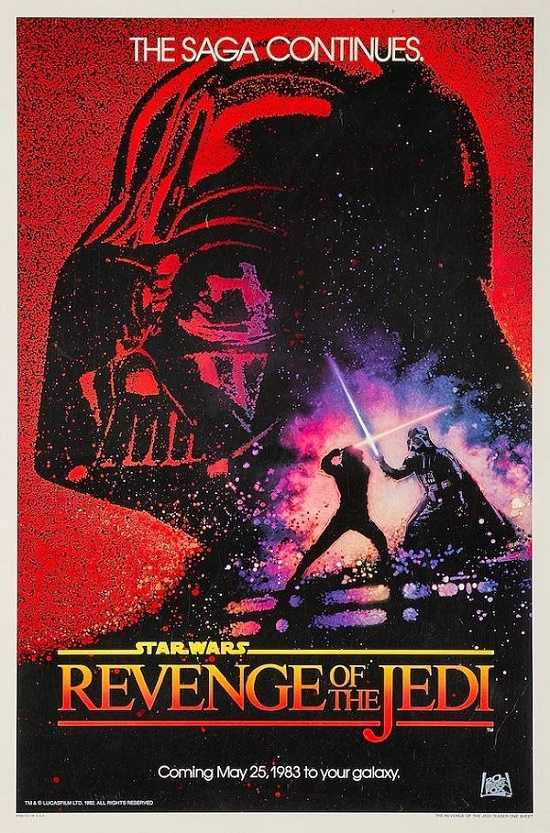 Estimate: $1,000 – $1,500

An original 1982 U.S one-sheet advance poster for Return of the Jedi, featuring the film's original title Revenge of the Jedi.
Prior to the film's release, Star Wars creator George Lucas had a sudden change of heart about the original title, as he felt peaceful Jedi knights would never be vengeful.
These teaser posters, with artwork from the legendary illustrator Drew Struzan, were quickly pulled from theatres and have since become rare collector's items.

Heather Donahue's hat and shirt from The Blair Witch Project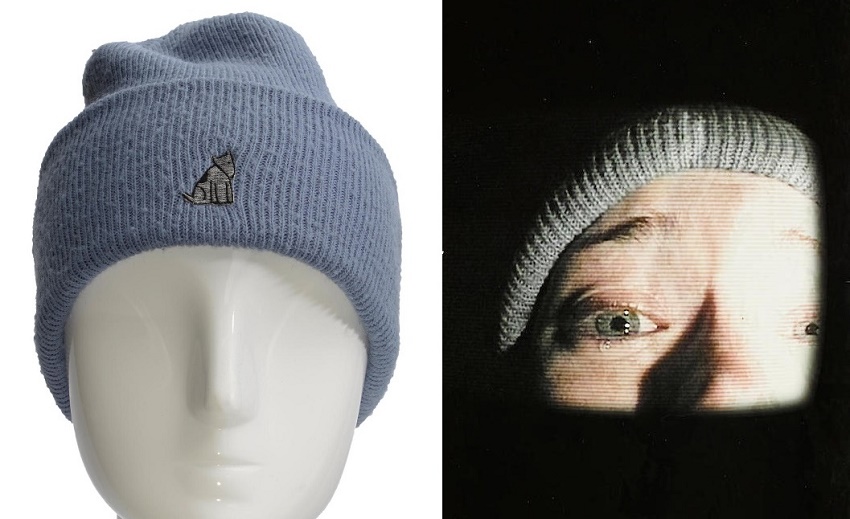 Estimate: $4,000 – $6,000

The blue knitted hat and purple shirt worn onscreen by Heather Donahue throughout the classic 1999 'found footage' horror film The Blair Witch Project.

The low-budget film became a worldwide phenomenon, grossing $250 million worldwide and creating a fictional mythology which spawned two sequels and numerous books and documentaries.

The film's hand-held aesthetic and innovative online marketing campaign changed the landscape of horror movies forever and it remains one of the most influential films of the past 30 years.

John Wayne director's chair back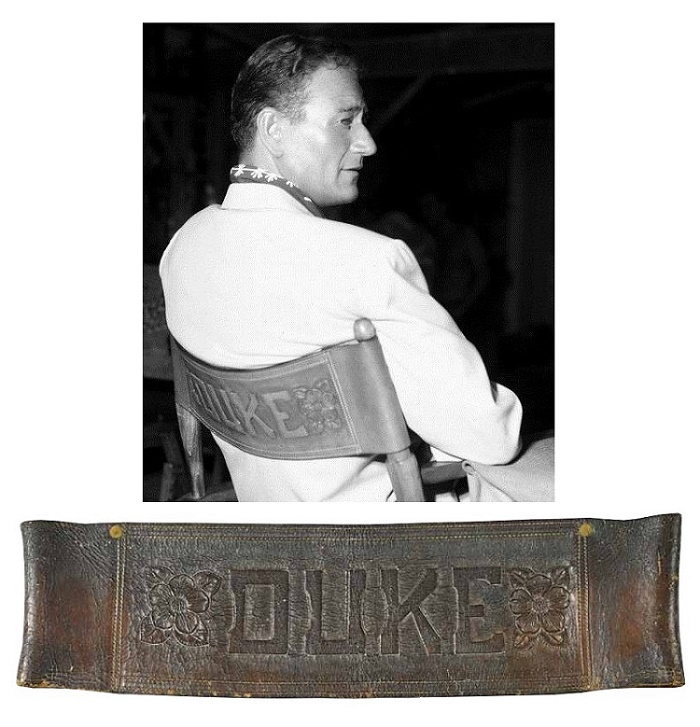 Estimate: $5,000 – $7,000

A vintage leather director's chair back used on-set by actor John Wayne throughout his career.

Wayne was originally given a leather chair back featuring his nickname 'Duke' by John Ford, who directed him in 14 films across 50 years.

He is known to have used at least four different chair backs of a similar design, each with hand-tooled flowers surrounding his name. This well-worn leather back is believed to be one of the earliest of his career.

Elizabeth Taylor's wig from Cleopatra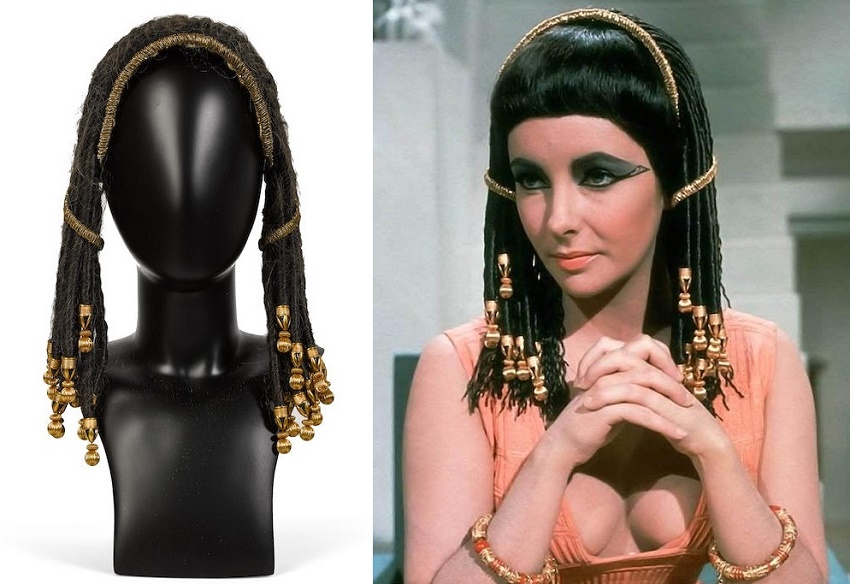 Estimate: $6,000 – $8,000

An original wig worn on-screen by Elizabeth Taylor in the 1963 epic historical drama Cleopatra.

The Twentieth Century-Fox film gained notoriety for both its enormous budget and the scandalous love affair between its two stars Elizabeth Taylor and Richard Burton.

Due to its huge sets, large cast and elaborate costumes, the film's budget spiralled to more than $30 million, making it the most expensive movie ever made at the time.

Taylor personally wore 65 different costumes during the film, almost all of which were accompanied by a different wig, each delicately handmade from human hair.

Taylor and Burton went on to become one of the most famous couples of the 20th century, and despite almost bankrupting the studio, the film was the highest-grossing picture of 1963.

Planet of the Apes 'Lawgiver' bust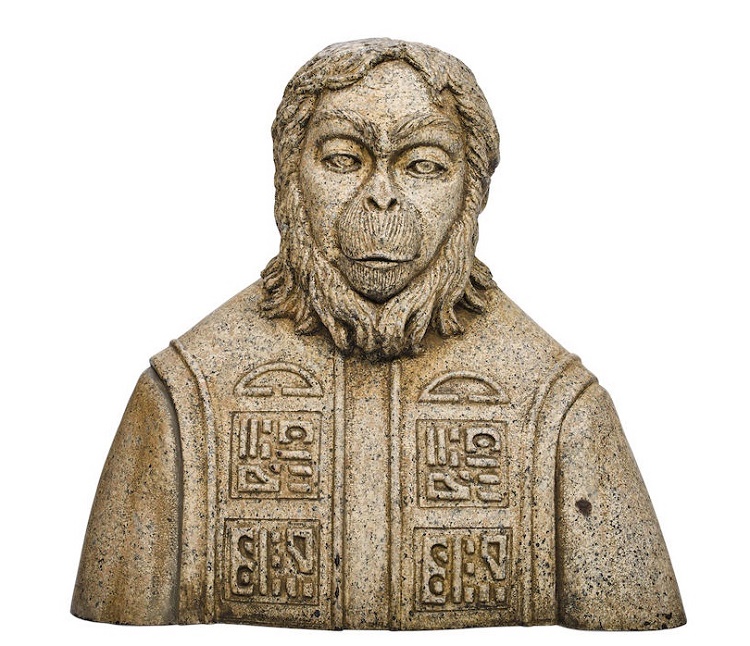 Estimate: $10,000 – $15,000

A prop statue of 'The Lawgiver', as used on-screen in the iconic 1968 science-fiction classic Planet of the Apes.

In the film 'The Lawgiver' is an orangutan prophet worshipped as a deity by the society of evolved apes. The prop statue appears in the film's famous courtroom scene, in which human astronaut Charlton Heston faces an ape legal tribunal to determine his rights.

London After Midnight lobby card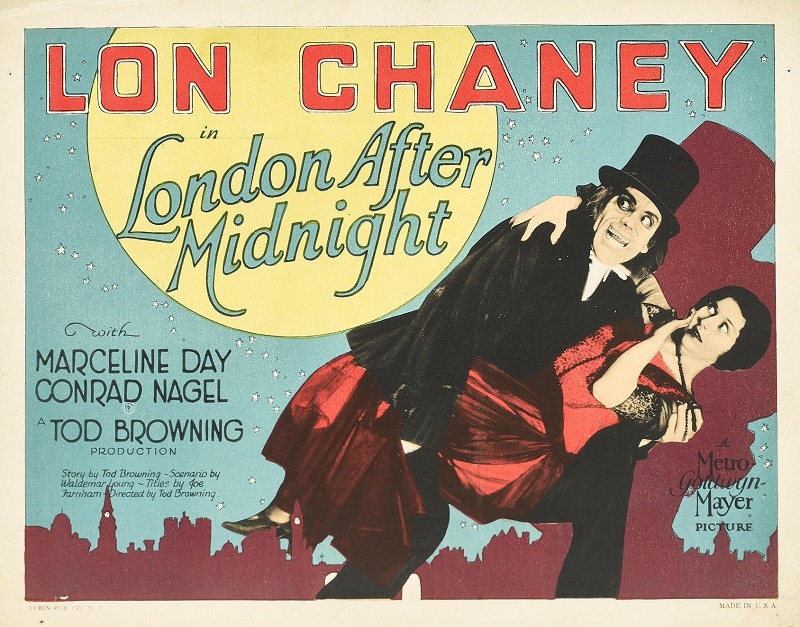 Estimate: $18,000 – $25,000

An original lobby card for the 1927 MGM silent thriller London After Midnight, one of the most famous 'lost' films in cinema history.

The film starred 'The Man of a Thousand Faces' Lon Chaney, famous for his role as the Phantom of the Opera, and was directed by Tod Browning, who also directed Dracula (1931) and Freaks (1932).

Chaney's striking appearance in the film, which he created using his own skills as a make-up artist, has become an iconic image in horror movie history.

The film has remained unseen for decades, after the last surviving copy was destroyed during a vault fire at MGM Studios in 1965.

A Forbidden Planet prop starship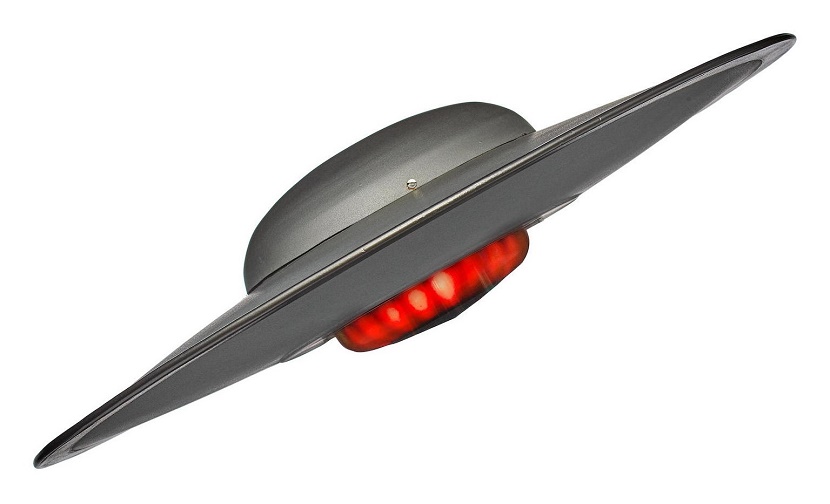 Estimate: $30,000 – $50,000

An original screen-used prop spacecraft from the classic 1956 science-fiction film Forbidden Planet.

This United Planets Cruiser C-57D starship was one of three miniatures produced for the film, with a design based on newspaper reports of real-life UFO sightings.

The look of the ship, both inside and out, was highly influential and is known to have inspired Star Trek creator Gene Roddenberry in the design of the Starship Enterprise.

The Hunchback of Notre Dame poster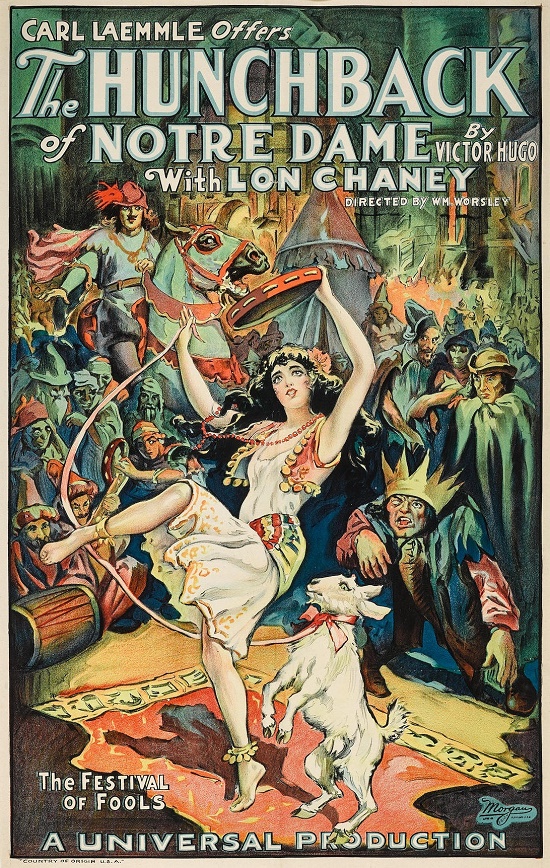 Estimate: $150,000 – $200,000

An original, unrestored and highly rare 1923 U.S one-sheet poster for the Universal period epic The Hunchback of Notre Dame.

The silent film was an adaptation of Victor Hugo's 1831 novel, with huge lavish sets, a cast of thousands, and a star performance by Lon Chaney as the hunchback Quasimodo.

Chaney famously used his own make-up skills to create the grotesque appearance of Quasimodo, which many believe to be the definitive depiction of the character.

Original posters for Universal horror films of the 1920s and 30s are amongst the most sought-after posters in the hobby; and although The Hunchback of Notre Dame isn't strictly a horror film, Chaney's performance as a misunderstood monster and its commercial success directly led to films such as The Phantom of the Opera, Dracula and Frankenstein.

Darth Vader costume from The Empire Strikes Back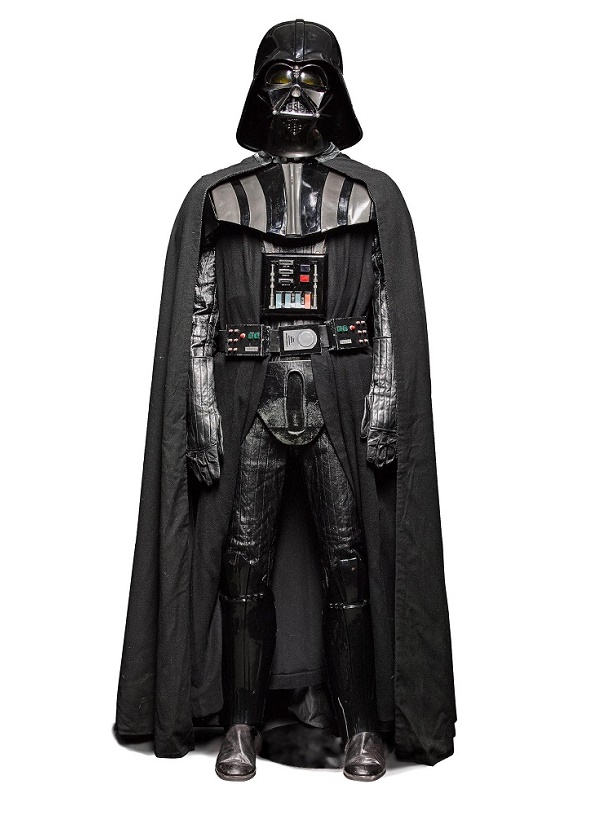 Estimate: $1,000,000 – $2,000,000

An original production-made Darth Vader costume worn on-screen in The Empire Strikes Back.

This costume originally belonged to Kermit Eller, who played Darth Vader for several years during promotional appearances for the Star Wars franchise.

Eller, who was friends with a production crew member, was given the job due to his height (6'4″) and his deep commanding voice. He made personal appearances at shopping malls across America, on TV shows including the Donny and Marie Show, and even featured on the 1978 Academy Awards telecast.

Eller originally wore the only Darth Vader suit made for the first Star Wars film, then upgraded to a new suit made for The Empire Strikes Back.
Following the film's release in 1982 he finished his promotional work, and the suit remained packed away in his garage for almost 40 years.