A Rolex Daytona watch owned by Paul Newman could rewrite the record books when it goes up for auction at Phillips next month.
The historic timepiece will be offered as part of the company's Racing Pulse auction in New York on December 12.
The watch has been described as "one of the most storied vintage Rolex watches of our era", and is expected to sell for well in excess of $1 million.
Newman's love of the Daytona Cosmograph Daytona Ref. 6263 model led it to become known to collectors simply as the 'Paul Newman Rolex Daytona'.
"Throughout his lifetime, Paul Newman was photographed wearing a small handful of Rolex Cosmograph Daytona watches," said Paul Boutros, Phillips' Head of Watches.
"Without any doubt, it is this association with Paul Newman that has led to the Rolex Daytona being universally regarded as possibly the world's most sought after wristwatch."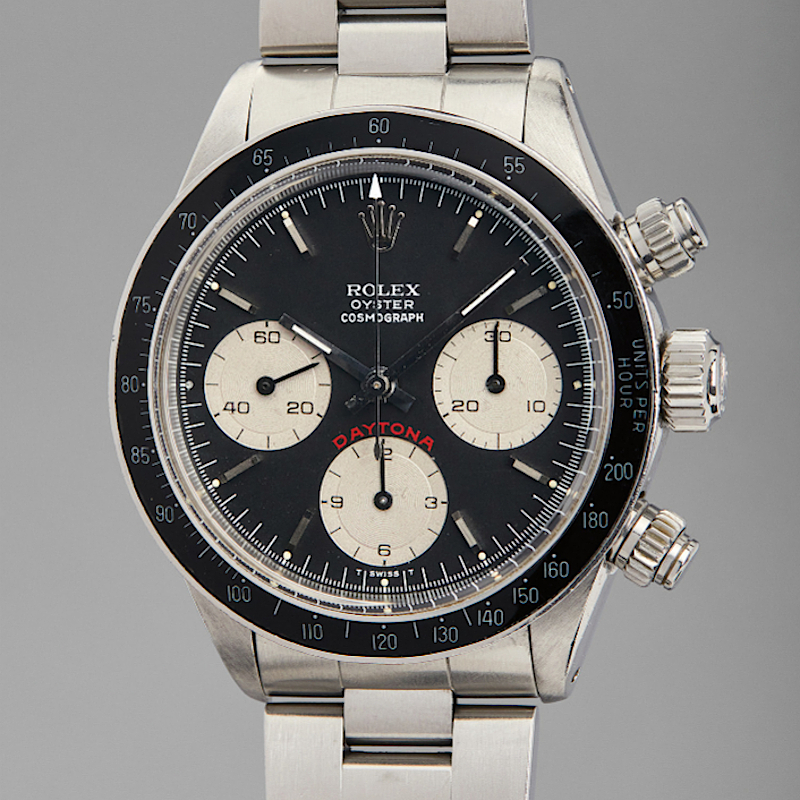 The last time a Rolex Daytona worn by Newman hit the block was in 2017, when the very first example he ever owned went up for sale at Phillips in Geneva.
Newman had received the watch in the early 1970s from his wife Joanne Woodward, when he began his second career as a professional racing driver.
Bearing the inscription "Drive Carefully Me", it sold for a remarkable $17.75 million, setting a new auction record as the world's most valuable wristwatch.
Newman wore that watch for many years until 1983, when Joanne gave him the present watch as a gift for their 25th wedding anniversary.
This example featured another inscription, which read "Drive slowly Joanne."
That same year Newman founded the Newman/Haas Racing team, which went on to win 105 CART/Champ Car races and eight season championships until its closure in 2012.
Newman continued to race for the Bob Sharp Racing team throughout this period, and despite wearing his inscribed watch almost every day he rarely heeded its advice to "drive slowly".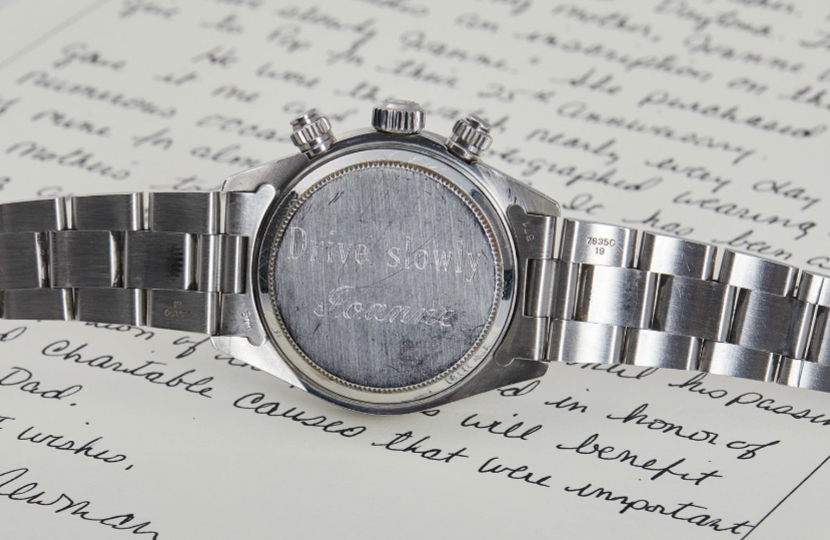 In 1995, at the age of 70, he became the oldest driver to be part of a winning team in a major sanctioned race when he won his class at the 1995 24 Hours of Daytona.
Despite Newman's advancing years his passion for the track and his skill as a driver remained, and he took pole in his final professional race at Watkins Glen in 2007, the year before his death.
The watch remained in Newman's family, and will now be offered for sale for the very first time, with a portion of the proceeds set to benefit some of the many charitable organizations established by Newman and Woodward during their lives.
"He wore the watch nearly every day until he gave it to me," said Newman's daughter Clea Newman Soderlund.
"It has been a treasure of mine for almost thirteen years. To me, this watch shows my mother's tolerance of his continued passion for racing and reflects the enduring love between them which remained for another 25 years until his passing."
Whether this watch exceeds the record price of the previous example remains to be seen, but as the auction house rightly states, "this Paul Newman 'Big Red' Daytona [is] one of the world's most important Rolex watches, and a once-in-a-lifetime opportunity."