Paul McCartney's handwritten lyrics to the classic Beatles song Hey Jude will be offered for sale at Julien's Auctions in New York next month.
McCartney used the lyrics during the recording of the song in London in July 1968, and later gifted them to a studio engineer.
The sheet is also visible on a music stand in front of John Lennon as he records the song at Abbey Road studios, as captured in a documentary filmed by the National Music Council of Great Britain entitled 'Music!'
The manuscript is now expected to fetch $160,000 – $180,000 when it hits the block at the Hard Rock Cafe in New York on April 10.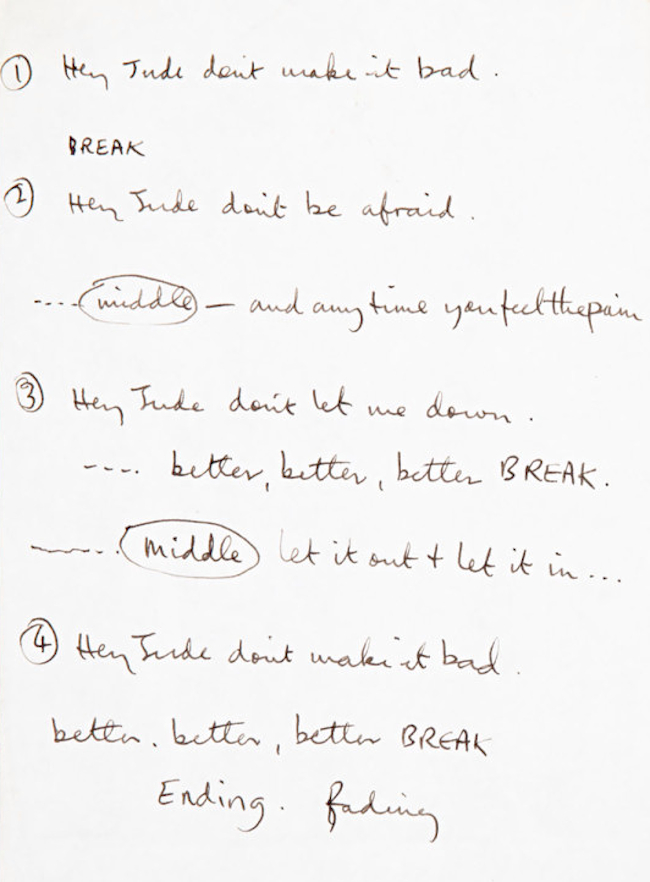 Paul McCartney famously wrote Hey Jude for John Lennon's son Julian, after Lennon left his wife Cynthia for Yoko Ono.
"I started with the idea "Hey Jules," which was Julian, don't make it bad, take a sad song and make it better," McCartney later recalled.
"Hey, try and deal with this terrible thing. I knew it was not going to be easy for him. I always feel sorry for kids in divorces."
McCartney composed the basic melody and lyrics in June 1968 during a car journey to visit Julian and Cynthia following the break-up, before playing it for his song writing partner Lennon the following month.
Lennon told McCartney the song was one of his "masterpieces", although he later claimed he thought it had been written about him and his relationship with Yoko Ono.
McCartney's handwritten lyric sheet lays out the song's basic four verse structure, before it launches into an epic four minute coda that gradually fades out.
The song was released in August 1968, and at over seven minutes long was the longest song to ever reach #1 in the British charts.
It went on to become the top-selling single of 1968 in the UK, the US, Australia and Canada, and to date has sold over eight million copies around the world.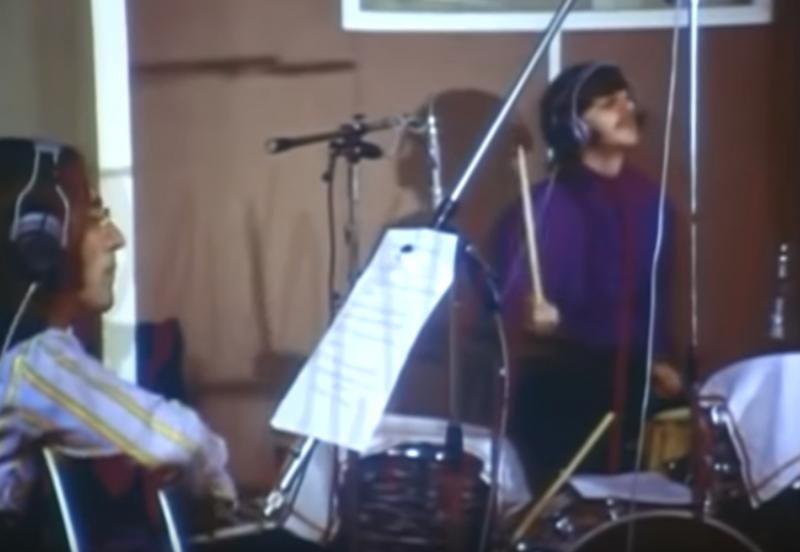 Today Hey Jude is regarded by both critics and Beatles fans alike as one of the greatest songs ever recorded, and
In 1996 Julian Lennon bought McCartney's original studio notes for the song at a Sotheby's auction for £25,000, as the song continued to hold a close personal significance to him.
Then in 1998 a spiral-bound notebook featuring a set of McCartney's Hey Jude lyrics, along with other notes and lyrics for songs such as Sergeant Pepper's Lonely Hearts Club Band, sold at Sotheby's for £111,500.
And in 2002 McCartney's original handwritten working lyrics for the song were offered for sale at Christie's, having spent 30 years in the collection of Florrent Tessier, who bought them on a London market stall for £10 in the early 1970s.
However, McCartney took legal action to successfully prevent the sale, claiming the manuscript had been taken from his London home, either during a burglary or by one of his ex-employees.