The original handwritten lyrics to the Elton John classic 'Your Song' will lead a sale of music memorabilia at Bonhams later this month.
The manuscript by John's celebrated songwriting partner Bernie Taupin is the first and only draft of the song in existence, and is expected to fetch a five or even six-figure sum when it hits the block in New York on November 19.
Together, Elton John and Bernie Taupin are responsible for writing classic songs including 'Rocket Man',Tiny Dancer, Candle in the Wind' and 'Goodbye Yellow Brick Road' – but 'Your Song' was the first hit of their careers.
The pair began their remarkable collaboration in 1967, when they both answered an advert in the NME newspaper looking for songwriters.
They started out writing songs for other performers in Tin Pan Alley, a hive of publishing companies , recording studios and musical instrument stores situated on Denmark Street in London.
According to legend, Taupin wrote the song whilst sat on the roof of 20 Denmark Street, where John was working as working as an office boy as he plotted his own music career.
His lofty perch inspired the line "I sat on the roof and kicked off the moss", and when he clambered down and presented John with the Lyrics, his partner sat down at a piano and wrote the melody in 10 minutes flat.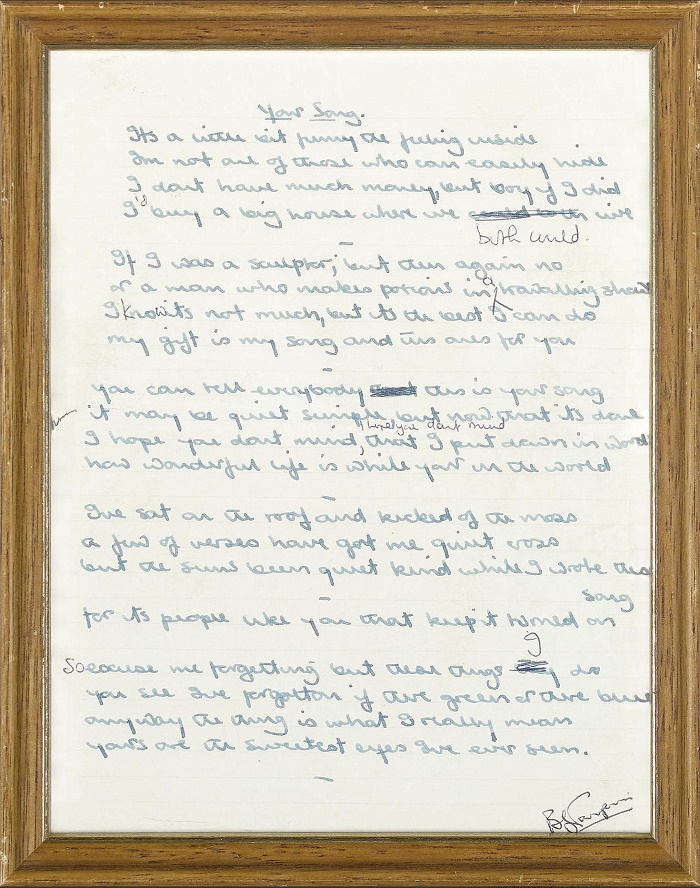 "When Bernie brings me the lyrics, I read them and then I get the first line of the song and deal with that first," John said in 1970, during an interview with Penny Valentine for Sounds magazine.
"I never work to the chorus or the hook. I start at the top and gradually work down, I can't do it any other way. 'Your Song' went straight off in ten minutes. I go round to Bernie and say 'listen, I've done it' and he can't believe it."
Little did they know it, but they had just written the song that would catapult them both to success.
'Your Song' first appeared on John's eponymous second studio album, released in April 1970, and then as the B-side to the single 'Take Me to the Pilot'.
However, the song provoked such a positive reaction from radio DJs in the U.S that it was switched to the A-side, and number eight on the Billboard chart, marking his first hit as a performer.
The song made an impression on both fans and fellow musicians alike, and in a 1975 interview with Rolling Stone magazine John Lennon recalled:
"I remember hearing Elton John's 'Your Song', heard it in America—it was one of Elton's first big hits—and remember thinking, 'Great, that's the first new thing that's happened since we (The Beatles) happened.'"
The simple sweet love song has since become a timeless classic, and a staple of almost every one of Elton John's live shows throughout his career.
"'Your Song' played a pivotal role in projecting both Elton John and Bernie Taupin into the limelight," says Catherine Williamson, Director of Books and Manuscripts at Bonhams.
"It is a remarkable song that has stood the test of time and this original script highlights that its longevity is due to the mastery of the two artists."
The manuscript offered at Bonhams originates from the private collection of Maxine Taupin, who was married to bernie from 1971 until 1976.
Bernie Taupin's own collection of manuscripts is currently up for sale at Julien's Auctions in Los Angeles, and includes his lyrics to the hit Starship song 'We Built This City' – which has the dubious honour of being voted the worst rock song ever recorded.