Holy protective bullet-proof barrier! The original Bat-Shield used by Adam West in the 1960s Batman TV show is heading for auction at the Prop Store.
The famous shield is expected to sell for $400,000 – $600,000 when it hits the block in California on December 1, a price which would make it one of the world's most valuable TV props.
The sale is the Prop Store's first auction dedicated solely to memorabilia from the small screen, and TV shows don't get much more collectible than Batman.
The colourful, camp and often plain weird show was a massive hit in the mid-1960s, and has entertained generations of viewers ever since due to countless re-runs around the world.
It also made stars of the incomparable Adam West as Batman, and Burt Ward as his trusty sidekick Robin, who got to utter some of the greatest lines in television history including "Holy Priceless Collection of Etruscan Snoods!"
The Bat-shield was a large clear bullet-proof shield used by the dynamic duo in just a handful of episodes, including 'He Meets His Match, the Grisly Ghoul' and 'The Bird's Last Jest'.
But even in a show which included gadgets such as a Manta-Ray repellent Bat-spray, the Bat-shield seemed fairly impractical for fighting crime.
It was awkwardly large, always took a long time to unfold and assemble, and even when folded back up it was clearly too big for Batman to keep about his person.
Often Adam West would just tuck it behind his back and wait for the camera to cut, and in one episode Burt Ward clearly has nowhere to hide it and simply drops it behind a desk.
However, the pair used it to great effect, protecting themselves from exploding umbrellas and hails of bullets – and of course, like every other gadget Batman ever used, it comes handily labelled with its name on the front.
In addition to the Bat-shield, the Prop Store sale will also offer the original Riddler costume worn by Frank Gorshin in the show's very first episode, 'Hi Diddle Riddle'.
Gorshin, a former nightclub comic and impressionist, played the Riddler in ten episodes and was one of the show's greatest villains.
Due to the rarity of screen-worn villain costumes from the show, the instantly recognisable green jacket and vest are expected to fetch $100,000 – $150,000.
In 2010 another green suit worn by Gorshin in that first episode sold at Heritage Auctions for a more modest $15,000 – but that suit didn't feature the Riddler's famous 'question mark' motif.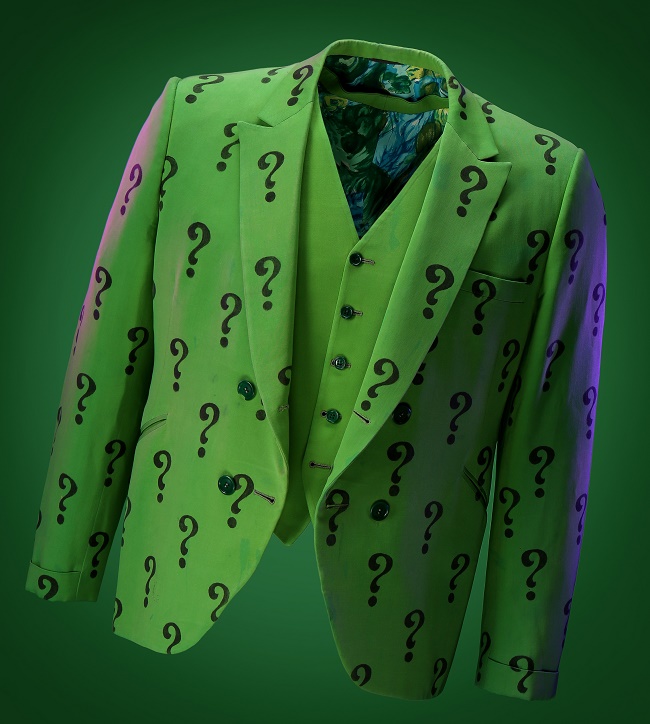 The popularity of original props and costumes from the show has always been strong amongst collectors, but prices have seemingly surged in the past 12 months.
In September 2017 the Prop Store sold the top hat and gloves worn by Burgess Meredith as the Penguin for £39,650 ($51,200), doubling their pre-sale estimate; and the Catwoman costume worn by Julie Newmar for £21,960 ($28,350).
Then in June this year Profiles in History saw even stronger results, as a Joker outfit worn by Ceasar Romero sold for $89,600, setting a new record for a costume from the show; and the Batwoman mask worn by Yvonne Craig sold for $44,800, more than 10 times its low estimate.
Further notable sales have included the original Batman and Robin costumes worn by Adam West and Burt Ward, which sold in 2005 for $35,850 and $23,900; and the bust of William Shakespeare that hid the entry switch for the Bat Cave, which sold for $40,000.
By far the most valuable piece of Batman TV memorabilia is of course the original Batmobile. The custom-built vehicle, created by designer George Barris using a 1955 Lincoln Futura concept car, sold at Barrett-Jackson in 2013 for a stunning $4.6 million.
All the props and costumes in the sale originate from the collection of renowned TV memorabilia expert James Comisar.
According to a 1992 article in the LA Times, Comisar originally paid $5,500 for the shield, a large sum at a time when few collectors saw the value in historic TV memorabilia.
He reportedly later turned down an offer of $100,000 from a Japanese investor for the shield and the Batman and Robin costumes worn by West and Ward, stating "I didn't even pause to consider it. They're irreplaceable pieces of history."
Now more than 25 years later Comisar is finally willing to part with pieces from his collection, and has personally curated the auction's 400 lots.
"I have spent 30 years trying to create a museum that honors television's rich history, and until that can be realized, I want to share with collectors-turned-caretakers, who have always celebrated these shows and valued their materials," said Comisar.
"These days, few would argue TV's enduring nature or its emotional hold, and my hope is the objects can live on as long as the shows are streaming through our lives."