An incredibly rare fretless guitar once owned by George Harrison will lead an auction of entertainment memorabilia at Bonhams next month.
The sale in London on October 13 will feature the unusual guitar made by Bartell of California and presented to Harrison in 1967.
The guitar remained in Harrison's personal collection for many years, and it will now be offered at auction with an estimate of £200,000 – £300,000 ($260,000 – $388,000).
Not only is the guitar rare in its own right, but some Beatles experts believe it could have been used during the recording of the White Album.
Fretless guitars were almost unheard of in the late-1960s, and were an unusual sight in the recording studio.
BBC Radio 1 DJ Kenny Everett interviewed the band at Abbey Road studios in June 1968, during a recording session for the White Album, and at one point asked John Lennon:
"What kind of guitar's that, it's fairly strange-looking…?" to which John replies "A fretless guitar".
Although there's no photographic evidence of it being used by the Beatles, no other band member is known to have owned a fretless guitar during that period.
According to the auction house, "it is unlikely that it was anything other than the guitar offered here".
Some musicologists have stated they believe the guitar was used during the White Album sessions to record classic tracks Helter Skelter and Happiness Is A Warm Gun.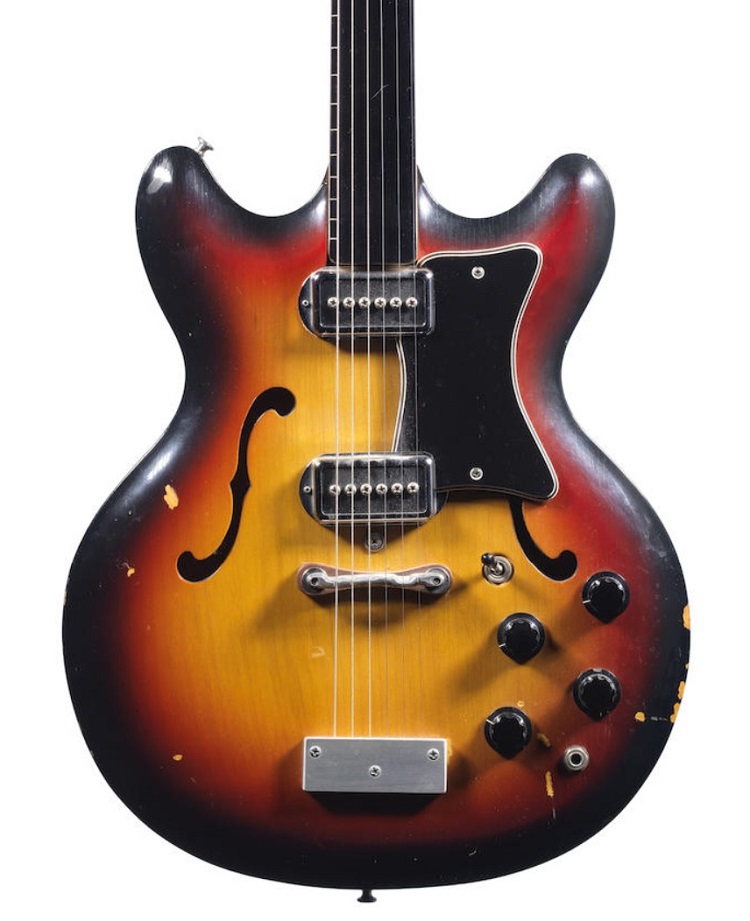 Years later in 1974, Harrison was photographed at his Friar Park home and the fretless Bartell guitar is clearly visible amongst his extensive guitar collection.
Harrison later gave the guitar to Ray Russell, a musician working on the soundtrack to the 1984 film Water for his production company Handmade Films.
Guitars owned by members of The Beatles are highly sought-after by collectors – but those used during the recording of famous Beatles tracks are even more valuable.
The evidence it was used to record the White Album is perhaps questionable, but it may be tantalizing enough to push bidding beyond the high estimate on October 13.