The original handwritten lyrics to some of Elton John's most famous songs are heading for auction at Bonhams next month.
The working manuscripts for hits such as Your Song, Candle in the Wind and Goodbye Yellow Brick Road will hit the block in Los Angeles on December 9.
The lyrics are the work of celebrated songwriter Bernie Taupin, Elton John's celebrated musical partner of more than 50 years.
The lyrics all originate from the personal collection of Bernie Taupin's former wife Maxine, and will be offered at auction for the first time with a combined estimate of more than $1 million.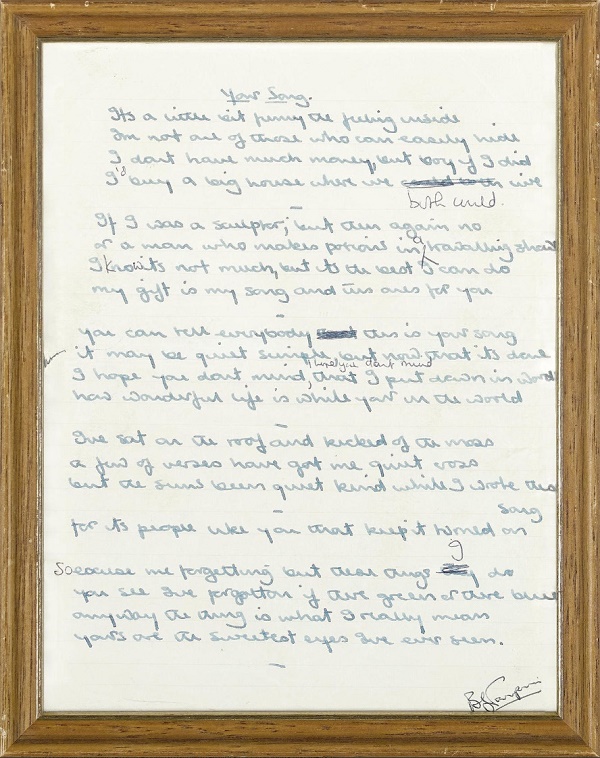 Elton John and Bernie Taupin first met in London in 1967, when they both answered the same advert looking for songwriters.
They worked together in Tin Pan Alley, a London street packed with music publishing companies, writing songs for other artists as they plotted their own careers.
Taupin wrote 'Your Song' in 1970 whilst sat on the roof of the office where they worked, a scene which inspired the line "I sat on the roof and kicked off the moss", and then gave the sheet of lyrics to John.
"When Bernie brings me the lyrics, I read them and then I get the first line of the song and deal with that first," John recalled in a 1970 interview.
"I never work to the chorus or the hook. I start at the top and gradually work down, I can't do it any other way. 'Your Song' went straight off in ten minutes. I go round to Bernie and say 'listen, I've done it' and he can't believe it."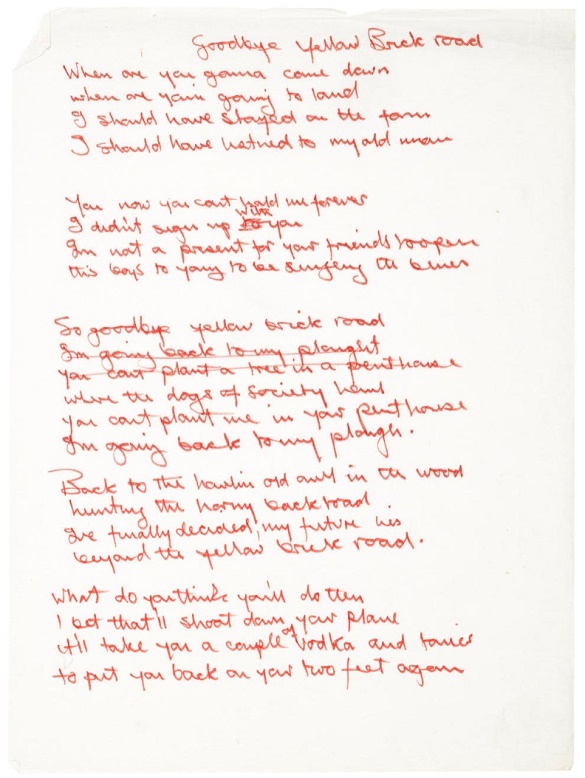 Your Song proved to be Elton John's breakthrough hit, reaching #8 in the U.S Billboard charts and launching his career as a star on both sides of the Atlantic.
The original sheet of Taupin's handwritten lyrics is now expected to sell for $175,000 – $275,000.
Four of the songs featured in the auction appear on Goodbye Yellow Brick Road, the 1973 album which reached #1 in both the UK and the US, and which to date has sold over 30 million copies worldwide.
They include the album's title track (est. $150,000 – $250,000), Candle in the Wind ($150,000 – $250,000), Saturday Night's Alright for Fighting ($100,000 – $200,000) and Bennie and the Jets ($100,000 – $150,000).
Goodbye Yellow Brick Road is widely regarded as the finest album of Elton John's career, and was ranked #91 in Rolling Stone magazine's list of the 500 greatest albums of all time.