Marilyn Monroe's personal copy of the script for The Seven Year Itch will be offered for sale at Profiles in History in California next month.
The script includes Monroe's own notes for the 1955 film, which featured the famous scene in which her white dress blows up around her as she stands on a subway vent.
The script will be offered with an estimate of $60,000 – $80,000, as part of the 'Hollywood: A Collector's Ransom' sale which takes place on December 17 – 19.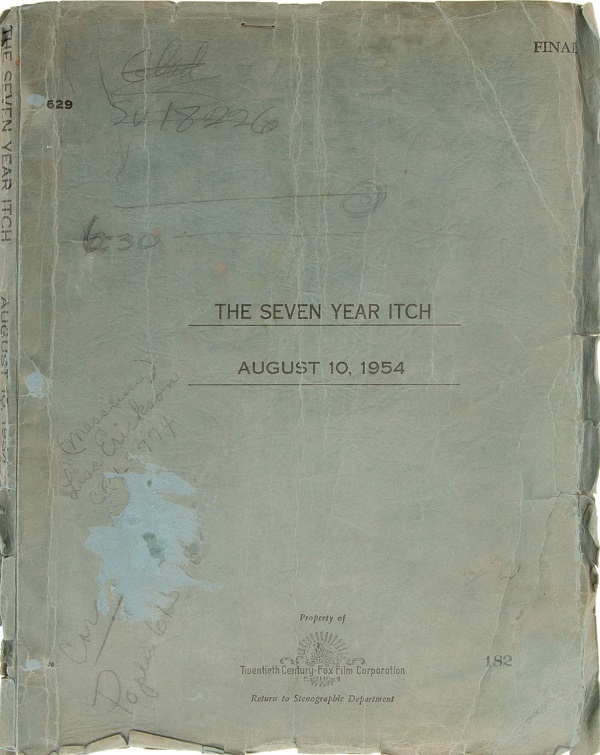 The Seven Year Itch was an adaptation of a hit Broadway play, in which a husband succumbs to an affair after seven years of marriage whilst his family are away.
In the film Monroe's character is known simply as 'The Girl', an aspiring actress who serves as the object of the husband's desires.
But behind her on-screen persona as the blonde sex symbol, Monroe's extensive handwritten annotations reveal her dedication to her craft.
Throughout the script she has written notes to herself such as "Look first indecisive – pause – hesitation – little smile" and "My body into his – sliding into him as if I want to sleep with him right then & there. Swing hips again".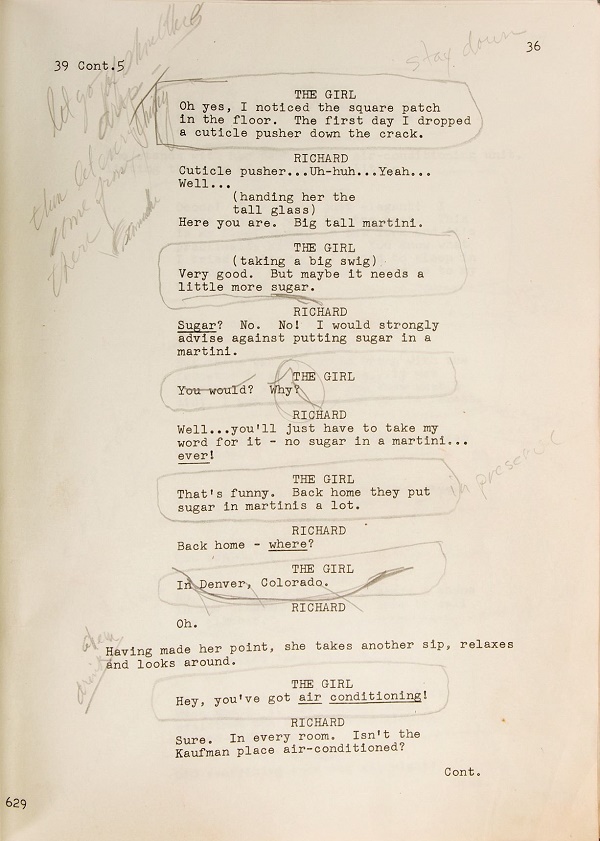 This preparation and complete understanding of the role in evident in her notes for the famous 'Subway' scene, which helped cement her place as a genuine Hollywood icon.
The famous scene may only last 35 seconds, but according to the auction house, "those thirty-five seconds changed modern life forever. Sex, hitherto seedy and menacing, difficult and dangerous, repressed and unspoken – was now, thanks to Marilyn Monroe, free, guiltless and natural."
The energy and sexuality which Monroe portrays may seem effortless, but her script notes show she though very carefully about how to play the moment:
"Child w/a woman. Direct & fem[inine]. Open… This is everything there is in the world. Light & easy. Everything flies out of her. Newborn – the baby looking at the moon for the first time."
Ironically, Monroe's husband Joe DiMaggio was on set when the famous moment was filmed, and the risqué nature of the scene combined with his wife's convincing performance proved to be the final straw for their marriage.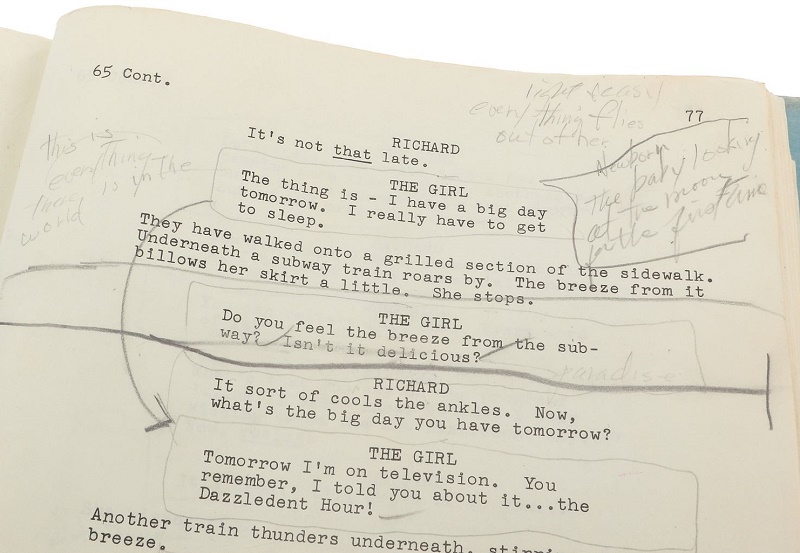 Perhaps the most revealing notes in the script appear on the final page, as Monroe sums up how she will play the character of The Girl – and how the performance could perhaps help her in her own personal struggles:
"Make only little effort… giving it away – yourself – not keeping anything in myself … What is the quality of the electricity… only thru him… there is nothing else any where … open to him, my destiny to him (help carry the burden)… play the girl open and free, and it shall help me, Marilyn to be free, direct, open, honest, frank, charming – fresh, a twinkle, only morality, nature, a moral child."
Monroe's personal problems included an almost crippling lack of confidence and a tendency to over-analyze herself, which often spilled over into her on-screen performances.
As the film's director Billy Wilder put it simply, "I had no problems with Monroe. It was Monroe who had problems with Monroe."
This final note to herself offers a revealing insight into both Monroe's process as an actress, and her desire to be free from the demons which eventually claimed her life.
The significant nature of the script and its place in Hollywood history means it could easily exceed the auction house's estimate.
Back in September 2017, Audrey Hepburn's personal, annotated copy of her shooting script for Breakfast at Tiffany's went up for sale at Christie's.
The script was similarly estimated at $60,000 – $90,000, but sold for a final price of $846,000, setting an auction record for a movie script.