An archive of 'lost' John Lennon tapes featuring interviews with the Beatle will be offered at auction this month.
The tapes feature 91 minutes of material, most of which has remained unheard for over 50 years since it was recorded.
They will now go up for sale at Omega Auctions in the U.K, where they're expected to sell for up to £30,000.
The auction house described the tapes as "a truly unique and awe inspiring archive of interviews which deserve to be heard by all who love The Beatles and John Lennon."
The interviews were recorded circa 1969/70 by Canadian freelance journalist Ken Zelig, who sat with Lennon and Yoko Ono on three occasions.
During these sessions, Lennon spoke about everything from his favourite Beatles songs and musical influences to the future of the band, his solo career and giving back his MBE.
Lennon and Ono also discussed their relationship, the peace movement and their famous Montreal bed-in.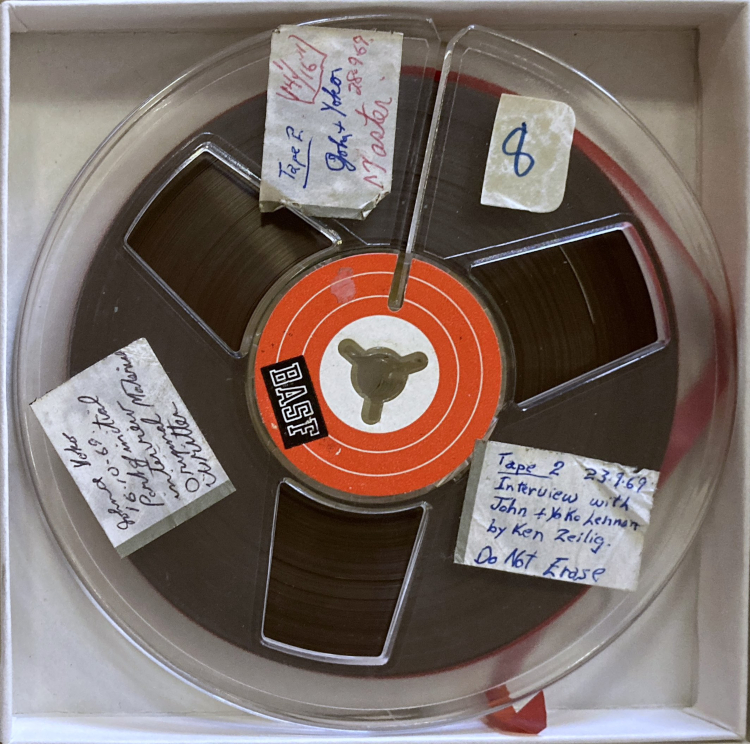 The archive will prove a revelation to Beatles fans, as Lennon covers topics he had never previously spoken about on tape before.
He says the Beatles had "a positive effect on the youth movement", but denies suggestions they were its leaders during the 1960s.
"It's like people said, the Beatles created a whole new way of life and thinking. Well we didn't, we were part of it. Well if there was a big wave in the ocean which was the movement, were on the front of the wave. But we were not the movement itself…"
He also speaks about his and Yoko's efforts to promote peace through non-violent protests.
"People prefer a dead saint to a living annoyance like John and Yoko. But we don't intend to be dead saints, you know, for peoples' convenience."
Ken Zelig passed away in 1990, but the tapes remained hidden for a further 30 years until being recently rediscovered by his children.
Around five minutes of the material was broadcast on U.S radio in the late 1980s, but the rest remains unheard by the public.
The interviews will be sold with full copyright, and look set to attract major attention from collectors around the world.
The sale takes place at Omega Auctions on September 28.