Banksy's 'Love is in the Bin" is heading for auction at Sotheby's next month, with a price tag of up to £6 million.
The now-iconic artwork will hit the block in London on October 13, three years after it first stunned the art world.
Originally titled Girl With Balloon, the painting famously self-destructed in 2018 just moments after it had sold for just over £1 million.
As bidders and auctioneers looked on, the work fed itself through a shredder hidden in its ornate gold frame.
Banksy later posted a video of him building the frame, and apparently triggering it during the auction from inside the room.
Sotheby's chairman of Modern & Contemporary art Alex Branczik later commented:
"When Girl with Balloon 'self-destructed' in our saleroom, Banksy sparked a global sensation that has since become a cultural phenomenon.
"During that memorable night, Banksy did not so much destroy an artwork by shredding it, but instead created one."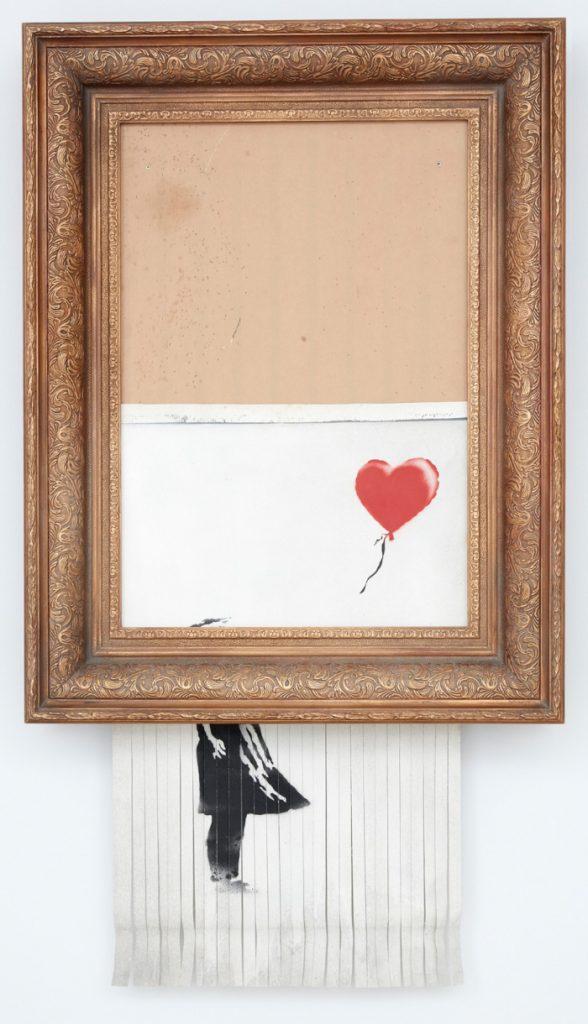 Many suspected Sotheby's were in on the stunt, which left the artwork half-intact with the shredded strips hanging from the frame.
It had been purchased by a European collector, who decided to keep the artwork – which Banksy then retitled 'Love is in the Bin'.
"When the hammer came down and the work was shredded, I was at first shocked, but gradually I began to realise that I would end up with my own piece of art history," she said.
But now that piece of art history is heading back to auction, described by Sotheby's as "the most famous artwork of the 21st century".
And with an estimate of £4 – £6 million, it would mark a strong increase in value in just three years.
The current record price for a Banksy artwork was set in March 2021, when his tribute to NHS workers entitled Game Changer sold at Christies for £16,758,000.
Banksy had donated the work to Southampton General Hospital in May 2020, in recognition for the staff's work during the first wave of the coronavirus pandemic.