On June 28, Nate D Sanders will offer a spectacular piece of American history – the Guggenheim mining ledger.
The lot, valued in excess of $40,000, tells the story of how the family rose from its immigrant roots to become one of the most powerful dynasties in America.
The name Guggenheim has become inexorably linked to culture.
Beginning with the opening of the Solomon R Guggenheim Museum in New York in 1959, the family has since expanded its artistic franchise to nations as diverse as Mexico, Saudi Arabia and Lithuania.
Patriarch Meyer Guggenheim arrived in the US from Switzerland in 1828, one of a significant cohort of Ashkenazi Jews to leave Europe for the new world in the 19th century in search of religious and personal freedom. Settling in Philadelphia, he began a small import business. Eventually he raised enough capital to buy a series of silver mines in Colorado.
This book opens on January 13, 1888 with the incorporation of the Denver Smelting and Refining Company. The initial investment is listed as $500,000 (around $12.8m in today's money).
The book covers the next three years and is signed numerous times by Meyer and his sons, who joined him in his business.
While this may appear a niche item, the Guggenheims' central role in American industry will have appeal to both modern tycoons and museums.
Elsewhere in the sale there's an eclectic range of pieces on offer, including poet Sylvia Plath's 1958 driving licence – valued at more than $8,000.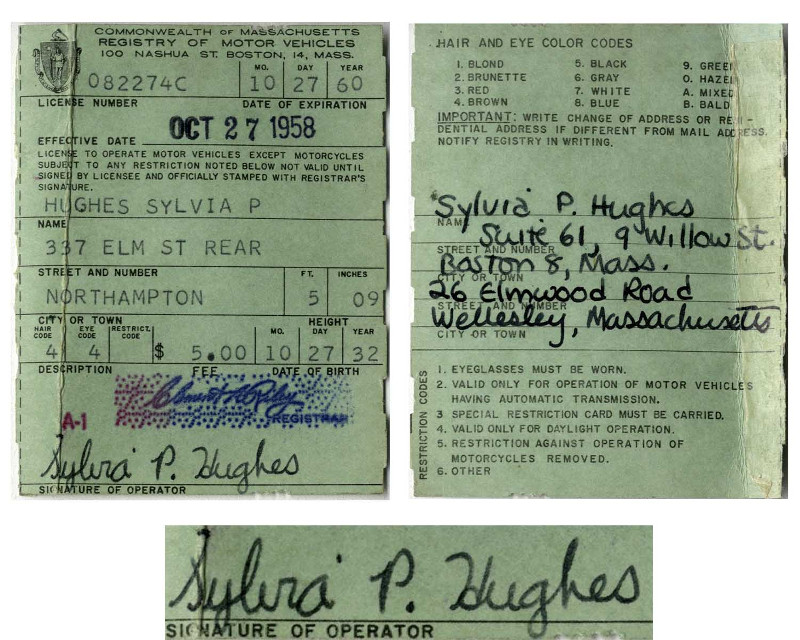 Plath has signed the form twice, listing her address as both 26 Elmwood Road, Wellesley, Massachusetts (where she grew up) and 9 Willow Street, Boston. This latter address was where she and her husband, the British poet Ted Hughes, lived while they took up short-lived teaching roles at local colleges.
Plath did not enjoy teaching, as Hughes would write in his poem The Blue Flannel Suit: "The flayed nerve, the unhealable face-wound/ Which was all you had for courage."
Soon after they would move to the Calder Valley in Yorkshire, UK , where Hughes was born, and live for a time in the hilltop village of Heptonstall. Plath would be buried here following her suicide in 1963.
In March this year Bonhams hosted a major auction of Plath memorabilia. A proof copy of her most celebrated work, The Bell Jar (published a month before she died), achieved £87,500 ($115,188). Her typewriter made £32,500 ($42,784).
A 1938 letter from Einstein urging his sister to leave Europe for the US will feature with an estimate of upwards of $25,000.