A 1938 letter from Albert Einstein urging his sister to leave Europe for the US to escape Nazi persecution is among the headliners at Nate D Sanders.
The piece is valued at upwards of $25,000 ahead of the June 28 auction.
Einstein also writes of how he is putting much of his energy into helping other Jews leave Germany.
While Einstein had left his home country just before the Nazis took power in 1933, by 1938 the situation was becoming increasingly desperate.
He writes: "As a sideline, I am now working as some sort of itinerant relief committee and buckets of letters are coming in, whole stacks full of persecuted and desperate victims of the current situation.
"…I am helping the Ulm [city in Germany] relatives with emigrating.
"It is easy for the young ones, but difficult for the old ones…
"Only when you are dead will you be safe. The most difficult thing will be finding a country that will accept the old people, even if one provides a modest livelihood for them. That is how things have turned out by now!"
Another of Einstein's 1938 letters, this one written to his great friend Michel Besso and offering an equally gloomy prognosis for the future, sold for $31,250 at Nate D Sanders last year.
There's also a fascinating letter from Clara Barton, founder of the American Red Cross, written to her great ally General Benjamin Butler in December 1865.  It's valued at upwards of $7,500.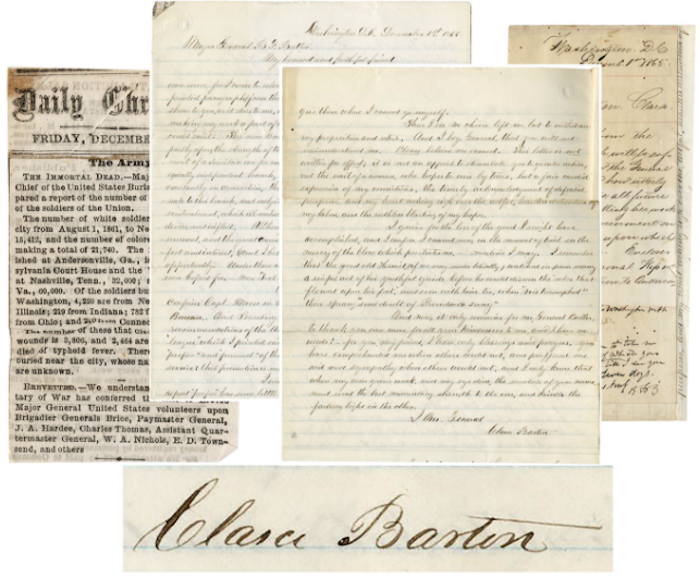 The text related to Barton's fight for the US government to formally recognise her Office of Missing Soldiers, an organisation she set up after the US civil war to find the tens of thousands of men on both sides who were simply marked as missing. She was enormously successful in her project, discovering the resting places and final fates of well over 50,000.
At the time this letter was written, the government was planning to introduce the US Burial Bureau – which would have taken over from the Office of Missing Soldiers. Barton here writes an impassioned defence of her work. It did not fall on deaf ears – she was eventually awarded funding.