Christie's will offer a lifetime collection of works consigned by Roald Dahl illustrator Quentin Blake in a series of upcoming sales.
Titled "Quentin Blake: A Retrospective; Forty Years of Alternative Versions", the collection will feature 178 works from across Blake's long career. A total of 30 works will star in a books and manuscripts sale in London on July 11, while the remaining 148 will be sold in a dedicated online auction running July 3-12.
Proceeds will go to Roald Dahl's Marvellous Children's Charity and the tribal peoples' rights group Survival International.
The top estimates are reserved for drawings Blake produced for Dahl. That's a figure that reflects both the popularity of Dahl's books (around 200m copies sold worldwide). Blake's trademark "messy" style perfectly complements Dahl's darkly mischievous stories, and his drawings have become iconic in their own right.
Among the lots receiving top billing is a watercolour pencil rendering of the Grand High Witch from The Witches (1983), which is expected to make £10,000-15,000 ($13,163-19,745).
The piece shows the head witch surrounded by a menacing array of dangling claws and trunks.
A portrait of Willie Wonka, Charlie Bucket and Grandpa Joe from Charlie and the Chocolate Factory (1964) carries an identical estimate.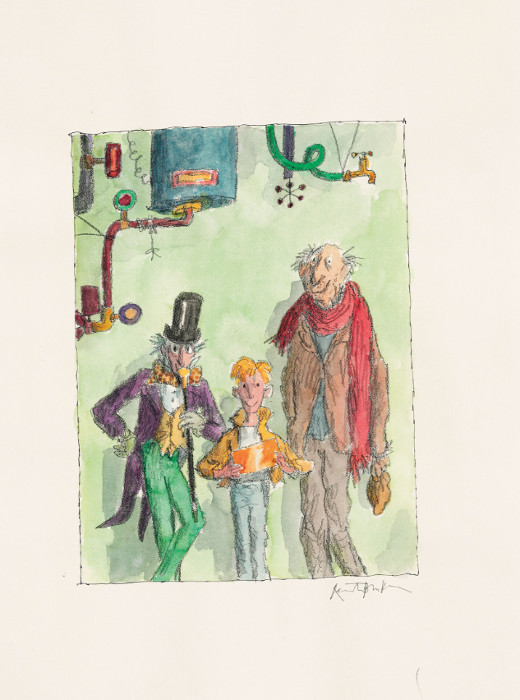 It's not all big hitters. There are also several works at lower price points, including a pen and ink drawing of Slimmy Jimmy the Ferret from a recent edition of Beatrix Potter's The Tale of Kitty-in-Boots. It's estimated at up to £300 ($400). However, given that this will be a charity auction it's likely all of the items offered will soar over their estimates.
Blake's work is extremely rare at auction as he keeps a tight rein on his archive, which contains thousands of original works. The vast majority are kept at the House of Illustration in London, which Blake opened in 2014.