The first-ever Flash Gordon comic strip drawn by Alex Raymond in 1933 is heading for auction, having been rediscovered after more than 80 years.
Raymond's original artwork for Flash Gordon #1 has been described as "the greatest find in comic art history", and could sell for more than half a million dollars at Profiles in History next month.
The vintage pencil and ink illustration is signed "Alexander Raymond" beside "No 1" in the lower left panel, and is also marked "Flash Gordon Page #1 By Alexander Raymond" in the top margin.
Flash Gordon remains one of the most famous and influential works in science fiction history, and inspired generations of artists and writers including George Lucas (Star Wars) and Gene Rodenberry (Star Trek).
Alex Raymond began his career as a staff artist as William Randolph Hearst's King Features Syndicate, and in 1934 he was asked to create a science-fiction story to rival the highly popular Buck Rogers strip.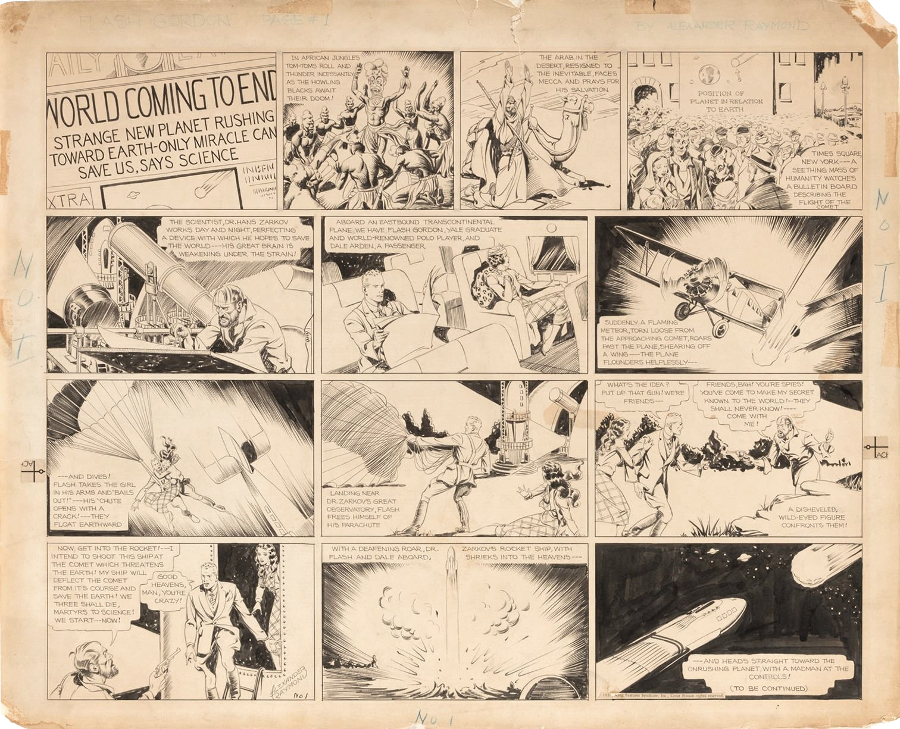 The result was a Flash Gordon, a "Yale graduate and world-renowned polo player" who becomes an intergalactic hero battling the evil emperor Ming the Merciless.
Raymond was one of the finest comic strip illustrators of his era, and his superior artwork (combined with ghostwriter Don Moore's storylines) meant Flash Gordon quickly outshone his space rival Rogers.
In the first episode of the story, published on January 7, 1934, the Earth is threatened by a "strange new planet" headed on a direct collision course and people across the world await their fate.
Gordon meets (and saves) his companion Dale Arden when their plane is struck by a meteorite, and they land near the laboratory of Dr Alexis Zarkov.
Zarkoff forces them both at gunpoint into his rocket, which is set to deflect the oncoming planet Mongo and save Earth, and together they head into space "with a madman at the controls!"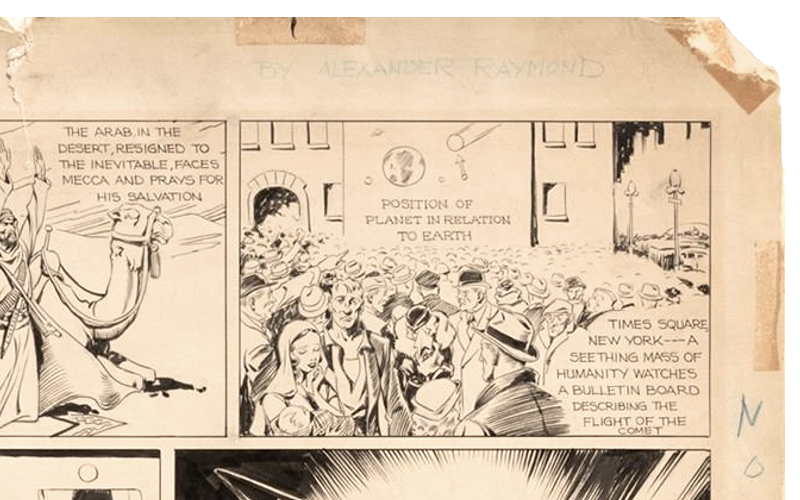 The strip was an instant success and by the late 1930s it appeared daily in 130 newspapers around the world, where it was read by 50 million people.
King Features continued to publish Flash Gordon comic strips for the next 70 years, until it finally ended in 2003. The strip also spawned a series of popular movie serials, a radio serial, numerous TV shows, a Hollywood movie and an excellent Queen album.
Alex Raymond's original artwork for Flash Gordon #1 is rightly considered a landmark pop culture artifact, and its emergence onto the open market is sure to cause a stir amongst leading collectors, institutions and museums.
It will be offered by Profiles in History in California on March 31 with an estimate of $400,000 – $600,000, but given the historic nature of the strip it could fetch an even higher price.
Back in December 2019, the same auction house sold Bernie Wrightson's original 1983 cover art for the Marvel Comics adaptation of Frankenstein for a world record $1.2 million.
And with original comic artwork by the likes of Robert Crumb and Frank Frazetta also recently achieving seven-figure sums, Alex Raymond could be the next artist set for blast-off.