Bernie Wrightson's original cover art for the Marvel Comics adaptation of Frankenstein has sold at auction for a world record price of $1.2 million.
Wrightson's illustration had been described as "the finest fantasy ink drawing of the 20th century, if not of all time".
The piece sold at Profiles in History in Los Angeles on December 12, as part of a private collection of original comic book art which had remained hidden from public view for decades.
The collection, which also included work by luminaries such as Jack Kirby, Steve Ditko and John Byrne, achieved a total of more than $3 million.
Bernie Wrightson (1948 – 2017) was the co-creator of the famous D.C character Swamp Thing, and was renowned throughout his career for his work horror and suspense comic books.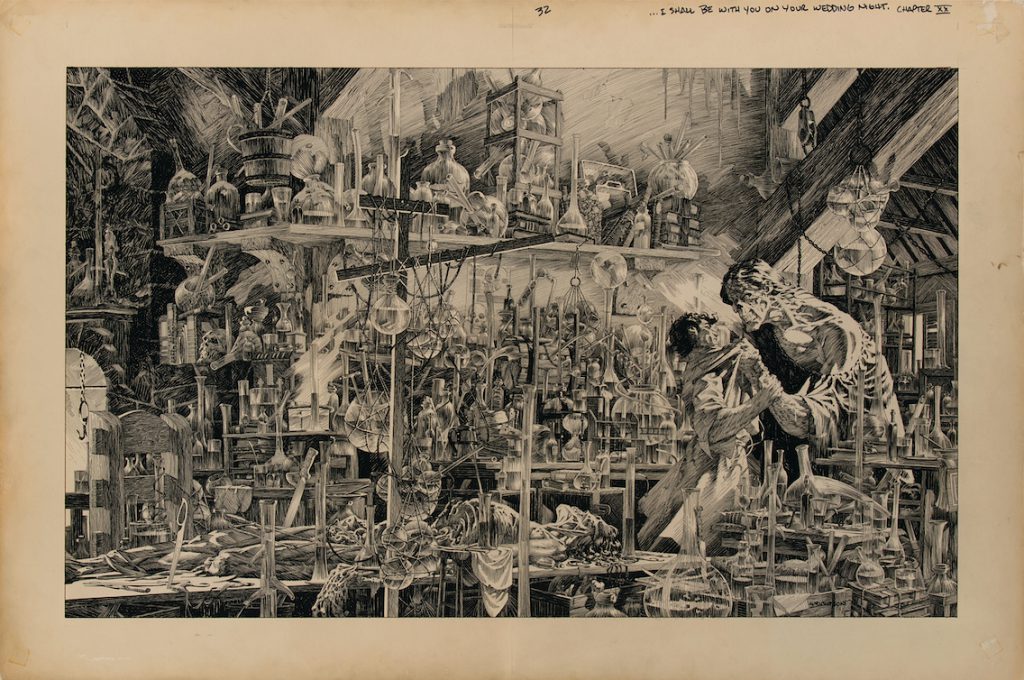 In the late 1970s he took on the task of illustrating Mary Shelley's 1818 novel, and spent the next seven years completing the project in his spare time.
"I've always had a thing for Frankenstein, and it was a labor of love," he told CBR News in 2008.
"It was not an assignment, it was not a job. I would do the drawings in between paying gigs, when I had enough to be caught up with bills and groceries and what-not. I would take three days here, a week there, to work on the Frankenstein volume."
When Marvel Comics released the adaptation in 1983, Wrightson's illustration "…I shall be with you on your wedding night" was chosen for the cover.
Due to its remarkable level of intricacy, combined with its dramatic power, the drawing has since been described as Wrightson's "Sistine Chapel".
Wrightson now becomes only the second American comic book artist in history to achieve a seven-figure sum at auction, alongside the celebrated fantasy artist Frank Frazetta.
The current auction record for a piece of original U.S comic book artwork was set earlier this year, when Frazetta's iconic 'Egyptian Queen' from the cover of Eerie magazine in 1969 sold for $5.4 million.
Further notable results from the Profiles in History auction included John Byrne's complete 22-page story The Annihilation Gambit from Fantastic Four #256, which sold for $90,000; a page of Steve Ditko's original artwork for The Amazing Spider-Man #37which sold for $90,000; and Jack Kirby and Vince Colletta's complete 16-page story To Die Like a God from The Mighty Thor #139, which sold for $90,000.