Disney collectors are in for a treat next month, as an array of incredibly rare Mickey Mouse toys hits the block at Morphy Auctions in Denver.
The Toy, Doll & Figural Cast Iron sale on March 10 – 11 will offer more than 100 Disney toys, with many considered amongst the world's finest-known examples.
The most valuable Mickey Mouse toy in the auction is also one of the rarest, as it depicts him with five fingers, rather than his customary four.
Walt Disney originally drew Mickey with four fingers for two reasons. Firstly, one less finger would save time and money during the animation process; and secondly, five fingers just didn't look right.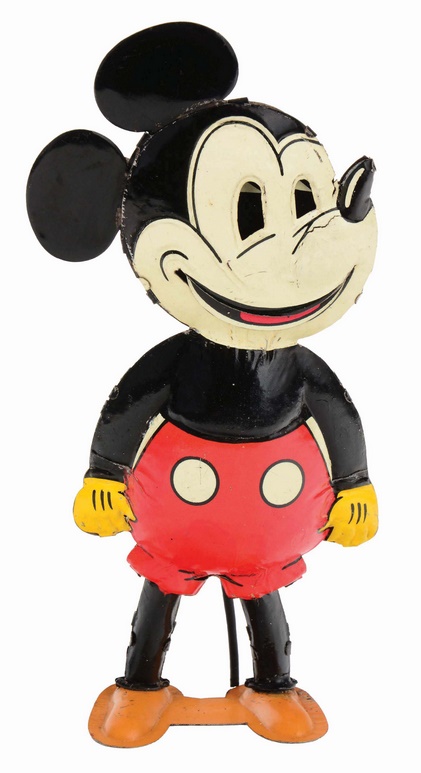 However, in the early days of the character some overseas toy manufacturers still gave him a full complement of digits, and these are now sought-after by collectors.
The 1930s tin-litho wind-up toy, believed to have been made for the English market by German manufacturer Saalheimer & Strauss.
The highly original dancing toy is perhaps the rarest tin-litho wind-up Mickey Mouse figure ever made, with just a handful of examples in existence, and is expected to sell for up to $40,000.
Another standout lot is a Mickey Mouse Circus Train made by the renowned New York model company Lionel, circa 1935.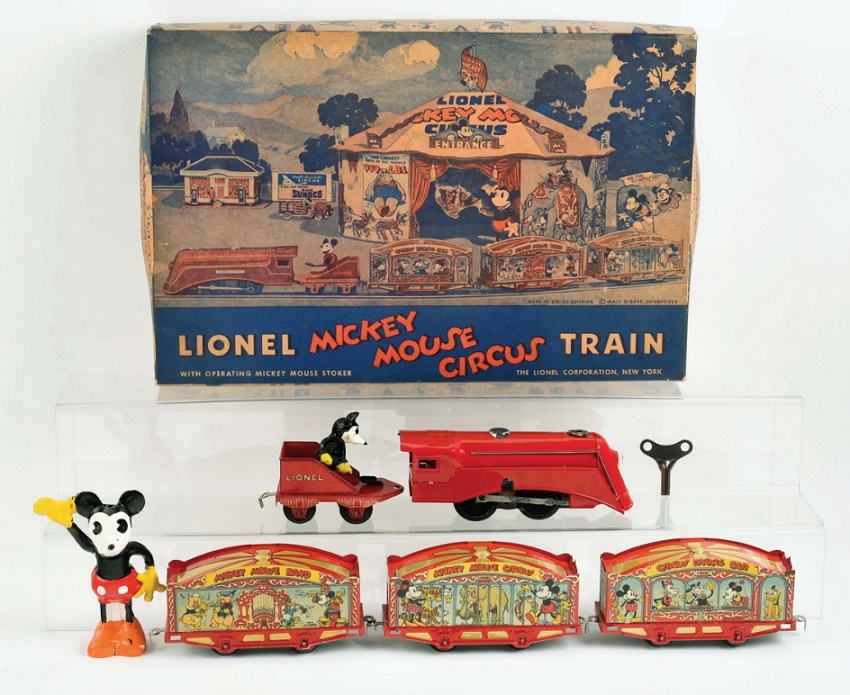 The key-wound train set including an engine with Mickey stoking coal, pulling three cars packed with popular Disney characters such as Minnie Mouse, Pluto, Horace Horsecollar and Clarabelle Cow.
The set is housed in its original box and includes a cardboard circus tent and tickets, which remain in incredibly scarce, un-punched condition. As one of the finest-known examples of its kind, the set comes with an estimate of $10,000 – $20,000.
An item sure to appeal to Disney fans and antique bank collectors alike is a very scarce mechanical bank estimated at $15,000 – $25,000.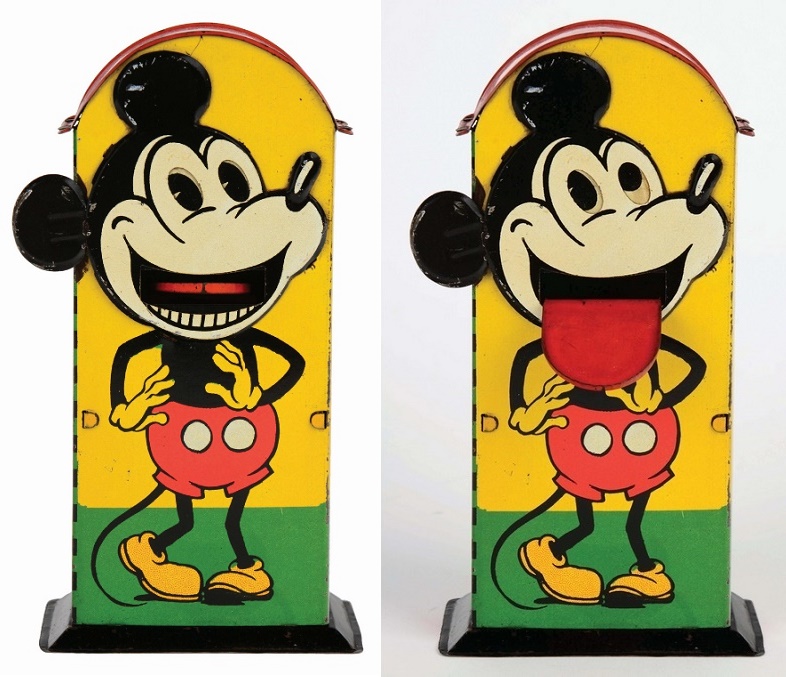 The tin-litho bank featuring Mickey dancing on the front, and as a photographer with a camera tripod on the reverse, along with the motto "If you only pull my ear, you will see my tongue appear. Place a coin upon my tongue, save your money while you're young."
And perhaps the most unusual Mickey Mouse item in the auction is rare Spanish toy featuring Mickey Mouse and famous non-Disney character Felix the Cat, both casually enjoying cigars.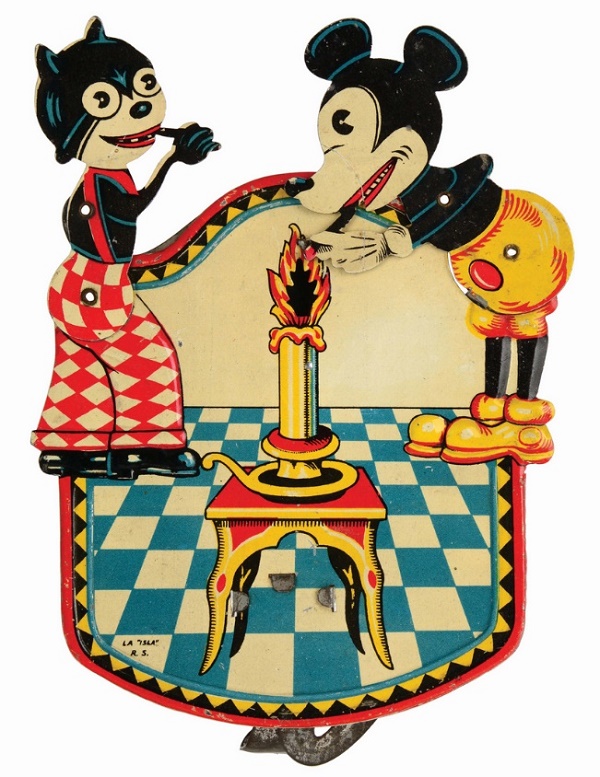 Manufactured in the 1930s, long before the dangers of smoking were revealed, the toy features the pair bending over to light their cigars from a sparkling candle.
As a relic from an era in which even children's cartoon characters happily puffed away, the delightfully anachronistic toy is valued at $8,000 – $12,000.
Further highlights include a 1930s German tin-litho Mickey Mouse slate dancer toy estimated at $4,000 – $8,000; a 1930s German celluloid wind-up Mickey Mouse toy with five fingers and wiggling ears, estimated at $3,000 – $6,000; and a 1930s Japanese toy featuring Mickey as a cowboy riding on a Pluto rocking horse, valued at $3,000 – $6,000.