John F. Kennedy's uncensored handwritten notes from his 1960 Presidential campaign are heading for sale at Heritage Auctions in Dallas on April 23.
The archive of almost 100 pages dates from April to May, 1960, as JFK hit the campaign trail in the Democratic primaries.
During this period Kennedy was struck down with laryngitis, as public speeches took their toll on his vocal chords, and he was forced to write down questions, answers and comments for his staff on a series of notepads.
The unedited notes offer a revealing insight into Kennedy's personality and life on the campaign trail, covering everything from political strategy and speech ideas, to polling figures and his portrayal in the press.
The notes were kept by his assistant Janet DesRosiers – Joe Kennedy's long-time mistress and personal assistant, who served as a general 'Girl Friday' to the Senator aboard his campaign plane.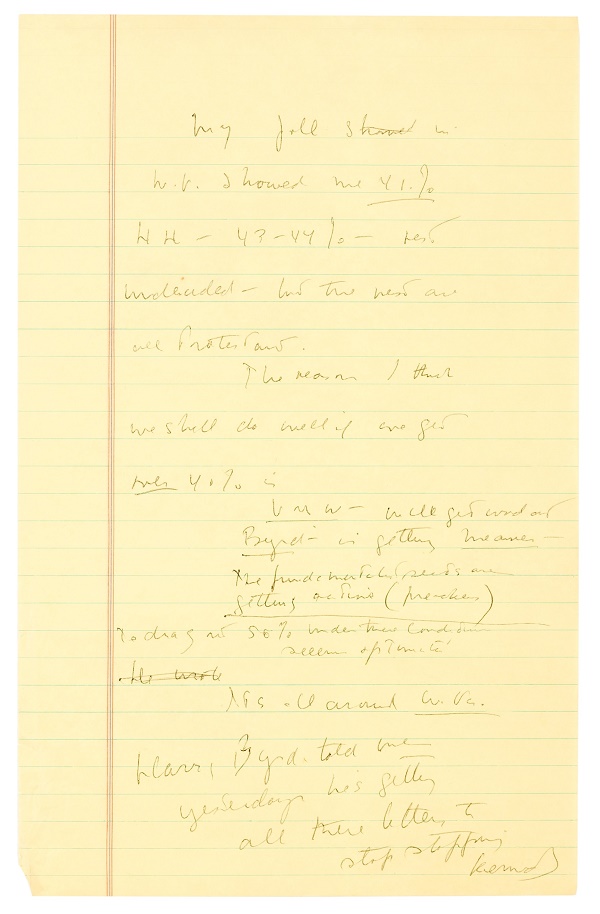 DesRosiers later recalled the period in her 2015 memoir, 'A Good Life':
"One night, flying from Omaha to Charleston, he wrote on a yellow pad, 'I am exhausted, my voice is about to go completely.' The next day it did… A speech therapist was summoned, flew with us for a few days, and then put me in charge of the senator's voice. My instructions were to make certain Jack never spoke for the next few days.
"So I gave him his tools- a yellow pad and pen to write down his responses. At first, I threw these yellow pages away each night as I cleaned the plane. Then realizing they might be part of history, I saved ninety-seven pages, all answers to questions he was asked in routine conversation…"
The notes reveal Kennedy's honest thoughts on his political rivals, upcoming speeches and journalists he dealt with during the campaign.
On rival Hubert Humphrey, he writes: "HH is going to be bitter on us and we should be ready."; "We should not say he can't win. We should say he can't be nominated."
Of one unnamed reporter he writes "He looked like a b*stard", and says of syndicated journalist Doris Fleeson "I am her 2nd choice. Her first choice is any son of a b*tch but her 2nd choice."
He also cuts a frustrated figure as campaign fatigue and his lost voice begin to wear on his nerves: "I am sick of reading"; "There is no sense in giving a speech at a college. My voice can't take it…That is a sh*tty plan."
Amongst the most revealing notes are those written on a manila envelope, circa October 1960, that relate to Kennedy's now-legendary womanizing.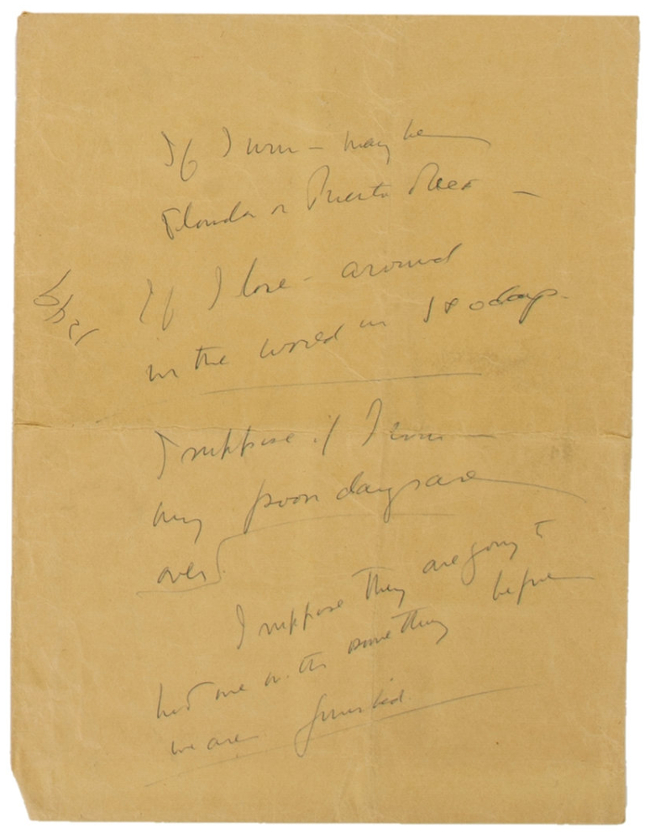 Although his extra-marital affairs were known to only a handful of people at the time, he was aware that they could eventually destroy his political career if they became public knowledge.
In Kennedy's conversational notes he state "I got into the blonde[s]", before lamenting "if I win my poon days are over", and worries that the scandal will be used by his opponents, suggesting "I suppose they are going to hit me with something before we are finished."
Elsewhere in the archive Kennedy talks about his Catholicism, the burgeoning Civil Rights movement, public debates and significant speeches which were integral to his political career.
More than 50 years on, John F. Kennedy's remarkable life, his presidency and his sudden, violent death continue to fascinate historians and collectors alike.
Every detail of his personal and political life has been pored over in dozens of books, documentaries, and movies – but few if any of those works have included Kennedy's completely unfiltered thoughts, captured in the moment in his own hand.
According to Heritage, "this archive deserves to be prized for the historical treasure it is, as it is highly unlikely that original material offering such an insight into the landmark 1960 election will be offered again."