The original Emu and Orville puppets used by Rod Hull and Keith Harris are heading for the auction block at Bonhams next month.
The two iconic puppets are expected to sell for up to £10,000 each as part of the Bonhams Entertainment memorabilia sale in London on December 17.
The auction will give TV memorabilia collectors the chance to bid on two museum-worthy puppets who entertained generations of children and adults alike.
First up is the one and only Emu puppet used by Rod Hull in hundreds of TV shows and live performances throughout his entire career.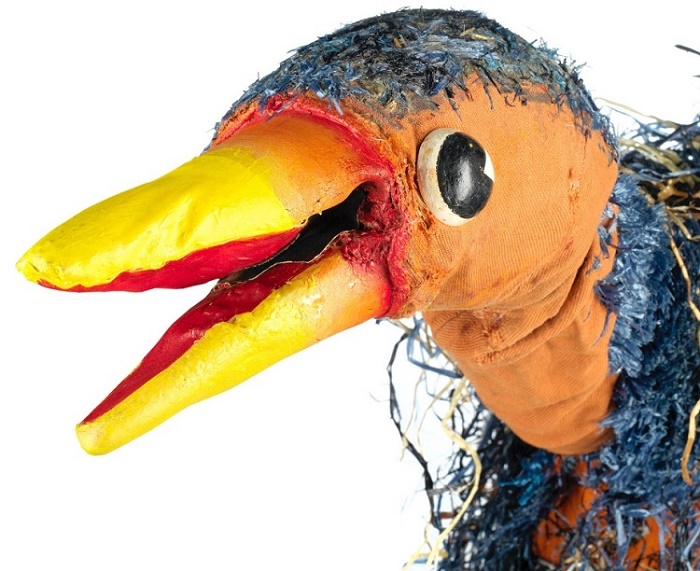 Hull originally found fame in Australia the 1960s as children's television star, and it was there that he first discovered the Emu puppet is a TV studio cupboard.
He returned to England in 1971, and soon found national fame after a string of TV appearances in which Emu caused havoc, attacking TV hosts and fellow guests to hilarious effect.
Notable victims of Emu's attention over the years have included the Queen Mother, talks show hosts Michael Parkinson and Johnny Carson, rapper Snoop Dog, and most regularly Rod Hull himself, who often ended up falling over furniture and rolling on the floor wrestling with the bird.
Hull went on to create a string of much-loved children's television shows in the U.K, before he tragically died in 1999 after falling from the roof of his home.
Rod Hull only owned two Emu puppets during his career – the original, and a back-up puppet which was never used.
The puppet offered at Bonhams is the original, and comes with a history of manhandling dozens of celebrities, causing havoc on TV sets and entertaining audiences around the world.
Next up is Orville, the adorable lime-green bird who charmed prime-time TV audiences on the lap of his creator Keith Harris.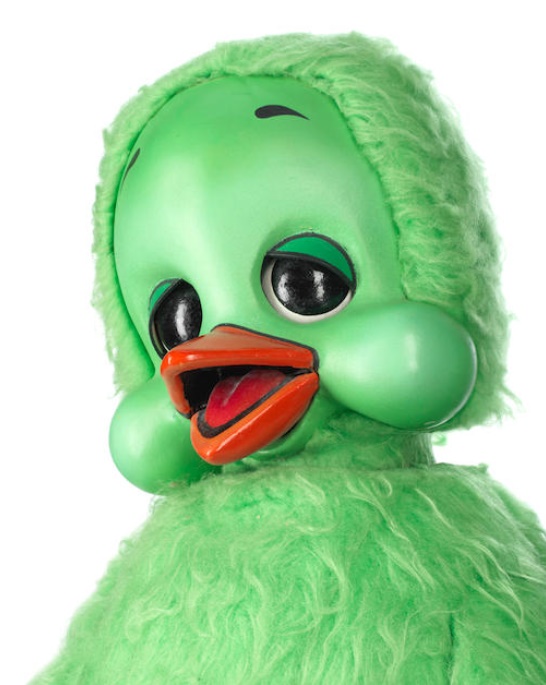 Harris (1947 – 2015) was a popular ventriloquist who appeared on British television for 50 years, having originally learned the craft from his father.
Harris claimed he was inspired to create Orville – a large flightless duck in a nappy – after spotting a roll of green fake fur backstage at a theatre in Bristol.
The peak of his career came in the 1980s with The Keith Harris Show, a BBC show featuring his most famous puppets Orville and Cuddles the Monkey, which ran from 1982 until 1990.
During this period Harris was one of Britain's most popular light entertainers, and was invited by Princess Diana to perform privately at birthday parties for her sons William and Harry.
He even scored a #4 hit in the U.K charts with the single 'I Wish I Could Fly', sang as a duet between Harris and his falsetto duck.
When Harris passed away in 2015 his cast of characters was retired forever, and this original Orville puppet remains untouched since starring in front of millions of viewers each week.
Although they couldn't have been more different, the shy Orville and downright dangerous Emu were two of the most famous (fake) faces on British TV throughout the 1970s and 1980s.
Much-loved British TV puppets have proven popular with collectors over the years, with an original 60-year-old Sooty Bear puppet used by Harry Corbett selling in 2018 for £14,500.
And as the market for memorabilia is powered by nostalgia, there should be no shortage of bidders when this pair of notable birds flaps onto the block.
Or in Orville's case, waddles.