A lost medieval masterpiece worth more than $6 million is heading for auction, after it was discovered hung above a stove in a town in Northern France.
The small painted wooden panel dates from around 1280 and is the work of Cimabue, an Italian painter regarded as "the father of the Renaissance".
The painting is entitled 'Christ Mocked', and was originally part of a larger devotional artwork featuring eight scenes from the Passion of the Christ.
Until now just two of the 740-year-old panels were known to remain in existence, and 'Christ Mocked' was believed lost until its remarkable discovery during a routine house clearance.
Auctioneer Philomène Wolf was called to the house near the Northern French town of Compiègne, where she found the panel hanging on a wall between the kitchen and the living room, directly above a hotplate used for cooking.
The owner believed the panel to be a simple religious icon and had no idea of its true value – or that art historians had been searching for it for centuries.
The other two surviving panels from Cimabue's original work are 'The Virgin and Child', which is owned by The National Gallery in London, and 'The Flagellation' which resides in the Frick Collection in New York.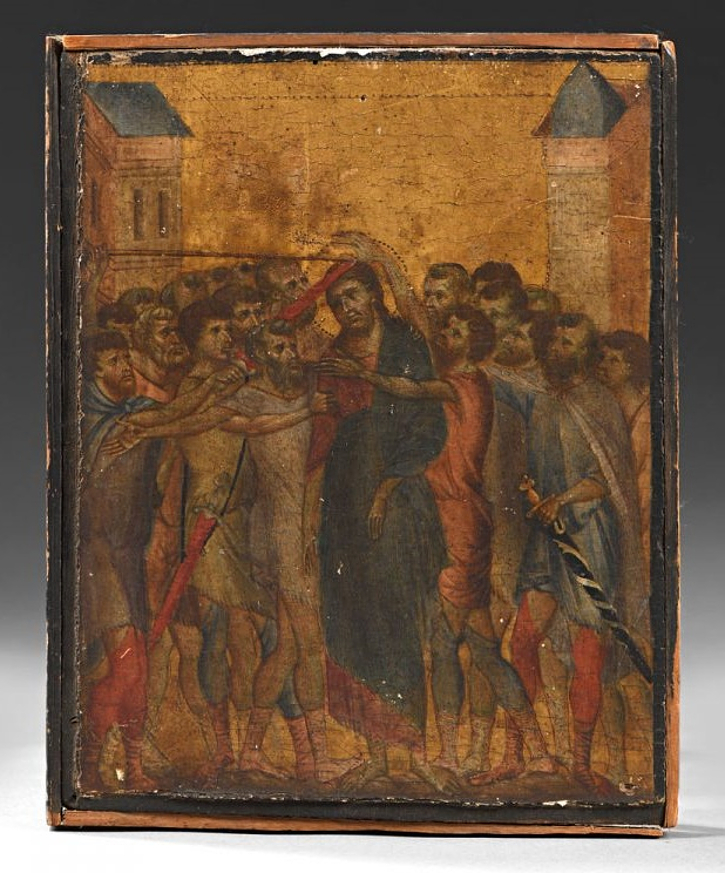 Having been authenticated by the Renaissance art expert Eric Turquin, the panel will now go up for sale at the Paris auction house Interencheres on October 27, with a pre-sale estimate of €4 – €6 million ($4.4 – $6.6 million).
Turquin himself is no stranger to incredible discoveries; in 2014 he helped authenticate a lost masterpiece by Caravaggio valued at over $100 million, which had been discovered in the attic of a French farmhouse.
"Most of the important paintings discovered in the last twenty years have been in the provinces," said art expert Stéphane Pinta.
"And what is remarkable is that these works are often hidden in an attic or a cellar, and had been lost for centuries, like the painting of Caravaggio found in a Toulouse attic, or of the Le Nain brothers, discovered in a salon in Vendée.
"This is the strength of the French market and the magic of the provinces: there are still pictures hidden everywhere in France that we discover and that prove to be masterpieces."
Cimabue (c.1240 – 1302) was a painter and designer of mosaics celebrated for his realistic portrayals of the human form, during a time when most medieval works appeared flat and heavily stylized.
Over the centuries almost all of Cimabue's artworks are thought to have been lost to the ages in wars, floods and earthquakes.
He was also known to destroy his own artworks if he was unhappy with them, and was once described by one of his contemporaries as "…a nobler man than anyone knew but he was as a result so haughty and proud that if someone pointed out to him any mistake or defect in his work, or if he had noted any himself… he would immediately destroy the work, no matter how precious it might be."
Just 12 painted wooden panels now remain in existence, and 'Christ Mocked' is the only example left in private hands, with the rest owned by major museums and religious institutions.
It is also thought to be the first Cimabue artwork ever offered at auction, as his incredibly rare paintings have previously only changed hands in private transactions.