One of Banksy's most famous sculptures, 'The Drinker', is set to auction for the first time at Sotheby's, 15 years after it was stolen from the streets of London.
The sculpture is a parody of Rodin's iconic work The Thinker – except that instead of a figure sat lost in contemplation, it features a man slumped over drunk with a traffic cone place on his head.
The auction house described the sculpture as "an act of poignant parody, fine-art vandalism, and urban expression, [which] encapsulates the raw immediacy of Banksy's commanding appeal as artist, activist and rebel".
It will now cross the auction block at Sotheby's in London on November 19, with an estimate of £750,000 – £1 million ($968,000 – $1.29 million).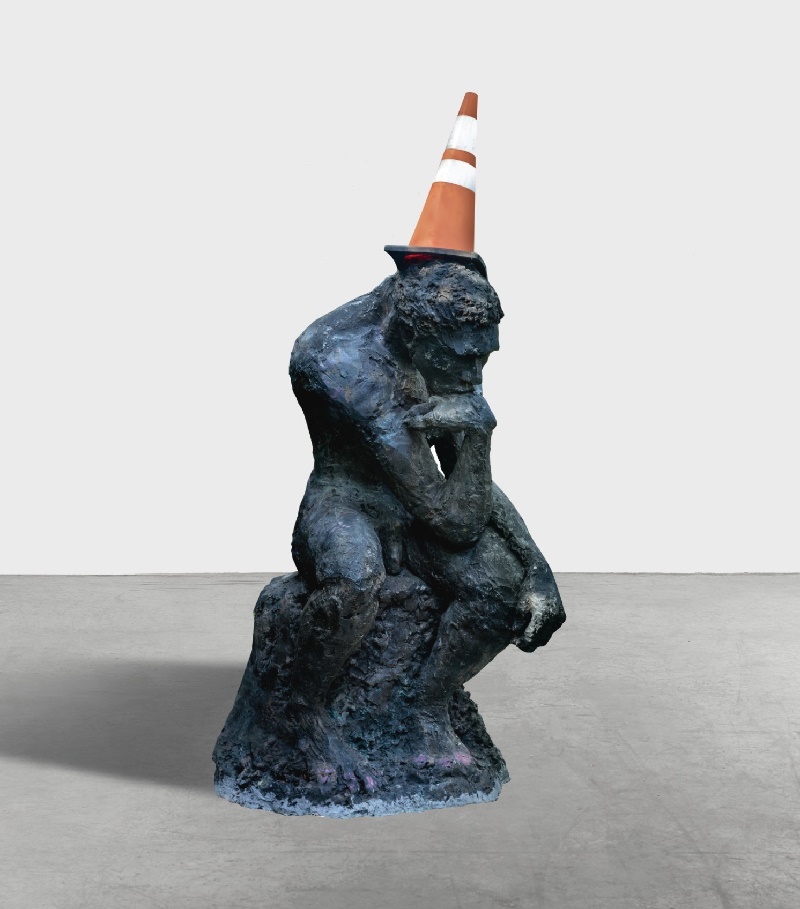 The Drinker originally caught the attention of the art world in 2004, when it appeared overnight near Shaftesbury Avenue in London's West End.
Standing at over two metres high and weighing more than three tonnes, the sculpture was seated upon a large plinth bearing Banksy's signature – although it wasn't bolted down to anything.
And soon after it first appeared, it was swiftly removed by a gang of self-styled conceptual art thieves known as Art Kieda, led by guerrilla artist AK47 – in reality a former porn star and football hooligan named Richard Link.
A feud between Art Kieda and Banksy had originally been sparked in the early 2000s, when Link bought an unsigned Banksy print and then tried to get the artist to sign it through a mutual friend.
Banksy responded by refusing the request, and called Link a "cheap northern bastard" who should have paid extra for a signed copy instead.
The group then kidnapped The Drinker and held it hostage, claiming they would burn the sculpture unless they received £5,000 or a signed Banksy canvas for its safe return.
In return Banksy allegedly offered them £2 towards a can of petrol, and told a Guardian journalist "…it's easy kidnapping one of my pieces – I'm sure the council would give them a round of applause…My only regret is that I think the Drinker on fire is going to look a lot better than my Drinker, which is annoying. But that's my final offer."
Despite the unpaid ransom Art Kieda didn't destroy The Drinker, and it remained sat in Link's garden until 2006 when it was mysteriously stolen once again, leaving just the traffic cone from the figure's head.
The original Drinker sculpture then found its way back to Banksy and his manager Steve Lazirides, and in 2008 was issued with a certificate of authenticity by the artist's own team Pest Control.
Link later created a reproduction of the sculpture and returned it to the same spot in London – this time entitled 'The Stinker', complete with the addition of a toilet seat.
The entire story of the (faintly ridiculous) feud and theft was then told in a crowdfunded documentary entitled The Banksy Job, released in 2015.
The original sculpture was acquired by the present owner directly from Lazirides in 2014, and will now be offered at auction for the first time.
Given its storied history and the booming market for Banksy works, it would be no surprise if The Drinker surpassed its high estimate of £1 million.
Just last month his monumental 2009 canvas Devolved Parliament smashed its estimate of £2 million to sell for £9.78 million, setting a new world record price for a Banksy work at auction.