Banksy's Devolved Parliament has smashed the auction record for the artist, after it sold at Sotheby's in London for just under £10 million.
The monumental canvas is Banksy's largest painting, measuring 8ft high by 13ft long, and depicts the British House of Parliament taken over by chimpanzees.
The painting was offered at auction for the first time with an estimate of up to £2 million – a price which would have seen it set a new record price for Banksy's work.
But to the amazement of experts, the canvas sparked a furious 13-minute bidding war as it soared to a final price of £9,879,500 ($12,142,893).
Banksy reacted to the sale in a typically understated way, commenting on his Instagram page "Record price for a Banksy painting set at auction tonight. Shame I didn't still own it."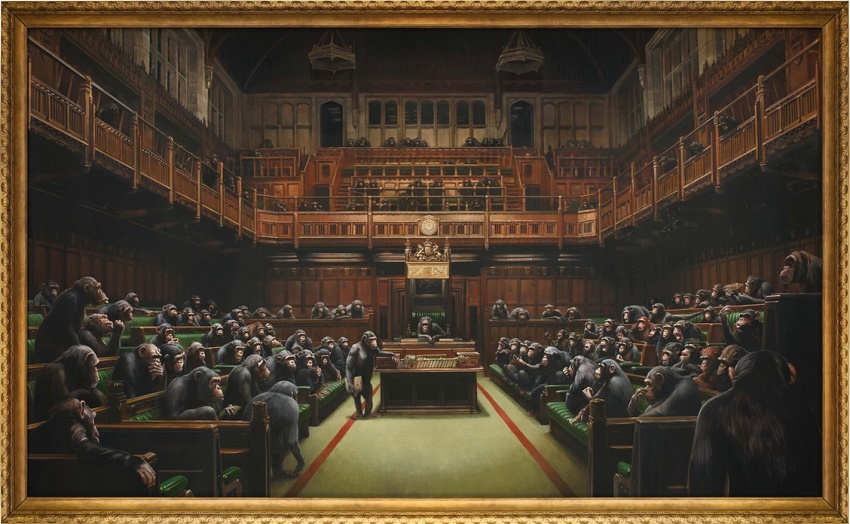 Devolved Parliament was originally created in 2009 for Banksy's landmark Bristol exhibition 'Banksy versus Bristol Museum', which attracted more than 300,000 visitors and saw queues around the block.
It was later acquired directly from the artist by a private collector in 2011, and had recently been loaned back to the Bristol Museum on a temporary basis.
The new exhibition coincided with perhaps the most turbulent era of British politics in modern times, with a deadlocked parliament battling to find a solution to Brexit.
Banksy commented at the time: "I made this 10 years ago. Bristol museum have just put it back on display to mark Brexit day. Laugh now, but one day no one will be in charge."
The previous auction record for a Banksy artwork had been set in 2008, when a Damien Hirst 'spot' painting defaced by Banksy sold at Sotheby's for $1.97 million.
But the new record price of more than $12 million is a major leap in the Banksy market, and could see significant increases in value and demand for his artworks across the board.
"The power of Banksy's work herein lies in its easy-accessibility and instant-gettablility," said Sotheby's. "His derisive art has provoked divisive opinion, but love him or hate him, his wide-reaching influence on contemporary art and urban culture cannot be denied.
"With each day bringing new commotion to the political arena, Devolved Parliament could not be more prescient!"
The painting was the joint top-selling lot of the Sotheby's Contemporary Art Evening Auction on October 3, alongside Jean-Michel Basquiat's 1984 work Pyro.