Banksy's famous painting Devolved Parliament, depicting Chimpanzees in charge of the British House of Commons, could set a new record at Sotheby's next month.
The huge hand-painted canvas, which spans 13 feet in length, will be offered at auction for the first time in London on October 3 with an estimate of up to £2 million.
The painting features Banksy's typical anti-establishment viewpoint, combined with his sharp wit, political commentary and a playful sense of art history.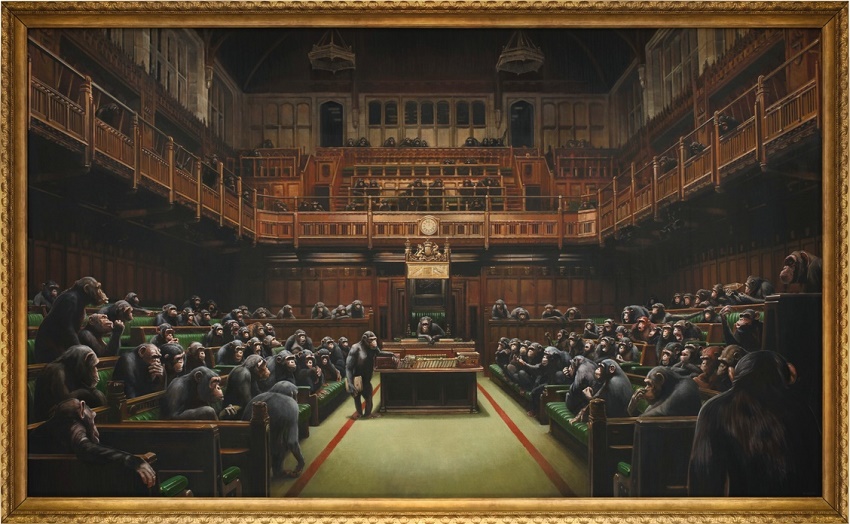 "The power of Banksy's work herein lies in its easy-accessibility and instant-gettablility," said the auction house. "His derisive art has provoked divisive opinion, but love him or hate him, his wide-reaching influence on contemporary art and urban culture cannot be denied.
"With each day bringing new commotion to the political arena, Devolved Parliament could not be more prescient!"
Devolved Parliament was originally exhibited in 2009 as part of Banksy's homecoming show 'Banksy versus Bristol Museum'.
The show attracted more than 300,000 visitors, setting new museum records and making it one of the ten most visited exhibitions anywhere in the world that year.
A decade on, the painting was once again on display at the museum in 2019, on loan from the current owner, to commemorate 'Brexit Day' on March 29: the day Britain was initially supposed to exit the European Union.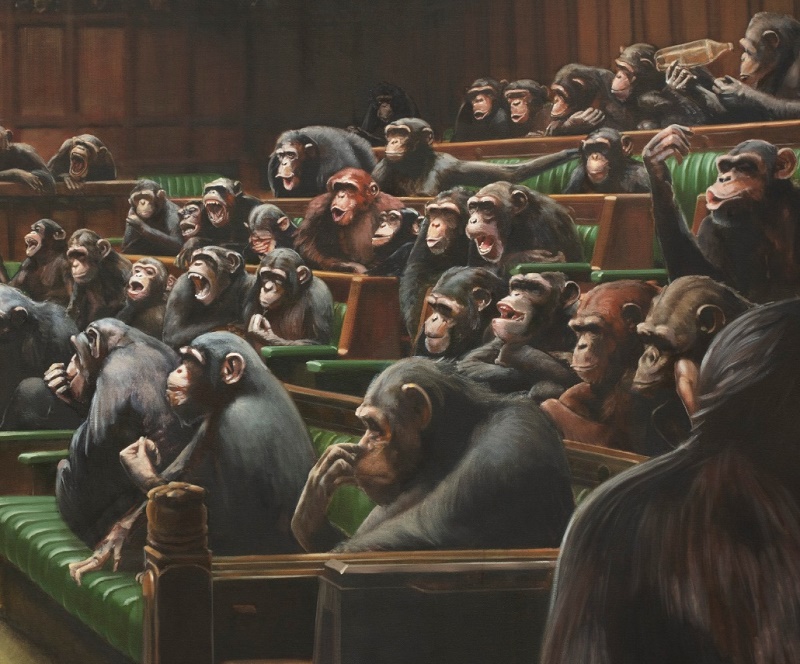 With hindsight the painting seems strangely prophetic, as three years of parliamentary deadlock has found the British government unable to find a solution to the chaos caused by Brexit.
Banksy commented at the time: "I made this 10 years ago. Bristol museum have just put it back on display to mark Brexit day. Laugh now, but one day no one will be in charge."
If sold for the upper regions of its estimate or beyond, Devolved Parliament would become the most valuable Banksy artwork ever sold at auction.
The current auction record for a Banksy artwork was set in 2008, when a Damien Hirst 'spot' painting defaced by Banksy sold at Sotheby's for $1.97 million.
The Sotheby's auction will also come exactly one year after Banksy pulled off one of the greatest art pranks of all time, when his iconic work Girl With Balloon sold at Sotheby's for £1.04 million, then immediately self-destructed via a shredder hidden in its frame.
Regarding his own work, Banksy offered a typically self-deprecating response to his critics: "You paint 100 chimpanzees and they still call you a guerrilla artist".