An iconic photograph of Jackie Robinson crossing the baseball color barrier in 1947 is up for sale at SCP Auctions
Taken on April 11, 1947, the vintage press photograph captures Robinson as he entered the Brooklyn Dodgers clubhouse, becoming the first African-American player in Major League baseball.
Initially offered with a minimum bid of just $1,000, the photograph quickly became the subject of a bidding war and has already soared past the $45,000 mark with two weeks still left to run in the online auction.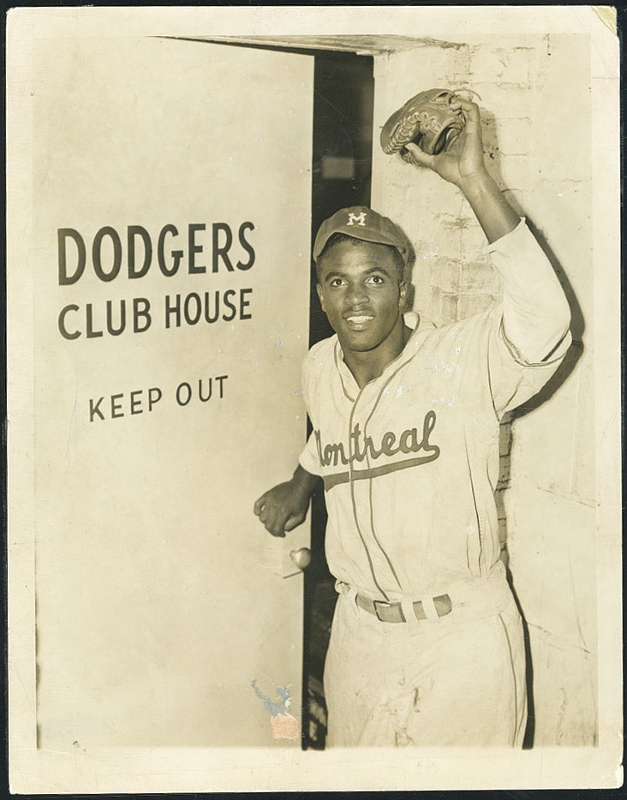 Jackie Robinson remains one of the most significant athletes and cultural figures in 20th century U.S history.
After attending UCLA and serving in the U.S Army, he began a baseball career in the Negro League with the Kansas City Monarchs.
His abilities on the field soon led to an approach by Branch Rickey, club president and general manager of the Brooklyn Dodgers, who was seeking to integrate a black player into an MLB team for the first time since the 1880s.
In October 1945 Robinson made history by signing a contract with the Montreal Royals, the highest-rated farm team for the Brooklyn Dodgers, and the following year led them to the 1946 Little World Series Championship.
He then signed a full contract with the Dodgers in April 1947, a landmark moment in the history of both professional baseball and the U.S Civil Rights Movement.
The move was announced on April 10, 1947, during an exhibition game between the Royals and the Dodgers, when a press release was handed out to writers in the press booth which read simply:
"The Brooklyn Dodgers today purchased the contract of Jackie Roosevelt Robinson from the Montreal Royals."
The next day the Dodgers were due to play another exhibition game against the New York Yankees, and this time photographers swamped the stadium, awaiting Robinson's arrival.
He appeared prior to the game wearing his Montreal Royals uniform, and posed for photos as he began his MLB career, symbolically entering through a door marked "Dodgers clubhouse keep out!"
When he reappeared he was wearing his new Brooklyn Dodgers uniform, and as he ran out onto Ebbets Field many realized baseball – and perhaps America itself – would never be the same again.
The SCP Auctions 2019 Summer Premiere Auction runs online until September 28.