British street artist Banksy pulled off one of the greatest art pranks of all-time this weekend, as one of his works sold at auction for a record price – and then instantly self-destructed.
A version of his iconic work 'Girl With Balloon' hit the block at Sotheby's in London on Saturday (October 5), offered with an estimate of £200,000 – £300,000.
Unlike the various print editions of the image, this was a unique, original painting signed by Banksy, and gifted to the owner following his 2006 Barley Legal show in Los Angeles.
As the auction listing described, the painting was also "bordered by an ornate gilded frame, an integral element of the artwork chosen by Banksy himself".
The painting soared to a final price of £1,042,000 ($1,357,726), equalling the auction record for a Banksy work originally set back in 2008.
But just seconds after the hammer came down, the painting itself whirred into life, and fed through a shredder which had been secretly installed inside the gold frame.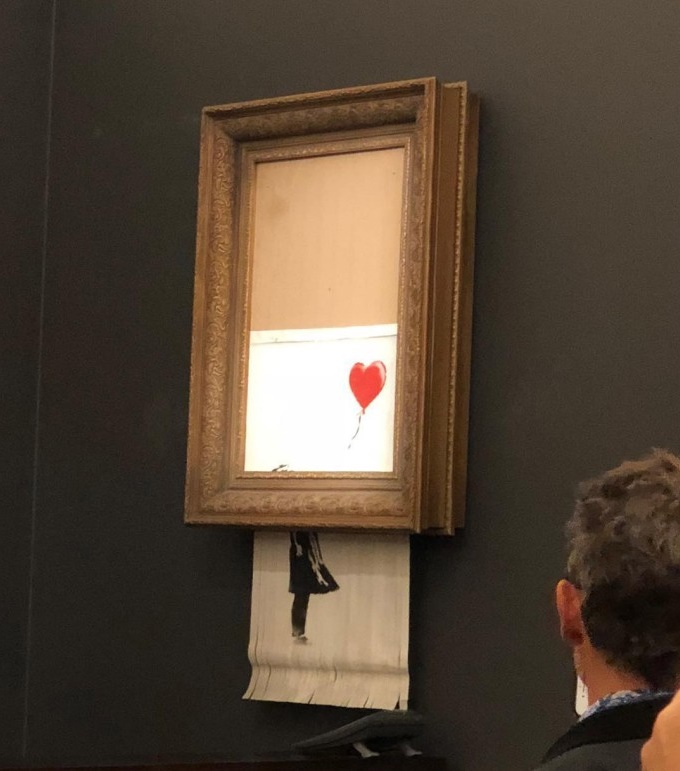 Cameras snapped, onlookers gasped, and auction room porters scrambled to remove the artwork from the wall, leaving shreds of the painting hanging from the bottom of the frame.
That evening, Banksy posted an image of the incident with the caption "Going, going, gone", and followed it up with a short video showing a hooded figure constructing the frame, with the caption "A few years ago, I secretly built a shredder into a painting…in case it was ever put up for auction."
Later reports suggested that the buyer, believed to be an overseas telephone bidder, was surprised to discover his prize artwork had been destroyed before he ever got to see it.
It's not known whether Sotheby's had any prior knowledge of the prank, but the painting was conspicuously the final lot of the auction – which meant it marked a spectacular end to the company's Contemporary Art Evening Sale.
"It appears we just got Banksy-ed," said Alex Branczik, Senior Director and Head of Contemporary Art, and the auction house later stated "the unexpected incident became instant art world history".
However, many experts have now suggested that, despite ruining the painting itself, the prank could now have actually doubled the value of the work.
Banksy's works have often commented on the ridiculous nature of the contemporary art world, and the increasingly high values of his own works.
In October 2013, he set up a stall in New York's Central Park selling what appeared to be fake canvases of his works for $60 each.
The stall attracted just a handful of buyers throughout the day, with takings of just $480 – but every one of the canvases sold was a genuine signed work worth hundreds of thousands of dollars.